Less Than 150 ICU Beds Left in All of Arizona As Coronavirus Cases Spike
Arizona's hospitals have appeared to reach critical capacity, as less than 150 beds in adult intensive care units remained available for use on Tuesday.
The state normally has a total of 1,682 adult ICU beds available. But according to data published by the Arizona Department of Health Services (ADHS), only 145 beds, or nine percent, were unoccupied as of July 7.
As reported coronavirus cases in the U.S. surpassed 3 million on July 8, Arizona continues to be seen as a hotspot for positive tests and crowded ICUs.
On July 2, the state reported that 91 percent of its ICUs were full, with 1,520 beds in use — just 17 less than the latest figure reported for July 7, suggesting a pattern that has lasted for several days.
More than half of the ICU beds are currently in use by COVID-19 patients, the data shows.
In the last 24 hours, 3,520 new positive coronavirus cases were recorded, bringing Arizona's total to 108,614.
Maricopa County, home to Phoenix and Scottsdale, continues to account for the largest number of reported cases, having nearly seven times the number of cases as the second-highest county, Pima.
Newsweek contacted the ADHS for comment but did not hear back in time for publication.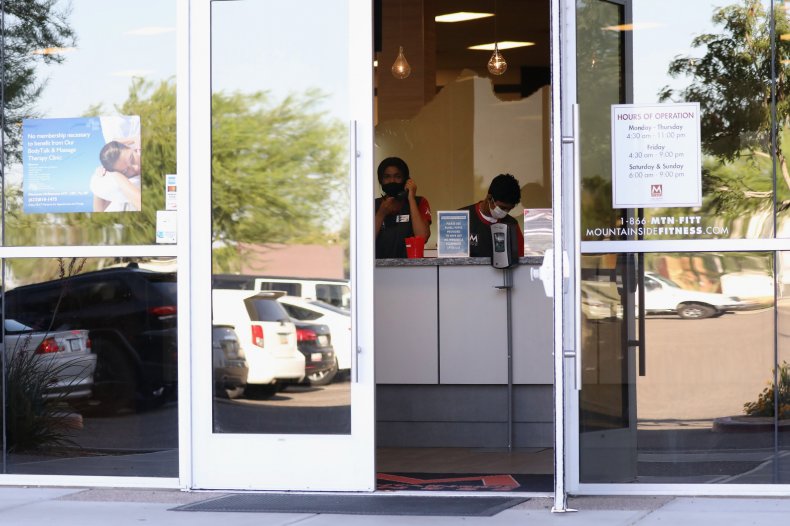 According to data released by Johns Hopkins University, one in four COVID-19 tests in Arizona continues to come back positive, the highest percentage in the U.S.
A potential reason for the alarming figures is that the state is still working on increasing its testing capacity, Daniel Ruiz, chief operating officer for Arizona Governor Doug Ducey, told AZ Central.
"What we've seen is, right now, some of the collection sites are prioritizing people that are symptomatic because we want to get those turned around just as quickly as possible," Ruiz said. "But as we have more capacity in our labs, we're hoping that that will expand to people that are asymptomatic as well. And that may have an impact there."
Phoenix Mayor Kate Gallego, a Democrat, described her city's testing situation as a "crisis" during an interview Sunday on ABC's This Week.
"We opened way too early in Arizona. We were one of the last states to go to state-at-home and one of the first to reemerge, and we reemerged at zero to sixty," Gallego said.
In response to the increasing coronavirus numbers, Ducey issued an executive order effective June 29 shutting down bars, gyms, movie theaters, water parks and any organized public event of more than 50 people.