As the November 3 election looms closer, President Donald Trump continues to poll high in at least 17 states, averages show.
With less than 60 days until he has to take on Democratic nominee Joe Biden, Trump is consistently leading in these states: Alabama; Idaho; Indiana; Kansas; Kentucky; Louisiana; Mississippi; Missouri; Montana; North Dakota; Oklahoma; South Carolina; South Dakota; Tennessee; Utah; West Virginia and Wyoming.
According to statistics available on polling website FiveThirtyEight, Trump is pulling in the strongest numbers in Alabama and Oklahoma, both considered to be red states.
Trump has continued to surge ahead of Biden in Oklahoma since at least March, and is currently leading Biden by 23.1 percentage points, or 58 to 34.9 percent, according to the website's average of state polls. Alabama's average shows Trump beating Biden by 18.5 percentage points, or 57.2 to 38.7 percent.
The Economist's election forecasting model generally shows much wider margins between the two candidates compared to FiveThirtyEight's model. Idaho, North Dakota, South Dakota, West Virginia and Wyoming—states whose statistics were unavailable from FiveThirtyEight—each had Trump leading Biden by at least 20 percentage points.
Trump's strongest state is Wyoming, in which polling averages show him beating Biden by a whopping total of 41 percentage points, or 70.5 to 29.5 percent, according to The Economist model.
Data from the 2016 election shows Trump handily won each of the 17 states where he currently has a significant lead over Biden. Trump won Wyoming, for instance, by 46 points, West Virginia by 42 and both Oklahoma and North Dakota by 36 points.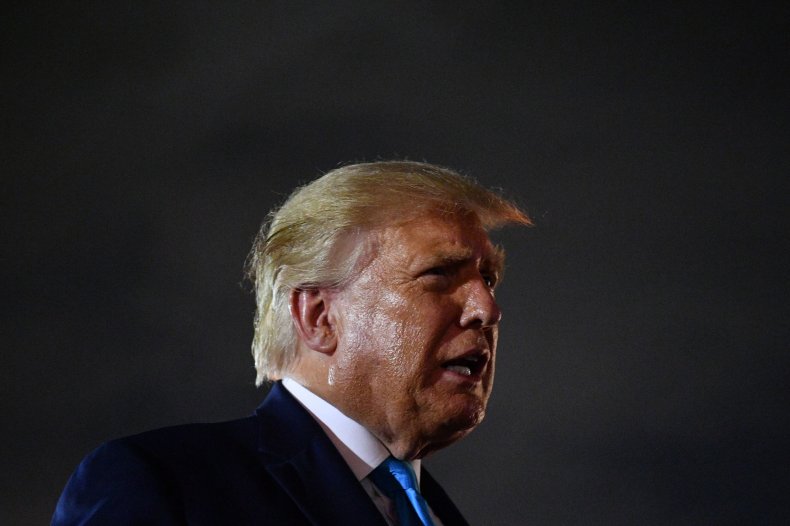 The strong averages for Trump come at a crucial point in the buildup to the November 3 election.
While his overall approval rating is continuing to steadily improve after negative views of Trump's presidency reached a high earlier this year, recent polls show disagreement with his choice in rhetoric amid periods of civil unrest in several U.S. cities.
Some 55 percent of Americans believe what Trump has said about the wave of protests happening in parts of the country "makes the situation worse," an ABC News/Ipsos poll released Friday shows. Just 13 percent said his comments on the unrest make the situation better, and 29 percent said they did not have much of an affect either way.
The numbers differ significantly from Biden, as 49 percent said they thought Biden's comments on the protests did not make any difference. Just 26 percent said they thought his words made the situation worse, while 22 percent said his comments made things better.
Responding to the recent unrest seen across an already divided nation has become a key point of debate among the two candidates. Trump is presenting himself as a law and order candidate while attempting to portray Biden as weak on crime and disorder. Trump campaign adviser Jason Miller recently told voters: "You won't be safe in Joe Biden's America."
Trump's success in touting this messaging could have a significant effect in the several states where Trump's lead or loss in the polls is extremely narrow. Many of these states Trump easily won in 2016, including Alaska, Arkansas, Iowa, Ohio, Nebraska and Texas.