Donald Trump's Approval Rating Is Healing Steadily Before Election: Polls
President Donald Trump's approval rating continues to steadily improve ahead of the 2020 election with negative views of his tenure having spiked earlier this year.
Following the Republican National Convention, where Trump officially accepted the party's nomination to run in 2020, the president has seen incremental gains in his standing among the public, according to polling.
In YouGov's latest approval polling, conducted among 1,000 people on August 30, 46 percent asked approved compared to 49 who disapproved.
Among the same number of respondents the day before, he was at 42 percent approval and 52 percent disapproval.
Separate polling from Emerson Polling, conducted August 30 and 31, also showed approval of Trump's work as president at 49 percent, up four points from similar polling in June, compared to 47 percent disapproving. The survey, among 1,567 voters, also showed him and Biden close to tied in the race for the White House, with the Democrat holding just a two-point lead.
According to FiveThirtyEight's tracker, Trump's average rating from polls is 53 percent disapproval compared to 43.3 approval.
This comes after a spike in his negative ratings amid the COVID-19 pandemic, with him reaching around 56 percent disapproval and 40 percent approval in late June.
It has steadily improved since that point. His approval percentage has boosted around two points since this time last month, with his disapproval coming down a similar amount.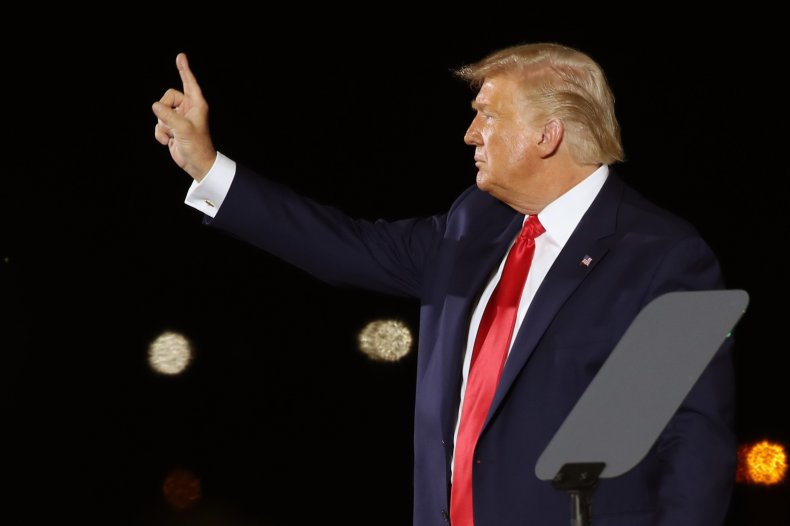 Newsweek has contacted the Trump and Biden campaigns for comment.
The president's gains in approval coincide with a slight tightening in polling between him and Democratic presidential candidate Joe Biden too.
According to FiveThirtyEight's election tracker, Biden is seven points ahead on average in comparison to having been at around eight a month ago.
On the whole, national polling continues to show Biden ahead despite Trump's claims his rival has seen his numbers plunge.
While he remains steadily ahead in national polling, Biden has resumed in-person campaign events in a bid to maintain his lead over Trump as November approaches, with the Republican incumbent suggesting a tightening of the race has spurred on this activity from the Democrat.
Trump has similarly upped his activities, while he has also raised his attacks on Biden, touting himself as the law and order candidate while suggesting his rival would not keep the nation safe. The Democrat has rebuked these suggestions, questioning how safe people feel at present in Trump's America.
With the race tightening, there have been suggestions that Trump could win a "red mirage" victory on election night itself though then actually have lost the election when all mail-in ballots are taking into consideration.