Trump Says Biden's Numbers Are Plunging—Poll Trackers Barely Show A Change
President Donald Trump has suggested Democratic presidential candidate Joe Biden's poll numbers are plunging despite trackers showing his lead has dipped by less than a point over the last month.
Emboldened by one recent poll which gave him a lead, in the popular vote overall and in battlegrounds, the president hit out at Biden's numbers, suggesting his return to in-person campaigning is because they are plummeting.
"Joe Biden is coming out of the basement earlier than his hoped for ten days because his people told him he has no choice, his poll numbers are PLUNGING," he wrote on Twitter.
Polling from Democracy Institute and the U.K.'s Sunday Express newspaper, put the incumbent president up 48 to 45 percent overall. Trump shared these numbers and wrote: "Moving along nicely. MAGA!"
However, poll trackers from FiveThirtyEight and Real Clear Politics still put Biden ahead looking at the average of results from multiple surveys—despite some surveys having shown a slight tightening of the race.
FiveThirtyEight currently puts Biden's lead at 8.2 points, only a shift of 0.1 down from a month ago on July 31.
Real Clear Politics gives Biden a 6.9 point lead, 0.9 down from July 31 when it put him at 7.8.
Newsweek has contacted the Trump and Biden campaigns for comment.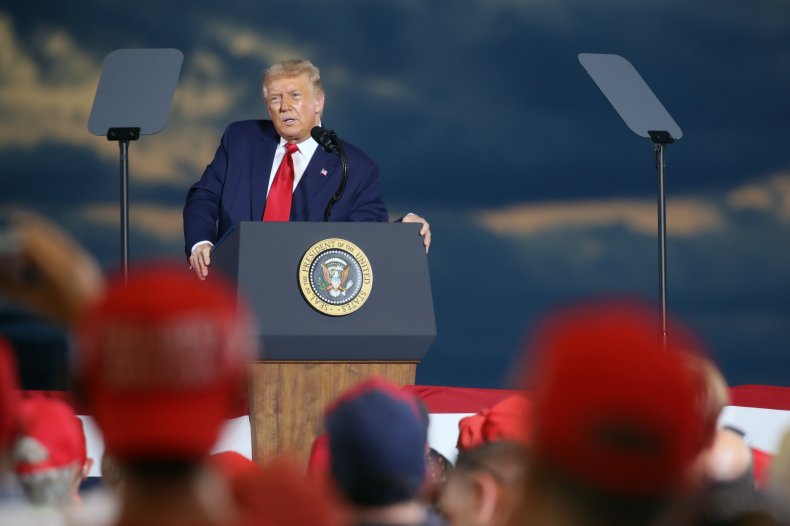 Neither tracker included the Democracy Institute polling numbers. According to that polling, which was conducted among 1,500 respondents from August 26 to 28 responding over telephone, law and order was the top political issue of the moment.
Trump has continued to throw barbs at his rival as he looks to close the gap ahead of November's vote, persisting with his law and order focus to dissuade voters from backing the Democrat.
"His problem is interesting. He must always be weak on CRIME because of the Bernie Sanders Radical Left voter," Trump tweeted.
This continued previous attacks by Trump and his allies at the Republican National Convention, an event at which they suggested the Democratic party is being dominated by a "socialist agenda."
This focus comes amid ongoing civil unrest across the nation, with both Trump and Biden having condemned recent violence in Portland.
"I condemn violence of every kind by any one, whether on the left or the right. And I challenge Donald Trump to do the same," Biden said in a statement released at the weekend.
The president has continued to bring partisan politics into discourse surrounding the unrest, hitting out at "high crime Democrat run cities," again suggesting "Radical Left" lawmakers were at fault.