Trump's Law and Order Diatribes May Pull Back Republicans Who Are Edging Towards Biden
Donald Trump's focus on law and order messaging alongside suggestions that Joe Biden could not deal with these issues may be enough to pull back Republicans considering jumping ship to support the Democratic presidential nominee instead.
The president has put crime front and center of his campaign and claimed left-wing Democrats would push Biden towards controversial measures such as defunding the police, despite the former vice president having rejected this notion previously.
In remarks Tuesday, Trump branded Biden a "puppet of left-wing extremists" who he said wanted to "erase our borders, eliminate our police, indoctrinate our children, vilify our heroes, take away our energy."
Meanwhile, White House Chief of Staff Mark Meadows has said federal agents could be sent back to Portland, Oregon, with large protests persisting in the city. Feds withdrew previously amid a strong backlash against their actions in the city. Marching them back into Portland would underline Trump's hard push against the unrest.
These remarks and developments come as Trump seeks to gain ground on Biden's strong poll lead. The Democrat, officially made the party's nominee on Tuesday at the Democratic National Convention, has maintained his advantage for months.
Trump's messaging on law and order, a conservative strength, amid ongoing civil unrest is an effort to persuade Republicans flirting with a Biden vote to return to his side.
Sarah Longwell, co-founder of Republican Voters Against Trump, previously told Newsweek this was perhaps a reason that a small number of voters are appearing to move away from Biden in recent polling.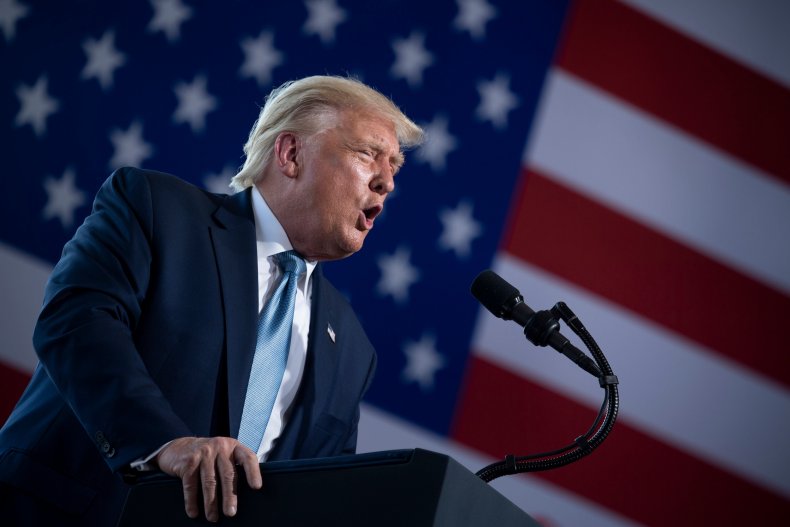 She said the message that Democrats approve of the unrest might be "starting to land," which could tempt back center-right voters who were unsure where to go in 2020.
"From the voters that I talk to, who don't think Trump is doing a good job, one of the things that could push them back is that there's violence on the streets and the message starts to land that this is what Democrats want," Longwell said.
Douglas Heye, formerly communications director for the Republican National Committee, told Newsweek he agrees such messaging about the ongoing unrest could shift some voters to Trump's side.
"We know that if a protest is largely peaceful, but there is one window smashed in or store looted, that is what voters will see over and over again—and a lot of voters will give a Trump a longer leash and the benefit of the doubt for him to stamp that out," he said.
If the COVID-19 situation improves closer to the election, law and order could grow in significance to voters and perhaps, depending on the circumstances, even overtake the pandemic as a priority for some.
Heye said it is unclear if the points Trump is raising will receive more attention nearer the election. "But if there is any more unrest in the streets, Trump is poised to capitalize on this as an issue," he said.
David Barker, professor of government and director of the Center for Congressional and Presidential Studies at American University, thinks the messaging could have an impact—though it also risked moving some voters away from Trump.
"I think it could, in theory, make a difference with some of them—but probably not that many. And for every wavering Republican he shores up with that kind of message, he turns another one off and another swing voter off," Barker said.
He said "race-baiting language" around discussions of law and order could prove divisive. "The politics of race—and race-baiting language around 'law and order'—have changed radically since Nixon, Reagan and George HW Bush used it in their national campaigns. It is even quite different than it was just a few years ago," Barker said.
However, in terms of strategy, it might make sense as a route for the campaign to pursue due to having limited methods for closing Biden's advantage. "I mean, they have to try something, and their options are pretty limited right now," he told Newsweek.
"It is like a Hail Mary pass: they rarely work, but every so often they do— so one might as well try it rather than just kneeling on the ball and letting the clock run out."
Barker added that an improving situation with COVID-19 could see other issues focused on, though in that instance Trump may wish to focus on that change in circumstances as a selling point.
"Right now, everything is drowned out by COVID," he said.
"However, if COVID were to improve to such a degree as to enable Trump to make other points, he would probably want to trumpet his ostensible success in bringing the pandemic under control."
Ken Farnaso, deputy national press secretary for the Trump campaign, reiterated the president's stance on law and order in a statement to Newsweek.
"President Trump is the Law and Order president and is fighting to keep every American community safe while Joe Biden sympathizes with the Marxist rioters who have wreaked havoc in our Democrat-led cities," he said.
"With President Trump in the Oval, law enforcement officers can rest assure that they'll be defended—not defunded."
Newsweek has contacted the Biden campaign for comment.
While Trump has persisted with a tough stance on the unrest alongside protests nationwide, polls have previously shown most people disapproved of how he has handled the situation.
Despite this, as well as high-profile campaigns working to push Republicans away from Trump, recent polling showed a decline in the number of GOP voters or Republican-leaning independents who said they might support Biden.
Some polls have also shown a tightening of the race. But Trump still trails Biden generally by around 8 points on average, according to poll trackers, a substantial disadvantage as the election draws closer.
Update 08/20/2020: This page was updated to include comment from the Trump campaign.