As DNC Formally Nominates Biden, Trickle of Polls Show Smaller Lead Over Trump
While the polls remain in Democratic presidential candidate Joe Biden's favor some have shown a reduction in his lead over President Donald Trump as November 3 approaches.
On average, poll trackers have his lead at around 8 points with less than three months to election day.
However, this is down from prior peaks of around a 10-point lead in late June and early July—Real Clear Politics has him at a 7.6 advantage now, down from 10.2 on June 23, while FiveThirtyEight places him at 8.4, down from 9.6 around the start of July.
The poll showing the greatest tightening of late came from CNN, conducted by SSRS from August 12 to 15 among 1,108 respondents, in which 50 percent said they would back the Biden/Harris ticket compared to 46 percent for Trump/Pence.
This 4-point gap, close to the poll's margin of error of 3.7 percent, was down from a gulf of 14 in similar polling from CNN in June.
A handful of other polls have shown drops, though less significant in size with drops of 2 and 3 percent.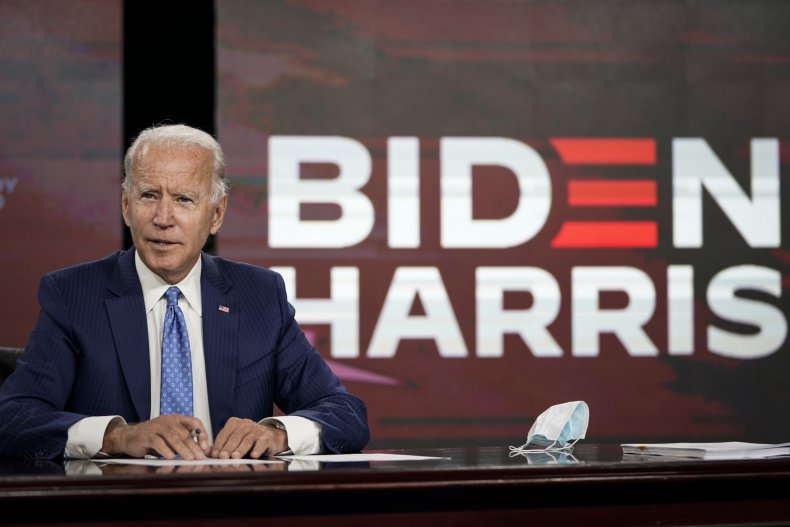 ABC News/Washington post showed Biden's gap at 12 points, among 868 registered voters asked August 12 to 15, down from a 15-point advantage last month.
Monmouth University had him at 10, in a survey of 868 adults conducted August 6 to 10, down from 13 towards the end of June.
NBC/Wall Street Journal polling put him at 9 points ahead, with 900 registered voters asked from August 9 to 12, dipping from 11 in July.
Newsweek has contacted the Biden campaign for comment.
Despite these tightening polls, which still put him on track to pull off the first defeat of a sitting president in 28 years, there have been other positive signs for Biden including an uptick in enthusiasm which also coincided with a drop in favorability for Trump.
Separate polling has also indicated slightly more voters who are traditionally Republican intend to vote for Biden than vice versa in Democrats switching to Trump.
Biden was officially nominated as the Democratic presidential candidate on Tuesday, the second day of the Democratic National Convention.
In an address during the event, being held digitally, his wife and former Second Lady Dr. Jill Biden spoke of her husband being able to work to "make a nation whole."
He also received support from former first lady Michelle Obama the day before, with her urging unity behind Biden as a candidate while criticizing Trump's ability to handle the challenges facing the nation.
"If we have any hope of ending this chaos, we have got to vote for Joe Biden like our lives depend on it," she said.
On day three of the DNC, Biden will be hoping to receive further backing with former President Barack Obama and former Democratic presidential candidate Hillary Clinton among those due to deliver speeches.