The Lesson of 2020? Women of Color Know How to Win | Opinion
Exactly one year out from Election Day, we at She the People boldly declared women of color would forge the path to victory. And with the results coming from Pennsylvania and Georgia, it is clear that our organizing, dedication and fight against voter suppression paid off.
It was Stacey Abrams who held the vision, for over a decade now. From her New Georgia Project to Fair Fight, she built the infrastructure and organizing capacity to tap the political power of communities of color, and here we are. Because of her tireless work, Joe Biden is the next president of the United States and Democrats have a fighting chance to take the Senate in two Georgia runoff elections in January.
Georgia and Pennsylvania, as well as Arizona, Wisconsin and Michigan, demonstrate the organizing power of women of color and their years-long effort to expand and protect the vote of Black and brown communities. Up and down the ballot, we delivered votes in record-setting numbers.
As ballots were still being tallied this week, mostly white mobs descended on vote-counting sites and began shouting "Stop the count!" in the very cities where we showed our voting strength—from Detroit to Phoenix and Philadelphia. In desperation, Trump himself tweeted "STOP THE COUNT!" Thursday, after falsely claiming victory early Wednesday morning.
These are just the latest ugly ploys by Trump and his followers to stop the power of our vote and kill the foundation of our democracy. By fighting to have every vote counted, we women of color upheld the deepest and most sacred pillars of American life. In 2020, the American patriot is a woman of color.
We called for a woman of color on the presidential ticket, and we got one in Kamala Harris. She the People's listening sessions and polls made clear that a woman of color as the vice presidential candidate would energize women of color voters. And she did.
Women of color turned out to vote across battleground states in numbers that dwarf those of 2016. It is because of women of color that Democrats could win battleground states. Early voting data revealed that 258,000 more women of color in Georgia, for example, had voted early over the same time in 2016, marking a 69 percent increase, according to an analysis based on Catalist data. We saw this type of historic turnout across all battleground states, and it paid off in more ways than one.
With Harris, we will have the first Black and Asian American woman vice president in history.
The four congresswomen of color known as the Squad—Representatives Ilhan Omar of Minnesota, Alexandria Ocasio-Cortez of New York, Rashida Tlaib of Michigan and Ayanna Pressley of Massachusetts—have won re-election, along with Deb Haaland of New Mexico, one of the first Native American women to serve in Congress.
The Squad will return to Washington stronger than ever with the addition of Black Lives Matter activist and pastor Cori Bush as a U.S. representative of Missouri, reproductive rights advocate and former chair of the Georgia Democratic Party Nikema Williams as a U.S. representative of Georgia and climate justice advocate Teresa Leger Fernandez as a U.S. representative of New Mexico.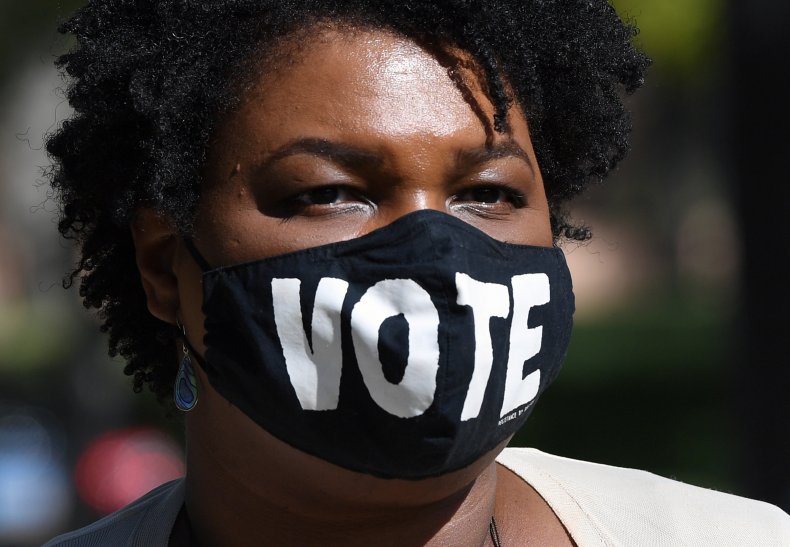 Down-ballot races are where our leaders can directly impact our daily lives, from education to health and social services, to police brutality. Native organizer Gabriella Cásares-Kelly won her race to become Pima County recorder to defend voting rights of the indigeous and Latinx community in southern Arizona. Racial justice advocate Francesca Hong has become the first Asian American in the Wisconsin State Assembly. Felicia Brabec is the newest member of the Michigan House of Representatives, having recently passed and implemented the seminal Washtenaw Racial Equity Policy.
Women of color will govern with honor, integrity, compassion and an unstinting commitment to realizing justice. This is who we are. This is who we have always been. This day is the result of momentum built by women of color-centered organizations across the country, from Abrams' New Georgia Project, to One Arizona to One PA, fighting to engage, mobilize and energize communities of color.
If we are to learn any lesson from 2020, it is this: Women of color know how to win. And we're here to stay.
Aimee Allison is founder and president of She the People, a national network of women of color in politics. She is a columnist for Newsweek.
The views expressed in this article are the authors' own.