'Let's Go Brandon' Coin Rallies as NASCAR Grapples With Insult to President Joe Biden
Amid the announcement of NASCAR racer Brandon Brown's sponsorship deal with LGBCoin, a cryptocurrency named after "Let's Go Brandon," the cryptocurrency's value has soared 64 percent.
But since "Let's Go Brandon" is a conservative euphemism for "F*** Joe Biden," NASCAR officials are currently deciding internally about the cryptocurrency's promotion on Brown's racing gear. NASCAR President Steve Phelps initially said the racing organization didn't want to be associated with the phrase.
On Dec. 29, the value of a single LGBCoin was $0.00000098. As of 11:40 a.m. Dec. 31, its value was $0.000001646—an all-time high and a 64 percent increase, according to CoinMarketCap, a crypto-asset price-tracking website.
A cryptocurrency's price is primarily affected by its supply, the market's demand for it, and the amount of available currency, as well as competing cryptocurrencies. In this case, the increase in LGBCoin's value may be in response to Brown's sponsorship, especially as NASCAR fans and conservative cryptocurrency fans flock to it.
LGBCoin itself is a branded cryptocurrency based on the more-established Ethereum cryptocurrency blockchain. The monetary value of Ethereum is based on "mining," the computation of complicated math equations to determine numbers (or "blocks") that are then used to ensure verified cryptocurrency transactions (also known as "blockchain technology").
As such, LGBCoin and other branded coins, like Dogecoin, operate off of a larger Ethereum blockchain, rather than mining conducted by the LGBCoin company. As such, its value depends largely on the number of people who invest in it.
"LGBcoin has no intrinsic value and you should not purchase it with any expectation that you will be able to resell it," LGBCoin's website states. "Please do not spend money that you cannot afford."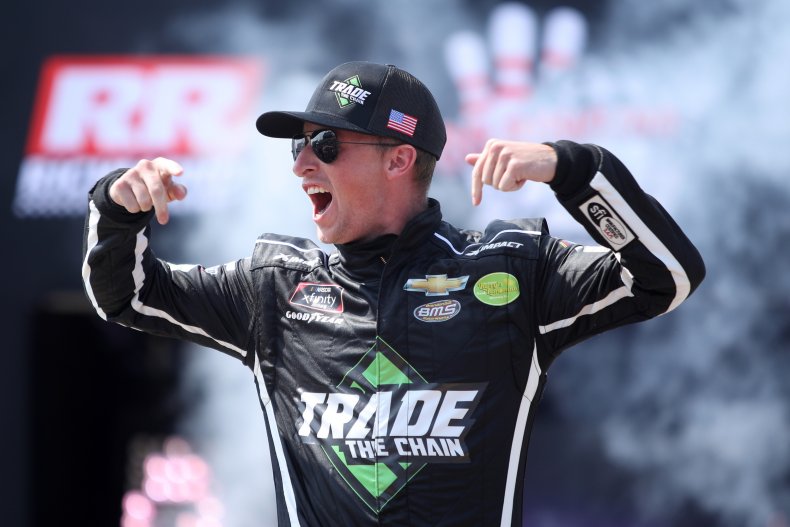 In announcing the deal, Brown's racing team called LGBCoin a "patriotic coin" and said it seeks to "inspire positivity and unity, grounded in a strong belief of the American dream."
However, NASCAR may not see LGBCoin as unifying as Brown's team does.
The "Let's Go Brandon" slogan originated at the Oct. 2 Sparks 300 race at Talladega Superspeedway in Alabama. During its broadcast, sportscaster Kelli Stavast mistakenly believed the crowd was chanting the slogan in support of Brown. The crowd was actually chanting, "F*** Joe Biden."
Brown won the race, but initially expressed ambivalence as the phrase overshadowed his win. Conservative figures quickly embraced the phrase as a way to express displeasure with President Biden.
However, Phelps, NASCAR's president, rejected it. He said NASCAR didn't wish to court any political controversy "on the left or the right." He also promised to take legal action against anyone using the phrase on NASCAR merchandise.
The full phrase won't appear on Brown's racing gear. His uniform and car will simply bear the LGBCoin logo in all 33 races of the NASCAR Xfinity Series 2022 season.
Brown's team may have "jumped the gun" in announcing the logo's placement on his gear without first confirming NASCAR's approval, a NASCAR spokesperson told Motorsport.com. NASCAR has yet to approve the paint job on Brown's car.
"I don't know what happened, any internal conversations," Brown's publicist, Max Marucci, told USA Today Sports on Friday. He said NASCAR was "reviewing the details," and added, "We're just going to try to work through whatever happens next."
The decision represents a potentially tricky choice for NASCAR.
"NASCAR is trying to appeal to a younger and more diverse new generation of fans and to hang on as a cultural hub of the conservative white South," New York Times writer Ben Smith said in his Dec. 19 interview with Brown.
NASCAR may approve the design, especially since the cryptocurrency's word mark will say LGBCoin and not "Let's go Brandon." But in doing so, the racing organization may anger non-conservative fans offended by the brand's association with the anti-Biden slogan.
If NASCAR doesn't approve the branding, it may anger conservatives who'd see the decision as bowing to liberal political pressure. The organization received similar criticism after banning Confederate flags in June 2020.