Lev Parnas' Lawyer Responds to Trump's John Bolton Tweet, Suggests Book Supports His Client's Claims About Ukraine
The lawyer of the indicted Rudy Giuliani associate Lev Parnas said it was "curious" that ex-national security adviser John Bolton reportedly claimed President Donald Trump withheld aid to Ukraine in order to pressure the country into investigating the Bidens.
Defense attorney Joseph Bondy tweeted that Bolton believed in the existence of the "same Presidential quid pro quo" described by his client, responding to a post by the president refuting the reported claims of his former adviser.
Parnas' attorney also used two hashtags pushing for Senate lawmakers to call on witness testimony from Bolton during the ongoing impeachment trial.
His comments last night came shortly after The New York Times reported that Bolton had claimed Trump told him nearly $400 million in assistance to Ukraine was being delayed until the country began investigations into former Vice President Joe Biden and his son, Hunter Biden.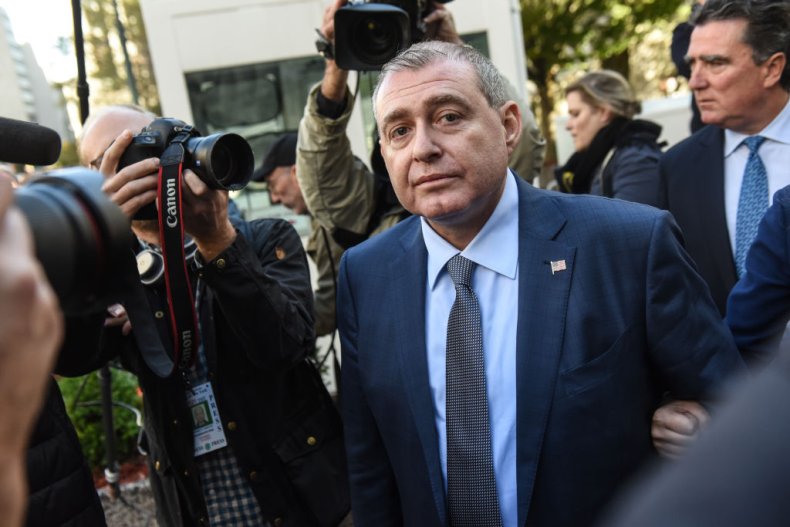 According to descriptions provided to the Times of an unpublished manuscript of Bolton's upcoming memoir, President Trump told his ex-advisor in August last year that he preferred not to send aid to Ukraine until materials on a Russian investigation into Biden were handed over.
Bolton's lawyer has been contacted for comment and confirmation of details in the Times story.
"I NEVER told John Bolton that the aid to Ukraine was tied to investigations into Democrats, including the Bidens," President Trump tweeted last night. "In fact, he never complained about this at the time of his very public termination. If John Bolton said this, it was only to sell a book."
Trump went on to argue that transcripts of his July phone call with Ukrainian President Volodymyr Zelensky were "all the proof that is needed," and noted that military aid to Ukraine was eventually released "without any conditions or investigations."
Responding to the president's refuting of The Times' story, Parnas' attorney Bondy said: "Curious, though, how @AmbJohnBolton believed the same Presidential quid pro quo existed that Lev Parnas has previously described."
Newsweek has contacted the White House for comment and will update this article with any response.
President Trump has repeatedly denied any wrongdoing in his handling of Ukraine, which is at the center of the impeachment process he has regularly called a "hoax" and "witch hunt."
Indicted businessman Parnas claimed in an interview with MSNBC earlier this month that the commander-in-chief threatened the freezing of "all aid" to Ukraine until an investigation into the Bidens was opened.
Giuliani's associate also told CNN that alleged efforts by President Trump to pressure Ukraine included an offer to endorse the country's former President Petro Poroshenko if he announced the opening of Biden investigations.
Parnas has released a steady stream of documents relating to the commander-in-chief and Ukraine since the Senate impeachment trial began in earnest last week.
In his latest release this weekend, Parnas handed ABC News video footage of Trump pushing for the ouster of former U.S. Ambassador to Ukraine Marie Yovanovitch.