LeVar Burton Says as 'Jeopardy!' Host He'd Make Alex Trebek Proud
LeVar Burton has said he would make Alex Trebek proud if he were to become the host of Jeopardy!
"I think I could continue his legacy, I think I would do it proud," Burton said in an interview with Newsweek. "Yeah, I think I would bring myself and my skills and my life experience. I believe that I will be honoring Alex's legacy by standing on the podium."
Burton hopes to continue the legacy of the late, beloved host and has said he felt "buoyed" by the support from fans, despite not having heard from producers yet.
"I am a fan of Jeopardy! going back to fifth grade when Art Fleming was the host. So, I won't say, every night of my life, but most nights of my life from that time to now I have watched Jeopardy!. My daughter is 27, we've watched it every night of her life too.
"I won on Celebrity Jeopardy! So there's that."
Burton recalls that his winning answer was Charles De Gaulle.
"That was the final Jeopardy!, I will never forget—and having the right answer for final Jeopardy!, I gotta say, it's a pretty good feeling."
Burton says that, more than anything else throughout his career, he has been known for a "love of learning and curiosity" through his work with Reading Rainbow.
"I am practiced at relating to people through the camera," he says.
He also pointed out that he comes with his own audience, "an audience of Gen Xers and Millennials who you know who grew up with me. I just think that I'm well suited to the position."
And hundreds of thousands of people agree with this stance—with a petition by fans surpassing 200,000 signatures this month as well as endless high-profile Twitter endorsements.
"I'm not the only one," he continues. "And I think that's because it feels as right to them perhaps as it does to me. It just feels like a good fit—it feels like the right thing.
"When I think about it, when I contemplate it's like yeah, 'that makes sense.'"
Burton described his dedicated support on Twitter and via the petition as "wonderful."
"It feels wonderful, because what it says to me is that they agree with me. I am a good choice."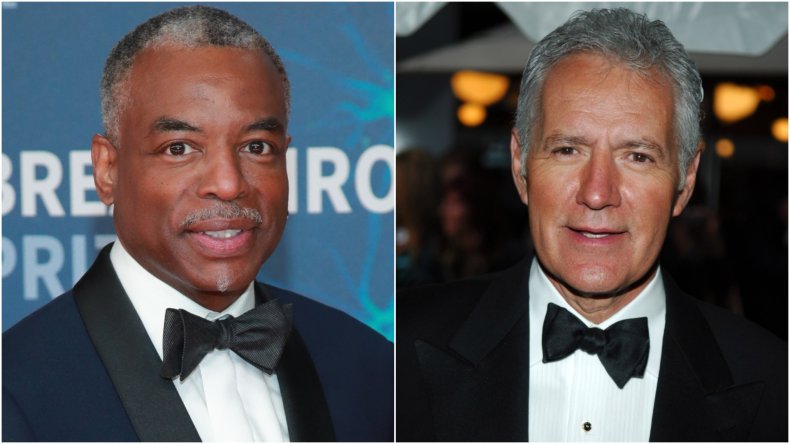 A television mainstay for years, Burton is also well known for portraying Geordi La Forge in Star Trek: The Next Generation and for playing Kunta Kinte in Roots—two roles which he says he knew were made for him.
"It is not often when I get this, this laser locked on a role or a job, it's only happened a couple of other times in my career," he said.
"It happened with Roots, Kunta Kinte. As soon as I read, the very first scene I knew, I knew who this character was."
He added: "Next Gen. Reading Geordi I remember thinking 'I got this—this I can do.'
"Both of those jobs I wanted desperately because I knew myself to be right for them. I thought, this is for me, and I feel the same way about Jeopardy!"
At this point, however, the producers have not been in touch but Burton says he is hopeful.
"We are hoping to hear. I cannot say that they have yet. However, I do believe they're listening."
It's pointed out that it must be difficult for them to ignore such a large-scale public endorsement to which Burton agrees, adding: "It would be hard for them to ignore. So I'm hopeful."
As for the roster of rotating hosts, he believes the different presenters bring different styles and it's a great "bridge between Alex and what comes next."
"I think it's been good for all of us who love jeopardy to have some time to get used to Alex not being there," he said.
Apart from the potential Jeopardy! gig, Burton is now channeling his famed love of reading and storytelling into his podcast, LeVar Burton Reads.
"I read a short story and every episode. People like it especially people who grew up on Reading Rainbow," he said.
"I'm happy to still maintain a relationship with them around literature and recommendations and very proud of the fact that I promote a lot of marginalized writers on the podcast because I believe those voices that deserve attention too."