Levi's Under Fire Over 'Woke' Campaign—'Make Jeans, Ignore Genes?'
Levi's, the popular Levi Strauss & Co. fashion brand, is the latest well-known entity to face boycott calls, amid furor over its campaign showcasing unisex style.
In a clip that features on the Levi's website and was initially shared on YouTube back in September 2019, a model called Jesus, sporting long hair and a beard, and another called Matia, who has a mullet hairstyle, discuss the "freedom" they feel in their respective styles.
The video has this week been shared on social media, as conservatives take aim at yet another brand at a time when they have pushed for widespread boycotts of brands that have collaborated with LGBTQ people.
In the clip, Jesus, who is described as a designer and vintage curator, is shown wearing a denim dress and rollneck sweater, while saying: "I was always obsessed with the women in my life. The way that what they did was for themselves."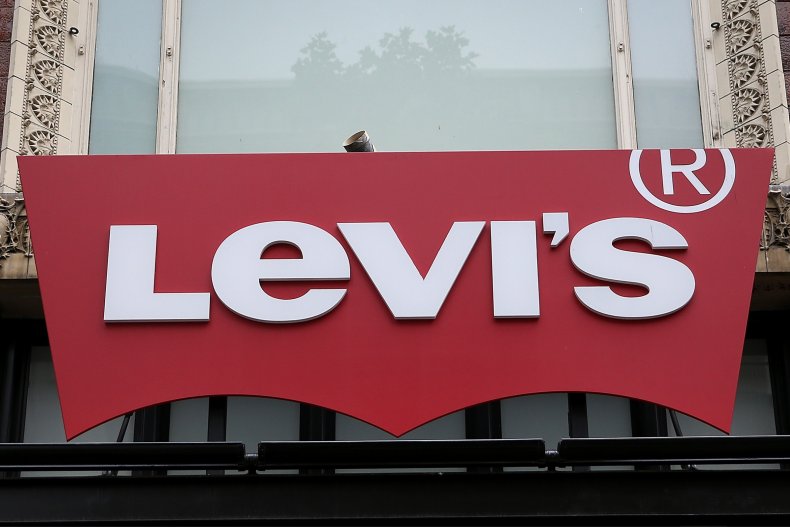 Matia, who is described in the minute-long video as a fashion lover, says: "I feel a lot more freedom when I include more masculine elements into my style."
"Whatever feels the most natural is what anyone should be doing," adds Jesus regarding fashion. "It's an amazing time to be able to express yourself in a very personal style. It's a time where we're all really free to express ourselves how we want to."
The campaign has now angered a number of conservatives, who have already vowed to step away from a range of brands including Bud Light, Starbucks, Target, Nike and Adidas for campaigns and collaborations featuring LGBTQ people.
"Another woke company @LEVIS," wrote one Twitter user who shared a clip of the company's campaign on the platform. "Levi's Follows Bud Light And Adidas In Woke Propaganda Campaigns. 'Make jeans—ignore genes?'"
"I will never wear a pair of Levi's again," vowed another detractor. "Growing up I had cords in every color they made!"
One Twitter user went as far as calling the campaign "disgusting," while another commented: "Oh no...I am a Levi's person and this ticks me off. I am going to make my voice heard."
"Buh bye, @LEVIS. I will never buy your overpriced jeans again. I hope you go the way of @budweiserusa and lose sales and stock value," said another. "THE SILENT MAJORITY DOES NOT GO ALONG WITH THIS SICK, GROOMING BULLS***!"
Amid the flood of complaints, other Twitter users ridiculed the ever-increasing list of companies that detractors have publicly declared they're turning away from.
"So will Republicans boycott every company who supports LGBTQ+?" asked one. "If so what will you wear and eat and drink? No more McDonald's, Levi's, Old Navy, Skittles, Hershey's etc etc."
Quipped another: "Imagine telling a Republican 10 years ago that someday they will have to boycott... NFL, Ford Trucks, Harley-Davidsons, Fox 'News', Disney, Budweiser, Levi's, M&M's, Nike, Sesame Street, Mr. Potato Head, Starbucks, Target, UPS... Just to be obedient to the party."
"Didn't y'all already boycott Levi's ages ago for something else?" another weighed in. "I don't remember the idiot reason why but I do remember y'all doing it already. So basically you're just announcing more of the same then? Or is this a 'well this time we really mean it' moment?"
As with a number of other brands, Levi's has this year launched a campaign dedicated to Pride Month, which is observed and celebrated every June. The Levi's website features a "Pride 2023 cast" that includes "six inspiring LGBTQ+ individuals from across the globe, living as their authentic selves and helping others do the same."
Levi Strauss & Co. CEO Chip Bergh spoke out in support of the brand's gender neutral clothing while attending a conference event hosted by Axios earlier this month.
When asked about marketing to consumers who are "more aware of their gender identities" amid increasing discontent, Bergh responded: "We actually have a gender-neutral line. It was a small collection. And we know that women buy some men's product and men buy some women's product.
"We know that goes on, we've got the market research and the data to show it, and that's great. We are kind of building out slowly, starting with a very small collection of gender-neutral or gender-fluid lines and there is definitely consumer appetite for that, and we're there for that."
Newsweek has reached out to representatives of Levi's via email for comment.
The current wave of conservative boycott calls was heightened after Bud Light collaborated with transgender influencer Dylan Mulvaney.
On April 1, Mulvaney shared a video on Instagram in which she revealed that Bud Light had sent her a can with her face on it to commemorate 365 days of her living as a woman. Mulvaney's Days of Girlhood video series, which charts her first year of transitioning, has been a viral success.
The partnership drew condemnation from a number of conservative figures, including Texas Rep. Dan Crenshaw, with many issuing calls for a boycott of Bud Light. Musician Kid Rock reacted by sharing footage of himself opening fire on a stack of Bud Light cans, a move that was emulated by model Bri Teresi.
At the time, a spokesperson for Bud Light's owner, Anheuser-Busch, told Newsweek that the "commemorative" can was typical of its work with "hundreds of influencers" across its brands "as one of many ways to authentically connect with audiences across various demographics."
The spokesperson added that the commemorative can "was a gift to celebrate a personal milestone and is not for sale to the general public."
Following the criticism and reports of plummeting sales, some Bud Light executives took a leave of absence, including marketing head Alissa Heinerscheid and Daniel Blake, who oversees marketing for Anheuser-Busch's mainstream brands.
The furor reflects anti-transgender sentiment that has been growing across the United States, with bills targeting the rights of transgender people being embraced by Republican governors and statehouses across the country.