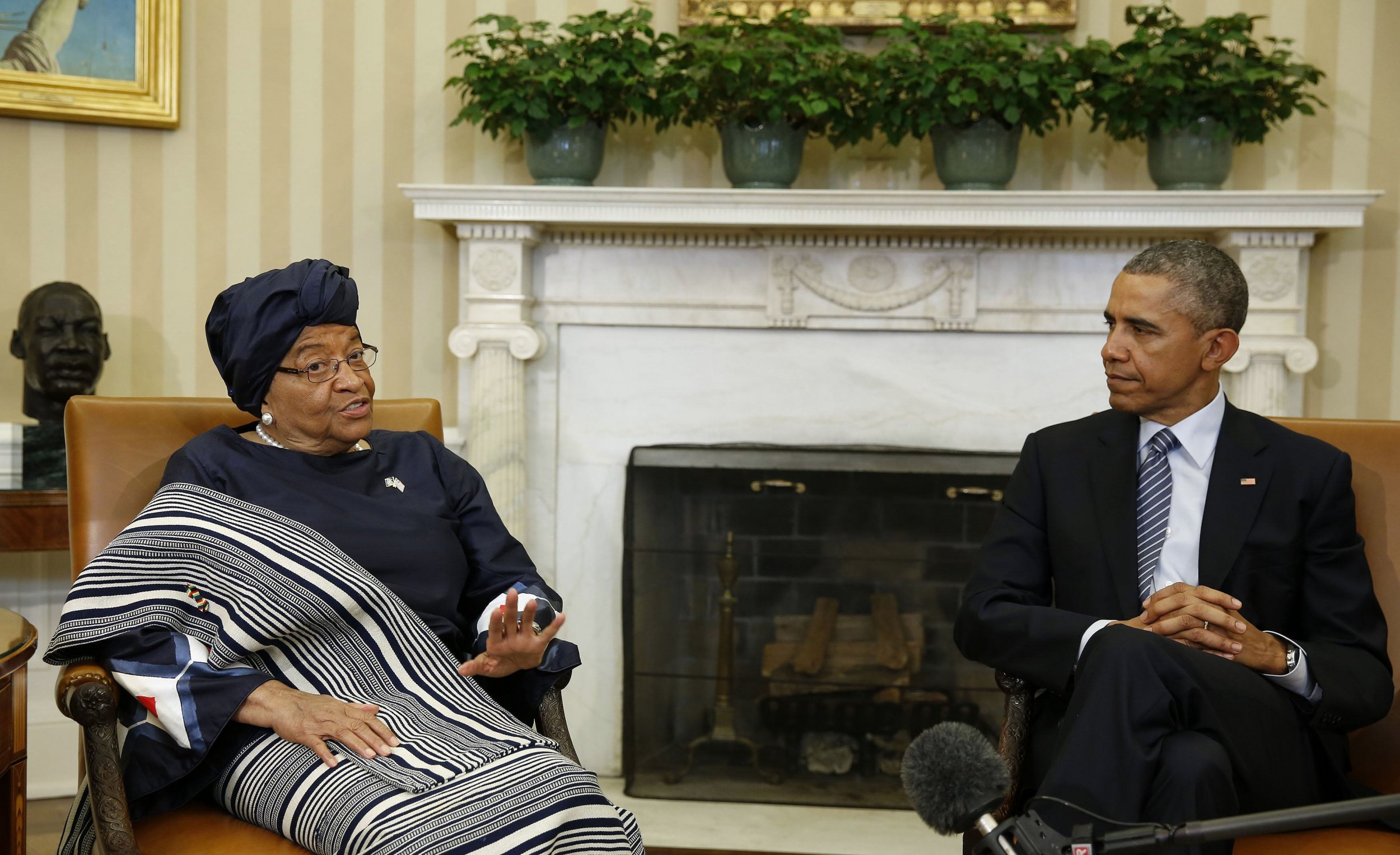 Updated | Liberian President Ellen Johnson Sirleaf on Friday thanked Americans for their support during the Ebola outbreak, which has killed over 4,000 Liberians since it began last March.
Sirleaf, who traveled to Washington on the day the U.S. military's Ebola mission in Liberia came to an early end, said during a White House visit that she was grateful that embargoes on travel in and out of Liberia—heavily debated in the U.S.—weren't enforced.
"We know that there was fear in this country [the U.S.], and we understood that because we were fearful ourselves. We didn't know how to confront this unknown enemy. And we know that there was some pressure here to be able to stop any travel of people from Liberia or from the other affected countries," Sirleaf said.
"But we want to thank you for standing firm and resisting that pressure, and rallying the American people to see this for what it was and to join partnership with Liberia and others to be able to confront it," she said.
While Ebola rates have declined, the challenge of tackling the disease in West Africa remains, President Barack Obama said after a meeting Sirleaf.
"Our job is not yet done, and neighboring countries like Guinea and Sierra Leone are still somewhat behind the progress that's been made in Liberia," Obama said.
Sierra Leone has seen the most cases of any country, with 11,301 people infected with the virus.
With more than 4,037 deaths and 9,238 cases, Liberia was hard hit by the outbreak. But in the past 38 days, only two out of Liberia's 15 counties have reported a confirmed case, according to the latest Ebola situation report from the World Health Organization (WHO). It attributes the decline in cases to an increase in safe burials, successful tracing of those who have come into contact with an Ebola patient and improved public awareness.
Sirleaf also met with Secretary of State John Kerry, at the State Department Thursday. He reaffirmed the reality that while Ebola cases have been dramatically reduced, new cases are still being reported in Guinea, Liberia and Sierra Leone.
"We still have a challenge, even though enormous progress has been made," Kerry said Friday. He also outlined lessons learned from the outbreak, which has killed almost 10,000 people and infected 23,825, according to WHO data. At the earliest signs of the next major outbreak of a deadly or infectious disease, the U.S. needs to "go all in," said Kerry.
"The most effective action is preventative action, and delay or waiting can make the challenge just that much greater," said Kerry.
Sirleaf, who also attended a Thursday event hosted by Senator Chris Coons, D-Delaware, and the United States Institute of Peace on Capitol Hill, thanked the U.S. troops who trained health care workers and built an Ebola treatment center in Monrovia, the capital of Liberia.
The mission came to an end after five months, earlier than the expected deployment time of nine to 12 months, because a decline in cases led to empty beds in treatment centers, Reuters reports. About 100 troops will remain in Liberia to assist with monitoring the spread of the virus.
"On behalf of the government and people of Liberia, and in my own name, I express profound gratitude to the U.S. government, the U.S. military, the nongovernmental organizations, the faith-based organizations and the American people for the depth of friendship, remarkable partnership and exemplary leadership which you have shown in joining us on the front lines of the battle against the deadly Ebola virus disease," Sirleaf said Thursday.
"Threatening those most intimately connected to the sick, Ebola robbed us of our human need to care and be cared for," Sirleaf said. "It attacked our way of life as well as a health system gradually rebounding from years of decline."