For Health Care Workers Fighting Ebola, the Biggest Battle Is Staying Healthy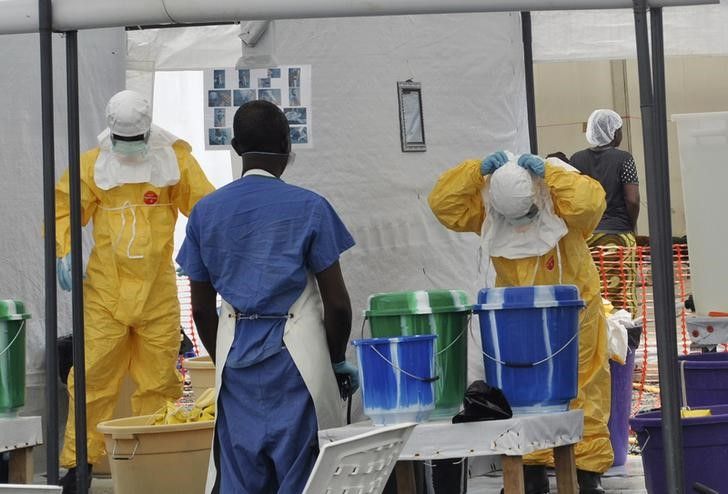 For doctors and nurses battling Ebola in West Africa, the anxiety can be exhausting.
Monitoring the health of their patients is a basic requirement of their work. But as the virus has spread through villages and cities, killing 5,000 and infecting over 13,000, another task quickly became critical: monitoring their own health just as carefully.
"You remain anxious all day. You can relax a bit when you get home. Then in the morning it starts again," Dr. Gino Strada, the founder of Emergency, a Milan, Italy-based international medical organization, tells Newsweek. Strada has been working with Ebola patients in Sierra Leone since October.
While the effect of the Ebola outbreak has been devastating to the region's communities and the economy, health experts are increasingly recognizing that caring for Ebola health workers might be as essential to stopping the disease as any other measure or protocol.
On Friday, a 25-bed hospital built by the U.S. military and staffed by the U.S. Public Health Service will open in Liberia's capital, Monrovia. Dedicated to the care of health workers, the field hospital is part of an effort to assure those traveling to the region to assist with Ebola patients that they will be cared for if they get infected.
By the end of October, more than 500 health care workers had been diagnosed with Ebola, with almost 300 succumbing to the disease, the World Health Organization (WHO) says. As many as 5,000 additional health care workers are still needed in the region to effectively fight the disease, according to the World Bank.
Health workers aren't the only people critical to management of the outbreak, The New York Times pointed out this week. Caregivers and people performing outreach and burials "could be considered equally important," reporter Sheri Fink writes.
But various factors contribute to the argument that health workers care should be prioritized, according to Johns Hopkins Berman Institute of Bioethics Director Ruth Faden, including the key role they play in outbreaks and the higher level of risk they face.
"This is a disease that comes along and disproportionately affects health care workers," says Dr. Josh Mugele, an emergency physician and assistant professor of clinical emergency medicine at Indiana University's School of Medicine, who returned from Monrovia in June.
"You're killing nurses and you're killing doctors through this crisis," says Mugele, who fears what will happen once the outbreak is controlled and international aid organizations leave the region. "You're going to be left with an even more depleted health care system with even fewer doctors and nurses than the beginning, which will leave routine care even more difficult to do," he says.
And in the countries where the virus has hit hardest, the stakes are high. There are approximately 98 nurses for every 10,000 patients in the U.S. For the same number of patients in Sierra Leone, there are an estimated two nurses, and in Liberia there are three.
'A Critical Piece of the Puzzle'
For Rear Admiral Scott Giberson, acting deputy surgeon general in the U.S., the health worker hospital opening in Monrovia Friday is "a critical piece of the puzzle" in the Ebola outbreak response.
The hospital is part of a ramp-up in U.S. commitment six months after Ebola began to emerge in West Africa. In September, President Barack Obama announced the deployment of 3,000 troops to the region to help train health care workers and set up treatment centers. By then, thousands in Liberia, Guinea and Sierra Leone had become infected and more than 2,400 had died. Six weeks later, the number of dead had doubled.
Members of the U.S. Public Health Service, part of the Department of Health and Human Services (HHS), were dispatched to manage and staff the 25-bed hospital. The U.S. Public Health Service Commissioned Corps is the only U.S. uniformed service solely focused on health crises and the only one providing direct care to Ebola patients.
The hospital is being built and funded by the Department of Defense, which has about $30 million approved for Ebola response, according to a statement. Sixty-nine staffers from the Commissioned Corps' 6,800 members have been sent to the region, HHS says.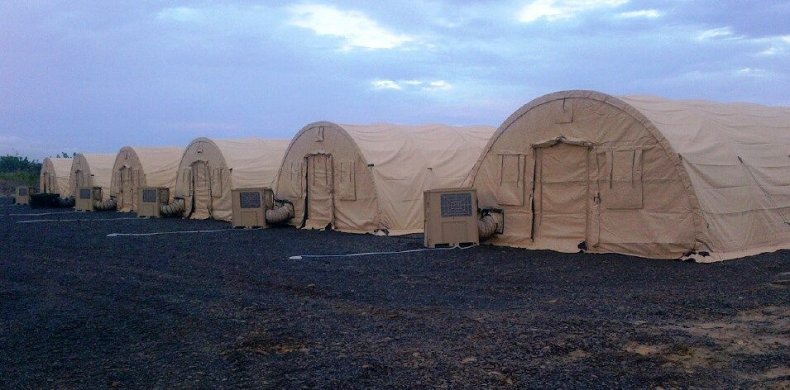 Liberia had 2.8 health care workers for every 10,000 people and 51 medical doctors for a population of 4.29 million before the Ebola outbreak, according to an October Lancet study.
The need for more health care workers is crucial, Giberson says.
"If we ensure that there's a high-quality facility to come to that will [provide] treatment for Ebola-related care at a level that they would need to feel that confidence and ensure that safety, we hopefully will make sure that Liberian national and international health care workers will come to Liberia to take care of others," he says.
The Politics of Ebola
In the U.S., the treatment of health care workers returning from West Africa, as well as caring for Ebola patients here, has become as much about politics as it is about health care.
Mugele arrived back in the U.S. in June from Monrovia three months before Thomas Eric Duncan, the first person to become infected with Ebola in the U.S., was admitted to a hospital in Dallas. Duncan's treatment, which resulted in two nurses getting infected, sparked a wave of panic and a scramble over what constituted the best quarantine and infection control procedures.
National Nurses United criticized insufficient training and practice for nurses using personal protective equipment (PPE), while some states issued mandatory quarantines after Craig Spencer, a doctor who worked with Doctors Without Borders treating patients in Guinea, fell ill with the virus after his return to New York. Dr. Kaci Hickox, a Maine nurse who returned to the U.S. after working in Sierra Leone, has fought New Jersey's strict quarantine rules following her experience in isolation after flying into Newark Liberty International Airport.
The U.S. Centers for Disease Control and Prevention has its own guidelines for those returning from the region, which include medical examination, a temperature check and check-ins over 21 days, the limit of Ebola's incubation period.
Amid debate over mandatory quarantines, treatment protocol and travel bans involving the African region, Obama called American health care workers "heroes" and stressed that the best way to protect Americans from Ebola was to allow the workers to travel to try to stop the outbreak in West Africa.
In Monrovia in June, Mugele was having trouble with training and PPE. Stationed in Monrovia's John F. Kennedy Hospital, he was helping staff with emergency response preparedness when the first Ebola cases began appearing in the bustling city of 421,000. The hospital was reluctant to take any Ebola patients, and Mugele assisted in treating just one, a man in his 40s.
"It was scary," he says. "We knew the hospital had purchased some personal protective equipment, and we knew we could kind of get it, but nobody at that point had trained on it, nobody had practiced putting it on or taking it off. We didn't even know exactly where it was. That was fairly nerve-racking."
The Liberian doctors Mugele assisted took steps to protect him from getting too close to the infected patient. Later, three of the doctors contracted the disease, and two of them died, he says. There was no time to get tired, but it was "very frightening for everyone involved," he adds.
With relentlessly high rates of infection from Ebola in Liberia, Sierra Leone and Guinea, death is a daily reality for the area's nurses and doctors—and the latest traumatic illness to follow the devastating impact of diseases like AIDS and tuberculosis
"Even before Ebola, they'd just recently lived through a civil war, they're dealing with horrible, horrible resource depletion on a day-to-day basis," Mugele says. This is a "traumatic work environment," he says.
Staff Shortages in Sierra Leone
In countries with already depleted health care systems, and with health care workers on the front lines of dealing with a deadly infectious disease, staffing treatment centers and caring for those staff members are key.
"Because of the escalation of the Ebola crisis, the health care workers are either employed, sick with Ebola or have died from Ebola," Eric Talbert, executive director of Emergency USA, the U.S.-based arm of the Emergency nonprofit, told Newsweek. "We are running out of being able to hire anybody locally."
In September, Emergency, which works primarily in war zones, opened a 22-bed Ebola treatment center in Lakka, near Freetown, the capital of Sierra Leone. That center filled up quickly, Talbert says. Five survivors have since left.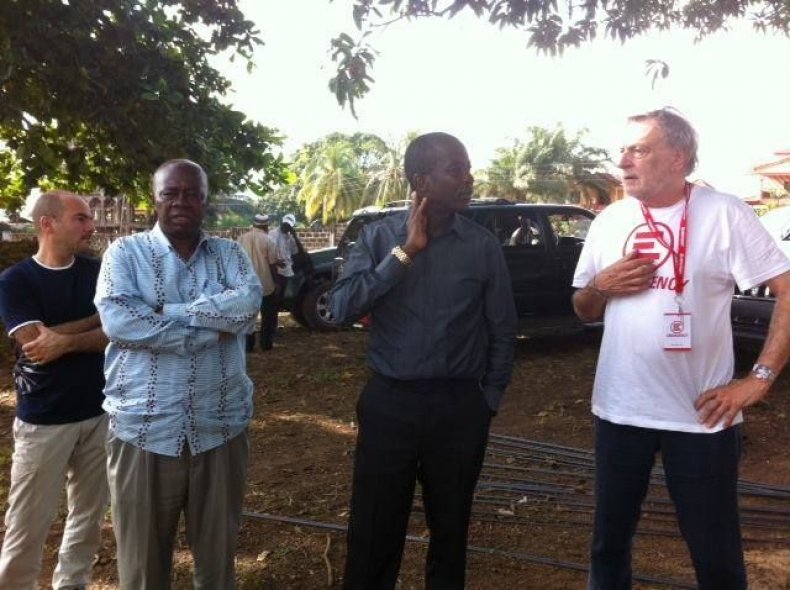 Construction on a new 100-bed center has started, and Talbert predicts it will be completed by November 27, with a cost of around $1 million a month to operate.
"The challenge with that is staffing," says Talbert. "That's going to fill up quickly too, but not within two or three weeks, hopefully."
While Liberia has suffered the highest human loss from the virus, with 4,665 cases and 2,705 deaths, Sierra Leone and Guinea also have infection numbers in the thousands.
At least 25 doctors and 100 nurses are needed for the new center in the Freetown neighborhood of Goderich, and Emergency says it will have to rely on international doctors and nurses to travel to Sierra Leone to provide care. Talbert says Emergency USA is hiring 60 nurses and seven doctors from outside Sierra Leone for paid positions for two to three-month missions.
Strada, a surgeon, hopes treatment for civilians and health care workers at the new center can start in early December. He has put his surgeries on hold to treat Ebola patients in Sierra Leone.
Like Mugele, Strada worries about the effect of the crisis on Sierra Leone's health care system. He says the Ebola outbreak has forced many of Sierra Leone's hospitals to be abandoned in recent months because of the high rates of health care worker infections and staffers' refusal to resume work before being adequately trained and protected.
Doctors Without Borders has had to stop work at a maternal and pediatric health center near Bo, Sierra Leone, due to the risk of health care workers and patients becoming infected.
The French medical aid organization has suffered its own losses: 23 staffers have been infected with Ebola, and 13 have died.
This week, Obama spoke with staff members at the Monrovia Medical Unit, commending them for their work, and on Wednesday he asked Congress for nearly $6.2 million in new emergency funding to help fight the disease in West Africa, and the United States.
For now, doctors and nurses in the region have to put their anxieties aside, despite often having to work "in a makeshift setting" and facing limited resources and searing heat, Mugele says.
"You're not going through the rigor of what you'd go through in an American hospital," he adds. "So you just do the best you can."