Obama Praises Health Care Workers in Remarks on Ebola Crisis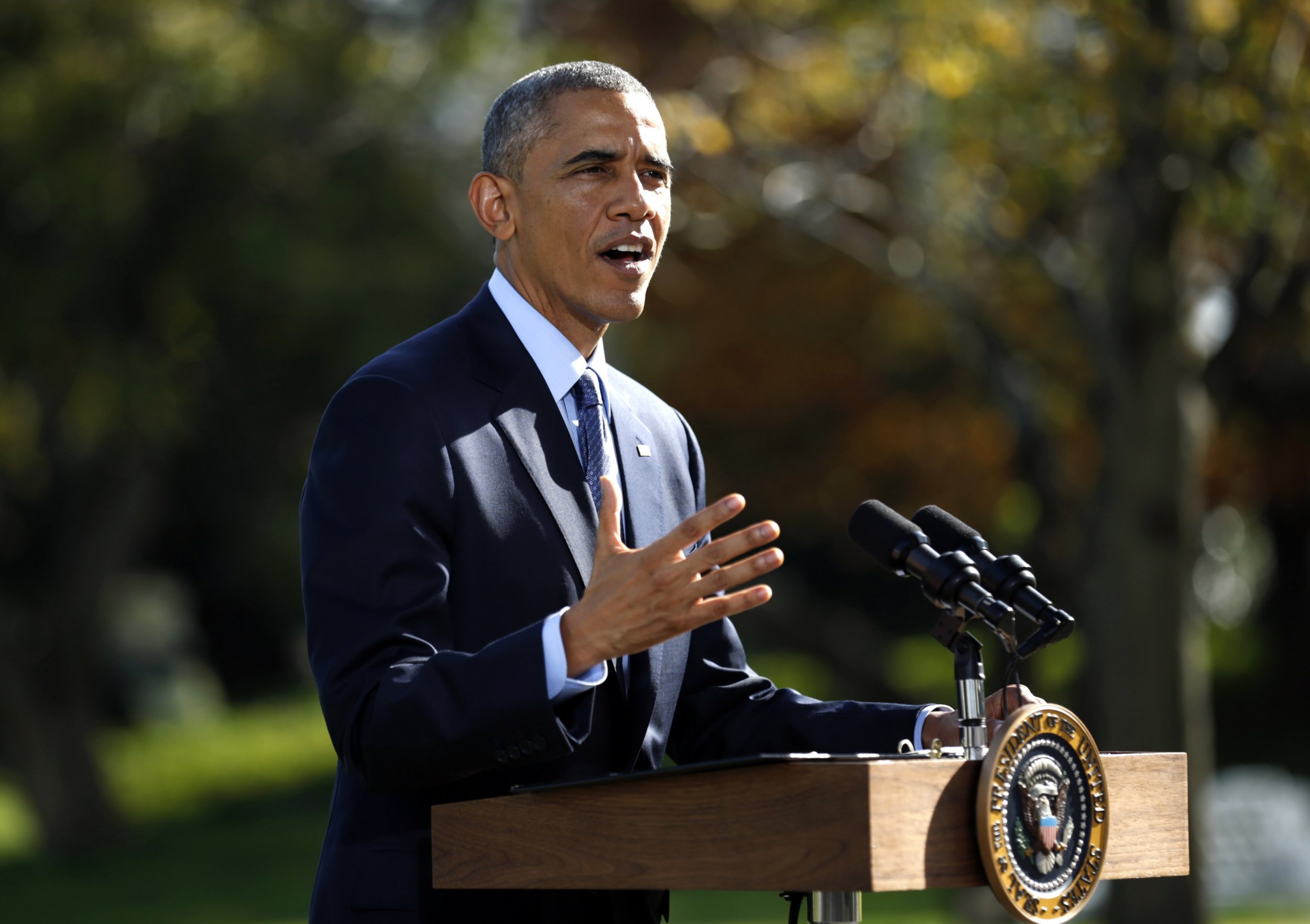 President Barack Obama addressed the current state of the Ebola crisis at the White House in Washington, D.C., on Tuesday, reiterating the U.S. government's stance that the best way to combat the outbreak is to contain and eradicate it in West Africa, and applauding doctors for their work there.
"If we don't have a robust response in West Africa, we're endangering ourselves here," Obama said.
He said that returning health care workers should be "applauded, thanked and supported" for their efforts, and that it should be certain that "every policy we put in place is supportive of their effort."
"They're doing God's work over there," Obama said.
Newsweek subscription offers >
Obama delivered his remarks shortly after speaking with health care and aid workers from the U.S. Agency for International Development who have been working in West Africa.
A debate over the quarantine protocol for health care workers returning from West Africa has dominated the news in recent days after strict mandatory quarantines were implemented by some states, such as New Jersey, following the diagnosis of Dr. Craig Spencer in New York City. Kaci Hickox, a Maine nurse who was quarantined in New Jersey after arriving from treating Ebola patients in Guinea on October 24, protested the conditions of her quarantine over the weekend and questioned its legality. Meanwhile, some health experts and federal health officials have criticized mandatory quarantine as unwarranted.
Hickox was allowed to return to her home in Maine on Monday and will quarantine herself there for the 21-day recommended period. Obama did not address Hickox's case directly.
On Monday the U.S. Centers for Disease Control and Prevention issued new guidelines for quarantine and monitoring to counter differing state rules, recommending that people at high risk self-quarantine and monitor themselves for 21 days.
Newsweek subscription offers >
Obama said that the Ebola virus could be contained and defeated but that the U.S. is "going to have to stay vigilant, and we need to work together."
The president also reminded Americans that of the seven Americans who have contracted the disease, all have survived. Dr. Craig Spencer is the only one still in treatment, Obama noted, adding. "Our thoughts and prayers are with him."
Amber Vinson, the second nurse who contracted Ebola while treating a patient in Dallas, was released Tuesday from Emory University Hospital in Atlanta.
Obama said he will meet on Wednesday with health care workers who have worked in West Africa with Ebola patients. "I want to say how proud I am, how confident I am [in their work]," he said.
Obama Praises Health Care Workers in Remarks on Ebola Crisis | U.S.