New Jersey Quarantine Unwarranted, Some Emergency Physicians Say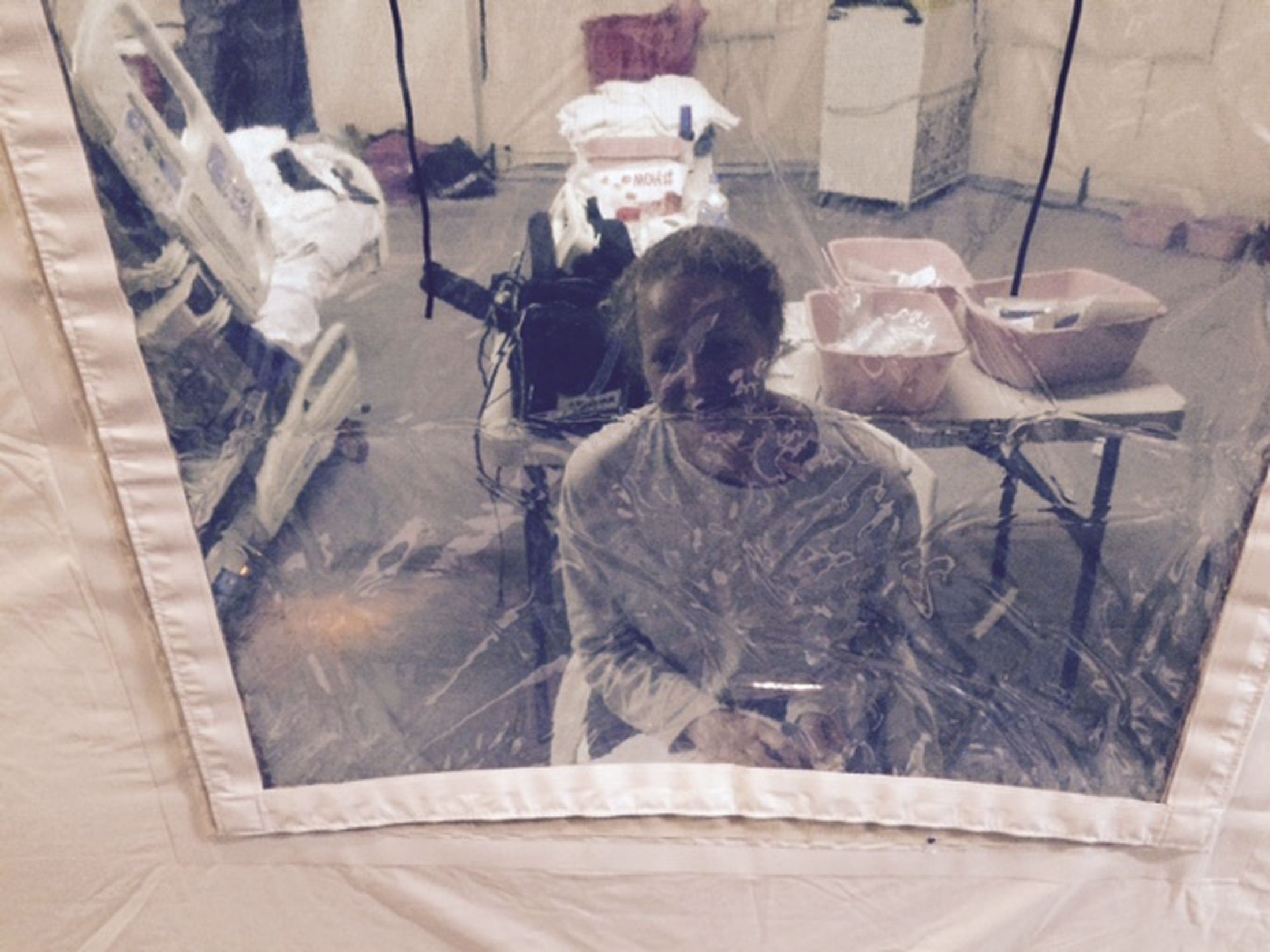 The 21-day quarantine of a nurse who recently returned from treating Ebola patients in Sierra Leone was unwarranted, emergency physicians said Monday.
At the American College of Emergency Physicians assembly in Chicago, where the specter of Ebola hung in the air, some emergency room physicians and doctors agreed that despite the need to be cautious, the severity of nurse Kaci Hickox's treatment was unnecessary.
"It's not something I think the [Centers for Disease Control and Prevention] would recommend right now and the [National Institutes of Health] also, would not recommend it," David C. Pigott of the University of Alabama at Birmingham School of Medicine, told Newsweek.
Kaci Hickox, 33, had been caring for Ebola patients in Sierra Leone with Médecins Sans Frontières (MSF), the French medical aid organization also known as Doctors Without Borders, before she returning to the U.S. on Friday. After arriving at Newark Liberty International Airport, she was told by officials there that she had a fever, the single symptom she showed related to the virus, and she was escorted by police to University Hospital in Newark, New Jersey hours later, where she was quarantined. She disputed the fever finding and has since tested negative for Ebola.
Hickox claimed her quarantine, mandated under rules issued by New York and New Jersey last week, was a violation of her rights. On Monday, New Jersey Governor Chris Christie said she will be allowed to return home to Maine, where she will self-quarantine.
"This is not a situation I would wish on anyone, and I am scared for those who will follow me," Hickox wrote in an essay for the Dallas Morning News on Saturday. "I am scared about how health care workers will be treated at airports when they declare that they have been fighting Ebola in West Africa. I am scared that, like me, they will arrive and see a frenzy of disorganization, fear and, most frightening, quarantine."
"She has been vocal, and rightly so," Pigott said. "She's been put in a situation where she's treated like a second-class individual after putting her life on the line to make a difference."
New Jersey Gov. Chris Christie and New York Gov. Andrew Cuomo announced on Friday that all health care workers returning from West African nations where they treated Ebola patients would be quarantined for 21 days. For Hickox, this involved being placed in an isolation tent, which she has now left. The quarantine protocol was prompted by the positive Ebola diagnosis in New York of Dr. Craig Spencer, who recently returned from treating Ebola patients in Guinea.
The measures have been criticized for being too harsh and could serve as a deterrent for American doctors who are greatly needed in the three worst-hit countries of Sierra Leone, Guinea and Liberia.
"Forced quarantine of asymptomatic health workers returning from fighting in the Ebola outbreak in West Africa is not grounded on scientific evidence and could undermine efforts to curb the epidemic at its source," MSF said in an emailed statement on Monday.
The Association for Professionals in Infection Control and Epidemiology (APIC) remains "deeply concerned about the Ebola virus disease (EVD) outbreak and the difficulty in protecting health care professionals providing care to EVD patients," they oppose the mandatory quarantine.
"While we understand public concerns, APIC does not support mandatory quarantine of health care providers with no symptoms of Ebola who have treated patients with EVD," APIC in an emailed statement on Sunday.
Cuomo has since said voluntary quarantine with twice daily temperature monitoring is appropriate, which Pigott agrees with.
At the gathering of emergency physicians Monday, Dr. Michael Lozano, divisional executive vice president of EmCare and an emergency physician in Florida, said that while the threat of Ebola in the U.S. is a rapidly changing scenario, the decision to issue mandatory quarantining was not the best one that could have been made.
"It's easy to become critical looking back, and I think communication could have been better to explain to her the process, but clearly, if you're going to go to someone and say 'we need to keep you here for 21 days,' that's a life-changing event," Lozano told Newsweek.
Dr. Mischa Veen, an emergency room doctor in The Hague, Netherlands, has been in the U.S. for about a week and calls the reaction to Ebola "grossly exaggerated."
Veen has been practicing the process of putting on and taking off personal protective equipment such as gowns, gloves and masks in the Netherlands and for the past month, has received in-hospital training on Ebola infection control, including drills for quarantining Ebola patients while protecting medical staff.
"It's an extremely serious disease that we have to tackle, but the chances of us dying from something else are a lot bigger. It's a scare, people are afraid, but panic is not really going to help anybody out," said Veen.
The Ebola outbreak has surpassed 10,000 cases and killed more than 4,922, according to the latest figures from the World Health Organization (WHO). All but 27 cases, including 10 deaths, have occurred in Sierra Leone, Liberia and Guinea, WHO reports. Mali saw its first Ebola case last week, a 2-year-old girl who traveled from Guinea and who later died from the disease.
Dr. Jessica Nelson, an ER physician at Baylor Medical Center in Garland, Texas, felt the quarantine measures were necessary. "Some people would think it's maybe an overreaction," Nelson said, but "you really can't be too cautious," she said.
Baylor is about eight miles away from Texas Health Presbyterian Hospital in Dallas, the hospital where the first U.S. diagnosis of Ebola occurred and Nelson said she has seen many concerned parents bringing in feverish or sick children, asking if they might have Ebola. A few of those children were in class with a child who was on the same plane as Amber Vinson, the second Dallas health care worker who became infected with Ebola.
"It's been a huge panic, but I think it's getting a little more under control," she said.