Second Ebola-Infected Nurse, Amber Vinson, Released from Hospital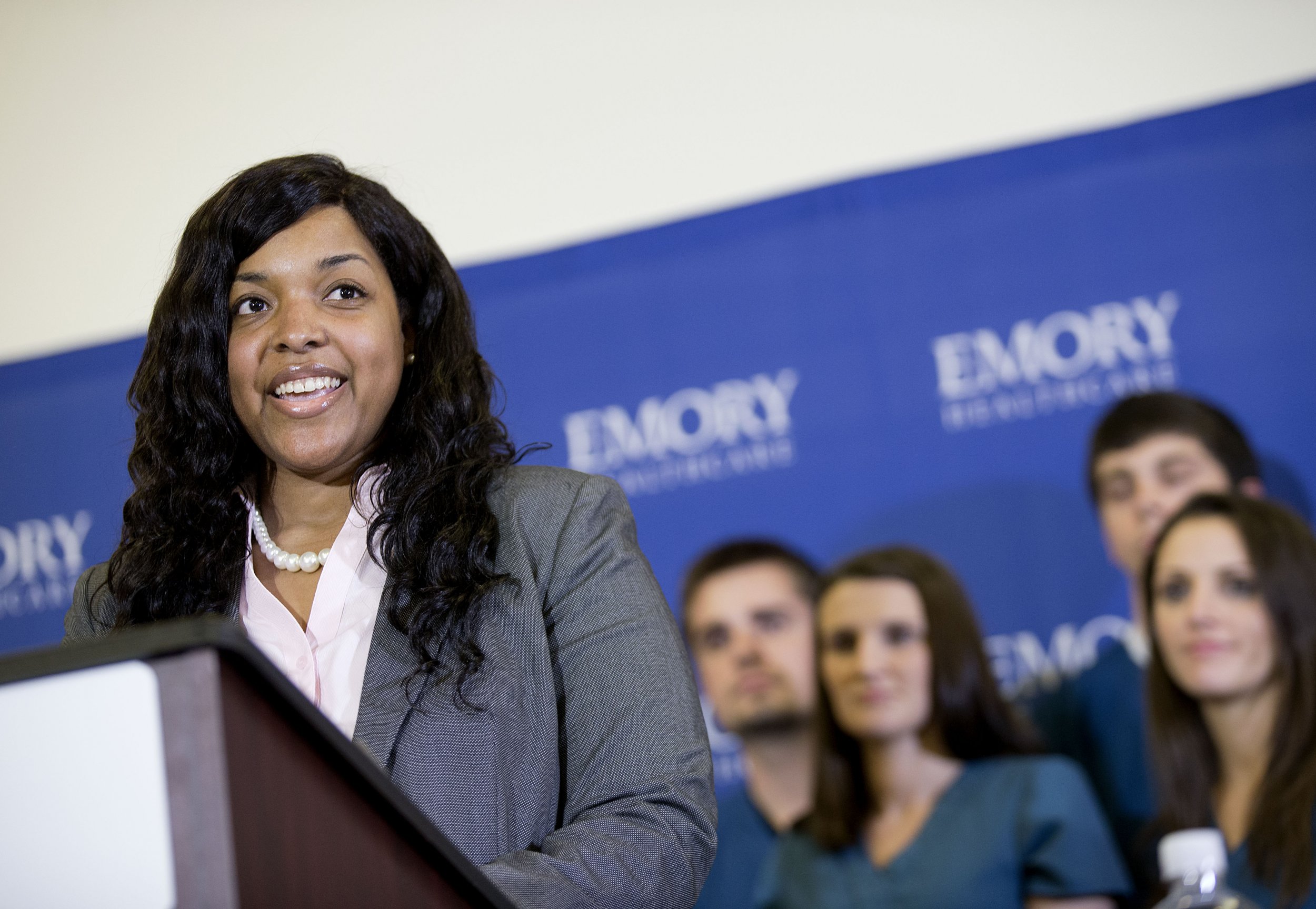 Amber Vinson, the second Dallas nurse infected with the Ebola virus, was released Tuesday from Emory University Hospital in Atlanta nearly two weeks after she was admitted to its Serious Communicable Disease Unit.
Tests show that Vinson, who was diagnosed with Ebola in Texas, is now virus-free, a spokeswoman for the hospital said.
"I'm so thankful to be here, and first and foremost I want to thank God," said Vinson, 29, during a press conference at the Emory University Hospital Annex on Tuesday afternoon. Vinson went on to thank her doctors, nurses, plasma donors and family, who she said "played such an important role in my recovery."
Vinson later asked that "we not lose focus on the thousands of families" in Africa who have suffered as a result of the recent outbreak. So far, more than 10,000 people have been infected with the virus and 4,922 have reportedly died in West Africa, according to the most recent numbers from the World Health Organization.
Vinson was one of two nurses at Texas Health Presbyterian Hospital in Dallas who became infected with the virus after caring for Thomas Eric Duncan, a Liberian who became the first person in the U.S. to be diagnosed with Ebola, in September. Duncan died October 8. Vinson's fellow nurse Nina Pham was diagnosed on October 11 and was also admitted to Texas Health Presbyterian, before being transferred to the National Institutes of Health in Bethesda, Maryland.
Pham left the Maryland facility on Friday after she was declared virus-free, and was reunited with her dog, Bentley, who had been quarantined at a military base in Grand Prairie, Texas, a suburb of Dallas, WFAA 8 ABC reported. She also spoke at a news conference at the time of her release.
Dr. Anthony S. Fauci, director of the National Institute of Allergy and Infectious Diseases, said last Friday that Pham would be able to "resume a normal, healthy and happy life."
According to medical records Duncan's family released to The Associated Press, Vinson had cared for Duncan on September 30, the same day his test results for Ebola came back positive.
Vinson first reported her symptoms on October 14 and was immediately isolated at Texas Health Presbyterian Hospital. Soon after her diagnosis, news that Vinson had boarded Frontier Airlines Flight 1143 from Cleveland back to Dallas/Fort Worth the day before she was admitted to the hospital caused a stir. She had called to notify the U.S. Centers for Disease Control and Prevention (CDC) that she had an elevated fever of 99.5 degrees Fahrenheit—just below the 100.4-degree threshold—but was not told to refrain from flying.
CDC Director Dr. Thomas Frieden told reporters that any chance Vinson had transmitted the disease while on the plane was extremely low, because she had not been bleeding or vomiting, but added that she nevertheless should not have been allowed to travel. The CDC requested that the 132 passengers aboard the flight contact a CDC hotline to determine if any of them needed to be monitored.
As criticism of the Dallas hospital's handling of Ebola treatment escalated, Vinson was transferred by air ambulance to Emory University Hospital, where missionary Nancy Writebol and Dr. Kent Brantly had already been treated in a special isolation unit and subsequently discharged.
Vinson's apartment—where she lives alone in Dallas with no pets—was decontaminated after her diagnosis.
At the Tuesday news conference at Emory, Dr. Bruce Ribner, medical director of the Serious Communicable Disease Unit, said Vinson can now "can return to her family, to her community, to her life, without any concerns about transmitting this virus to any other individual."
Second Ebola-Infected Nurse, Amber Vinson, Released from Hospital | U.S.