Ross Kemp: 'Migration Isn't Going to Stop Because of Brexit or Because Mr Trump Builds a Wall'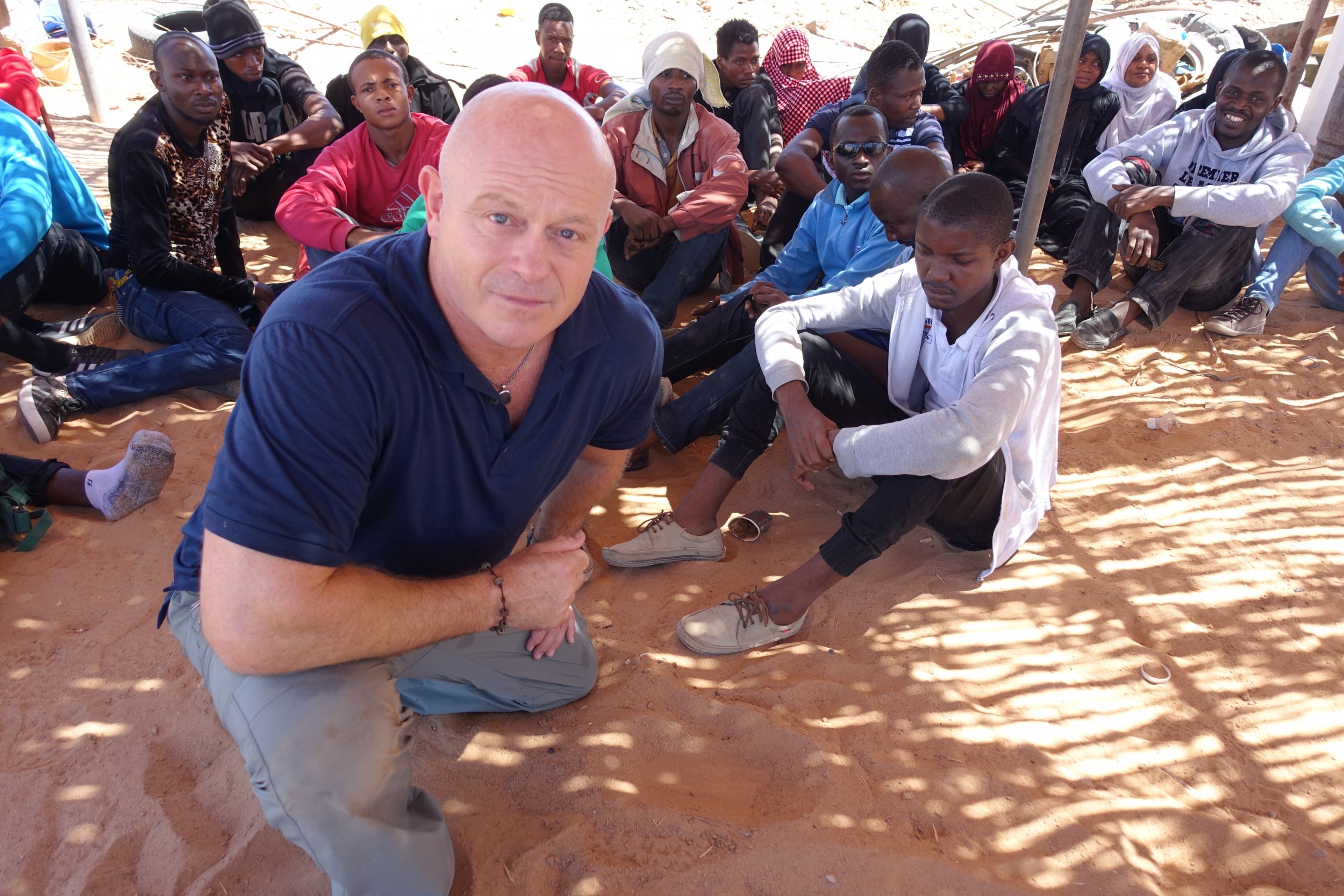 In a detention center for female migrants about 40 miles outside Libya's coastal capital of Tripoli, a young Nigerian girl, Favour, clings to two small boys.
She is not related to the boys, but all three were on a boat that set sail from Libya's Mediterranean coast the previous night— ostensibly headed for Europe —before it capsized. Of the 120 people onboard, just 18 were rescued, according to Favour. The dead includes the mother of the boys, who are brothers.
"This one was asking for his mother. I told him his mother is coming," says Favour, before trailing off and breaking down in tears.
Of all his experiences during a 12-day stint filming a new documentary in Libya—which included a high-speed ride through the desert in a truck packed with migrants, a 24-hour standoff between his security detail and armed locals, and accompanying the Libyan coastguard on an armed overnight patrol—actor and filmmaker Ross Kemp says his encounter with Favour and the two boys was the most heartbreaking.
"It was utterly hopeless," says Kemp, in a phone interview with Newsweek. "They weren't aware that, despite the fact they'd lost their parents the night before, they were now trapped and they're probably still trapped where they are."
Following a 2011 revolution that toppled longtime leader Muammar el-Qaddafi and created widespread lawlessness, Libya has become the main departure point for African migrants and refugees seeking to enter Europe. There were more than 181,000 illegal border crossings in 2016 on the Central Mediterranean route—from Libya to Italy—according to the EU's border agency, Frontex.
The head of Frontex, Fabrice Leggeri, said on Wednesday that the same number were expected to cross in 2017. And the early warning signs look ominous: Almost 9,500 migrants and refugees have arrived in Italy so far in 2017, more than 3,000 more than in the same period in 2016, according to the International Organization of Migration (IOM).
The migration crisis in Libya has led the European Union, via Italy, to reach out to the U.N.-backed Government of National Accord in Tripoli—one of three rival factions competing for power in Libya. In a meeting in Malta earlier in February, the European Council pledged 200 million euros ($212 million, £170 million) towards training the Libyan coastguard, cracking down on smuggling and improving reception facilities for migrants stuck in Libya.
The deal has been compared to the pact struck between the EU and Turkey in 2016, which mandated that migrants arriving in Greece via the Eastern Mediterranean route—most of whom were from Syria, Afghanistan and Iraq—would be deported to Turkey if their asylum claims were rejected. That deal has led to a significant drop in the number of people entering Europe through Greece. Human rights groups argue that the deals are not comparable given Turkey's relative stability and Libya's relative chaos.
Kemp agrees with those concerns. "I've not been to a place that had so much and has lost so much and now is a failed state," he says. "I don't see how Libya is going to be able to negotiate this plan with Europe on the basis that they have no control over the smugglers."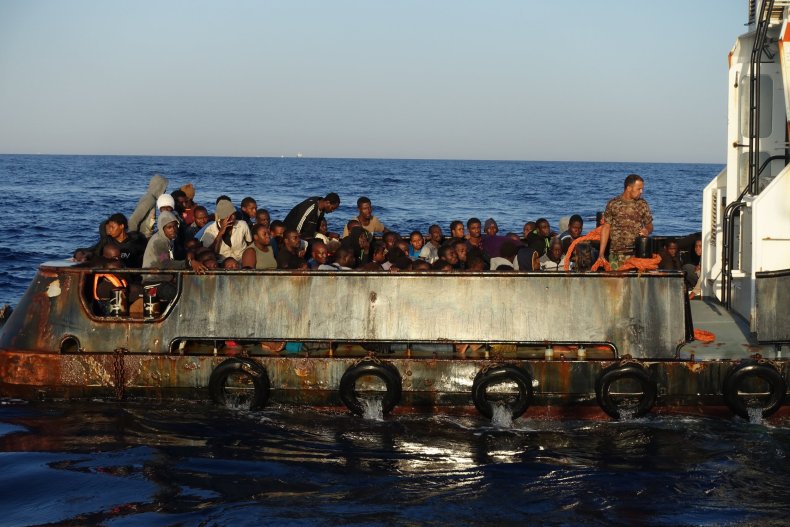 With the near-collapse of the oil industry—which accounts for about 60 percent of Libya's total GDP, according to the Organization of the Petroleum Exporting Countries —people-smuggling has become big business in Libya. A December 2016 report by an EU military task force stated that the smuggling of migrants, refugees and others generated up to $346 million (£277 million) per year for coastal cities in Libya, and counted al-Qaeda militants among the beneficiaries. Kemp says that smugglers purposefully put migrants in boats that are barely seaworthy and rely on them being picked up by European ships that patrol international waters just miles off Libya's coast.
In the first two months of 2017, 232 people have died attempting to cross the Central Mediterranean route into Europe, according to the IOM—more than double during the same period in 2016. "It's a cynical and dreadful waste of life," says Kemp.
The 2011 revolution was backed by a NATO military intervention in Libya, headed up by the U.K. and France. Coalition forces helped enforce a no-fly zone across the North African country and backed rebel groups who eventually overthrew Qaddafi, who had ruled the country for more than four decades.
Libya's subsequent descent into chaos has created a dark vortex for migrants who end up trapped there: A U.N. report in December 2016 said that those who end up in migrant detention centers—many of which are now controlled by armed groups—face human rights abuses including rape, torture and squalid conditions.
Kemp says that, regardless of the West's involvement in Libya's instability, countries such as the U.K. and the U.S. have a moral responsibility to address the humanitarian crisis there. Amid a rise in populist and nationalist rhetoric in some parts of the West—such as the immigration ban that U.S. President Donald Trump has tried to impose on citizens of seven Muslim-majority countries, including Libya—Kemp says that the situation in Libya requires more subtle solutions, though he readily admits he is not sure what form these might take.
"Migration has been happening for centuries. It's not going to stop because of Brexit or because Mr Trump builds a wall," he says. "Migration is a fact and human beings have legs and they have migrated since they've been able to stand up."
"Ross Kemp: Libya's Migrant Hell" premieres at 9 p.m. GMT on Sky 1 on February 21.