What's Behind Donald Trump's Decision to Include Some Muslim-Majority Countries in the Travel Ban—and Not Others?
Updated | President Donald Trump's executive order banning the citizens of seven Muslim-majority countries—Iraq, Syria, Sudan, Iran, Somalia, Libya and Yemen—on Friday sparked unrest at airports and in cities across the world.
Trump's team pointed to the decision of Barack Obama's administration, which had flagged the seven nations as "countries of concern," as the basis of the executive order. (The Obama administration had placed limited restrictions on dual citizen travelers to the seven countries.) The countries include some of the most poorly governed countries in the world: Yemen, Syria, Libya and Somalia . Washington also conducts drone strikes in six of the seven countries, the U.K.-based Campaign Against Arms Trade confirmed to Newsweek.
But the selected countries—whose citizens have not caused U.S. deaths on American soil for more than two decades, have led people to question why some countries have been included, but not others. White House Chief of Staff Reince Priebus said Sunday that the list could be expanded to include other countries when questioned about the issue on NBC's "Meet the Press." He also said that Trump's business ties had no influence over the selections.
But because Trump has maintained an ownership stake in his business, ethics lawyers and reporters have immediately questioned the apparent connection between places the Trump Organization does business and ones that appear on the list. As Richard Painter, the chief ethics lawyer in the George W. Bush administration told CNN: "Somalia is on the list, but Saudi Arabia is not. People from Somalia are going to say that's arbitrary. And one of the factors, people are going to say, is the president does business with Saudi Arabia but not Somalia."
And as leaders in Iran and Iraq promised to retaliate with restrictions of their own, there was a resounding silence in most of the Muslim-majority countries not hit by the travel ban. Here, a rundown of the countries not included and how they've responded.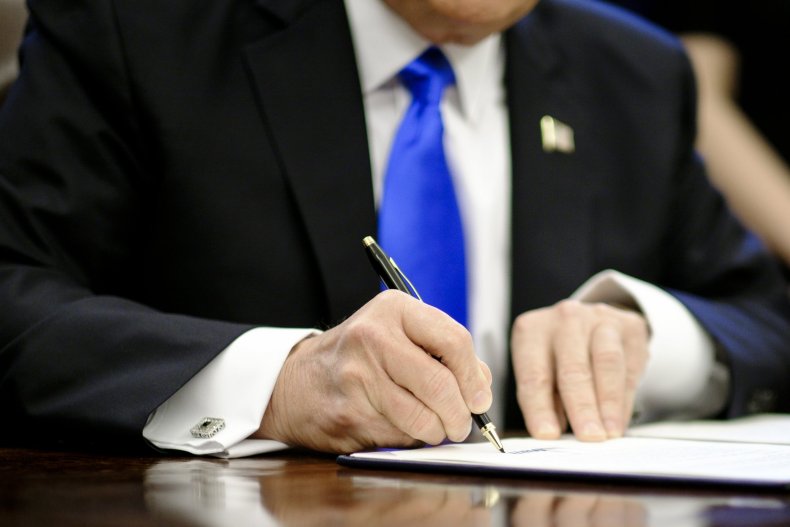 Saudi Arabia
Trump referred to the 9/11 attacks in the executive order, but Saudi Arabia was not included on the list—though 15 of the 19 hijackers that day came from the Gulf Kingdom. A Saudi also plotted the attack: Osama Bin Laden. Saudi Arabia is one of the largest international sponsors of Islamist militant groups in the world and among the biggest exporters of foreign fighters to ISIS.
But Riyadh represents lucrative business for Trump and the U.S. government. Saudi Arabia is the world's biggest buyer of arms, while the United States is the biggest seller in the $65 billion industry.
In September, Reuters reported that the Obama administration offered more than $115 billion in arms and military equipment to the House of Saud. The report didn't say how many of the offers, which are reported to Congress, were accepted but most became formal agreements. Trump may also have other interests. According to Bloomberg, Trump's Federal Election Commission filing listed four companies possibly linked to a hotel development project in the coastal Saudi city of Jeddah. The U.S. president spoke with Saudi King Salman bin Abd al-Aziz on Sunday; according to a White House press statement ; the Saudi monarch did not comment on the executive order.
Read more: Terrorists do not come from the seven countries named in Trump's Muslim ban order
Afghanistan
ISIS, al-Qaeda, the Taliban are just three of the several militant groups currently active in Afghanistan. The Pentagon has said that there are some 20 designated foreign terrorist organizations active in the Afghanistan-Pakistan region, the highest concentration of such groups anywhere in the world.
The United States has invested heavily in trying to bring more stability to Afghanistan. (a U.S. Congress report in 2014 found that at least $686 billion had been spent on direct costs of the war in Afghanistan alone.) The Afghan government has also facilitated U.S. military operations in the country, including drone strikes. But including Afghanistan on the list could potentially jeopardize that close working relationship, particularly given that there are still almost 7,000 U.S. troops based in the country as part of a NATO mission. So far, Afghan President Ashraf Ghani has made no public statement on Trump's executive order.
Pakistan
One of the five countries—along with Iraq, Afghanistan, Nigeria and Syria—worst affected by terrorism according to the Institute for Economics & Peace annual index, Pakistan has nonetheless managed to reduce the number of deaths from militant attacks in the past two years. But the country continues its long-lasting battle against the Pakistani Taliban, while also fighting off deadly incursions by ISIS.
Trump advisor Priebus specifically cited Pakistan as a potential addition to the original list in comments on Sunday. Relations have deteriorated between Islamabad and Washington in recent years as the United States have launched several unilateral actions—including the operation to kill Osama bin Laden—on Pakistani soil. But Trump reportedly referred to Nawaz Sharif as a "terrific guy" in his first conversation with the Pakistani prime minister in December 2016 and agreed to visit the South Asian country. Despite recent setbacks, Pakistan remains an important ally in the region—not to mention a nuclear power—which Trump may be keener to have on his side than against him. The country's interior minister, Chaudhry Nisar Ali Khan, criticized the ban on Monday, saying it would "harm the international alliance and consensus against terrorism."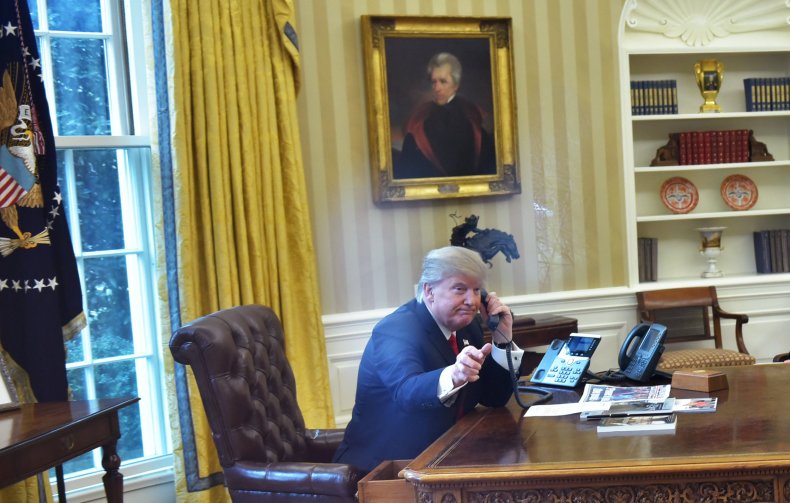 Turkey
Turkey has had its fair share of problems with extremism in recent years, dogged by violent attacks committed by ISIS, Kurdish and leftist groups. The country has suffered the effects of the neighboring Syrian conflict but it has also provided a thoroughfare for thousands of jihadis, those who have passed through to Syria from Europe, and vice versa.
But the country is a key NATO ally, providing vital cooperation in the fight against ISIS, as well as being a valuable economic partner, particularly in aircraft sales and oil trade. Trump's ban targeting mainly Muslims was poorly received in Ankara, with Prime Minister Binali Yildirim saying that regional problems could not be solved by "closing the doors on people." Last June, President Recep Tayyip Erdogan called for Trump's name to be removed from two Istanbul Trump Towers after he spoke of a wide Muslim ban on the presidential campaign.
Read more: How Donald Trump's business ties are already jeopardizing U.S. interests
Tunisia
Tunisia is the top exporter of foreign fighters to Iraq and Syria. More than 6,000 Tunisian nationals have traveled to the two countries, according to the U.S.-based intelligence consultancy The Soufan Group. Tunisians have also been implicated in terror attacks on European soil, such as the Nice truck ramming in July 2016, and the country has suffered attacks on its own soil, including attacks in Tunis and the coastal resort of Sousse.
Nevertheless, the country remains one of the Arab Spring's sole success stories. It has an elected government, security forces battling radical Islamists and is cooperating with the U.S., which is conducting airstrikes in neighboring Libya—which might be reason enough to maintain good relations. Tunisian officials are yet to publicly respond to Trump's executive order.
Jordan
Jordan also finds itself on the frontline of the Syrian conflict, hosting a large proportion of refugees and increasingly struggling with violent extremism— including the shooting of three American personnel at a Jordanian air base on November 4 in what U.S. officials are now investigating as a terror attack. The country remains one of the largest exporters of foreign fighters to ISIS.
While the extremist threat remains, Jordan's King Abdullah II became the first Arab leader to travel to Washington since he issued the executive order. He met with Vice President Mike Pence and Defense Secretary James Mattis on Monday, primarily discussing security cooperation. He has not met with Trump and had not confirmed whether he would on this trip.
On January 5, Jordan said that Trump's campaign plan to move the U.S. embassy in Israel to Jerusalem would be a "red line." However, the U.S. retains a strong presence in Jordan, as it is a stable monarchy and provides a useful location for military operations in the Middle East since Jordan is also involved in the fight against ISIS in both Syria and Iraq. These security ties may well have deterred the Trump administration from adding Jordan to the list.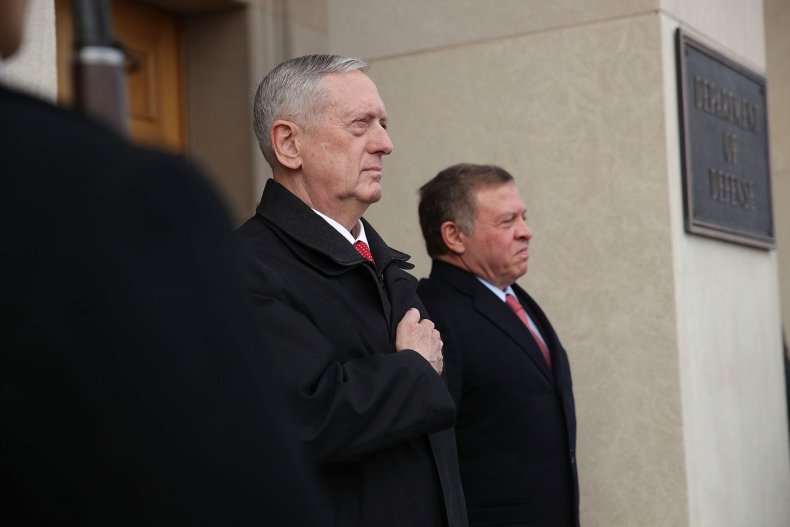 United Arab Emirates
Although one of the 9/11 attackers came from UAE, it is also conducting more airstrikes against ISIS than any other member of the U.S.-led coalition—apart from the U.S. itself.
On top of that, Abu Dhabi is a key pipeline for U.S. arms sales and energy imports. Bloomberg again raised Trump's business interests in the region, reporting that Trump has significant business interests in Dubai, with a licensing deal for villas and a golf course in Dubai. Trump spoke to the crown prince of Abu Dhabi Sheikh Mohammed bin Zayed Al Nahyan on Sunday, the same day he spoke to Saudi's King Salman, showing his intention to maintain warm ties with these two key Gulf states despite the travel ban.
Qatar
The U.S. government under Obama identified the country as a key backer of Al-Qaeda's affiliate in Syria. But it did not make Trump's list.
Both Washington and Trump have financial interests in the country. The two countries engage in billions of dollars worth of arms sales. The Trump Organization has plans to construct hotels in the country, according to an interview his daughter Ivanka gave in 2015. "Dubai is a top priority city for us. We are looking at multiple opportunities in Abu Dhabi, in Qatar, in Saudi Arabia, so those are the four areas where we are seeing the most interest," she said. Trump also leased floor space to Qatar Airways from 2008 until mid-2014 in Manhattan's Trump Tower and he and his wife Melania have been guests of the company's CEO Akbar Al Baker at lavish functions.
Qatar is yet to comment on the ban but Qatar Airways said that it would enforce Trump's new rules for those traveling on U.S.-bound flights.
Egypt
It seems unlikely that Trump will expand the list to include Egypt, given the chummy relationship he has struck up with President Abdel Fatteh el-Sisi. In September 2016, Trump referred to the Egyptian leader as a "fantastic guy;" in return, Sisi was the first foreign leader to congratulate Trump on his election victory, saying he had "no doubt" the Republican would be a strong leader.
Despite the fact that one of the senior 9/11 hijackers, Mohamed Atta, was an Egyptian, Sisi's hardline stance against Islamism is likely to find favor with Trump. Egypt is currently fighting an ISIS affiliate, known as the Sinai Province, in the Sinai Peninsula. In addition, the U.S. administration is currently debating whether to categorize the Muslim Brotherhood as a terrorist organization. The Islamist group is one of Sisi's enemies in Egypt, where it is already classed as a terrorist group. The U.S. is currently debating whether to do the same, and if Trump agrees, it could cement the already amiable ties between the two governments. Trump has also listed two companies in Egypt, revealing potential business links to the country. Egypt's government has not publicly commented on the ban.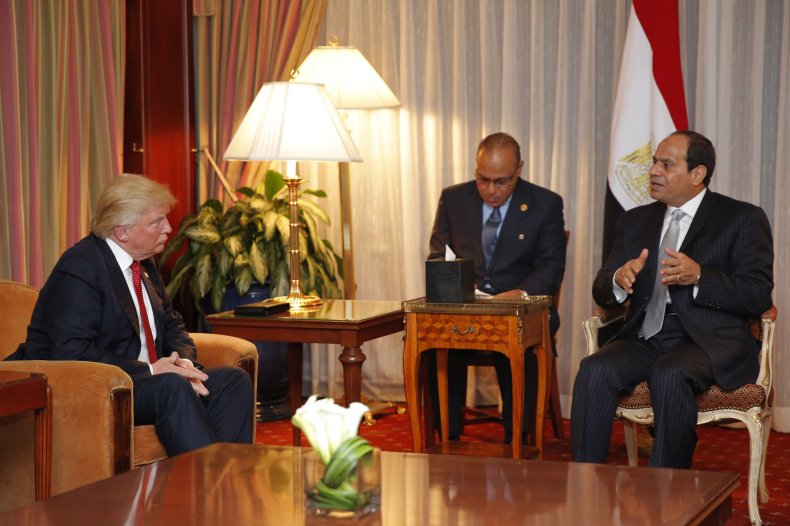 Morocco
Unlike some of its neighbors in North Africa, Morocco has managed to avoid a major extremist attack since the 2011 bombing of a popular tourist square in Marrakesh. Morocco has also been a willing partner in supporting counter-terrorism in Europe: It cooperated with France in the deportation of two of its nationals accused of plotting "large scale attacks" in both countries, and the Moroccan intelligence agency said it twice warned German authorities about Anis Amri's support for ISIS before he drove a truck through a Berlin Christmas market in December 2016, killing 12 people. Perhaps the efficiency of its security services, coupled with this willingness to cooperate, convinced the Trump administration not to alienate Morocco by adding it to the list of banned countries. Morocco's government has not publicly commented on the ban.
Indonesia
Indonesia, the world's most populous Muslim country, has suffered a series of attacks at the hands of ISIS. It has a prior history of extremism too, with the Jemaah Islamiyah Bali bombings killing more than 200 people in 2002. Authorities are battling the group's presence in the country and Indonesia's top counter-terror unit is U.S.-trained.
Aside from security cooperation, Trump has an Indonesian business partner that is overseeing the construction of two resorts under the management of the Trump Hotel Collection, a subsidiary of the Trump Organization. Hary Tanoesoedibjo said this month that there was no conflict of interest as the resorts were agreed before Trump ran for the presidency. The Indonesian billionaire attended Trump's inauguration.
Indonesian Foreign Ministry spokesman Arrmanatha Nasir said on Monday that Jakarta "deeply regrets" the ban and said that it could have a "negative impact" on the fight against terrorism.
Correction: A previous version of this story incorrectly stated that Trump currently leases floor space to Qatar Airways in Manhattan's Trump Tower; the airline has not leased space there since June 2014.