'Sign From God': Shocking Moment Lightning Strikes House During Viewing
A Georgia home buyer was left shocked after lightning struck a house while she was touring it, leaving her car covered in rubble.
Chriss, known online as @biggdaddichriss, was recording a video of the house for her boyfriend when she managed to capture the moment lightning struck.
The video, which can be seen here, has gained over 7 million views online after she shared it to TikTok. According to Chriss, it was a "sign from God" that she shouldn't purchase the house.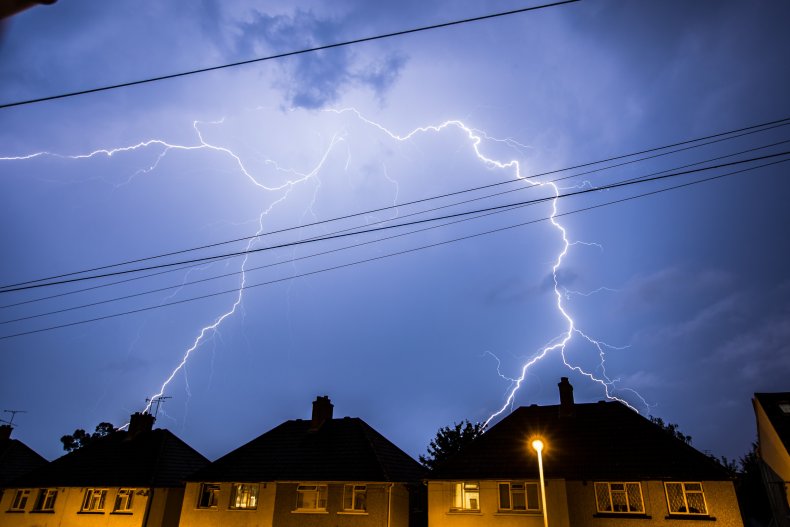 Chriss filmed herself stepping into the house using the side door, after parking her car in the car port due to the heavy rain outside. She showed herself locking the door before spanning around to show the inside of the house, walking through the open plan kitchen towards the living room.
Everything appeared normal, until a loud noise struck and an orange flash appeared inside the home. A second video by Chriss showed the garage floor ripped apart by the lightning, with cement exploding across the car. It can be seen here.
"When touring a house goes wrong," she joked in the on-screen text of the video. Chriss captioned the clip: "I really liked the house too...but clearly it wasn't meant to be."
According to the National Lightning Safety Institute, around 1 in 200 houses will be struck by lightning every year.
"We're not living here because lightning just struck," she said in the clip. According to a follow-up explanation by Chriss, her boyfriend initially wanted her to continue touring the house.
Chriss explained that she felt immediately uncomfortable upon entering the house, and was about to leave even before the lightning struck, but decided to record it and send it to her partner quickly.
The weather in Georgia, explained Chriss, is extremely temperamental and so she thought nothing of the extreme downpour upon her arrival. Despite her parking in the car port to protect herself and the car from the elements, lightning struck straight through a hole in the roof and hit the door, causing the lights in the kitchen to go out.
It left the door seen in the video with burn marks and the cement "pooped and burst," causing it to go all over her car. Chriss was left needing to film the aftermath as evidence for the car rental company.
Viewers were left startled by the video, with users rushing to express their concern and shock in the comments.
"Imagine if you opened the door a few moments later," wrote one user.
"No clearer sign could have been given!! good luck on your search," added another.
Chriss hasn't let the unlucky event deter her from finding her dream house, however, and has continued to share her experience touring houses to her TikTok account.
Newsweek has contacted @biggdaddichriss for comment.