'Lightyear' Film Slammed by Conservatives: 'Go Woke, Go Broke'
Lightyear's opening weekend box office figures failed to reach the stars and as a result, has been mocked by conservatives who suggest if you "go woke" you'll "go broke."
The Toy Story origin tale is Pixar's latest animation to hit cinemas, but it was banned in a number of territories for featuring a same-sex kiss. Chris Evans replaced Tim Allen in the titular role as Buzz Lightyear, a move which had already upset some, including TV actress Patricia Heaton.
Though the movie has received positive reviews, and took in an impressive $51 million at the box office on opening weekend, Lightyear was projected to take in around $70 million. It was also up against box office heavyweights Top Gun: Maverick and Jurassic World: Dominion.
Its relatively disappointing debut at movie theaters was slammed by some, including lawyer and host of The Jenna Ellis Show, Jenna Ellis. Highlighting the news that Pixar's Lightyear made a "disappointing" $51 million in its domestic opening, she declared: "Go woke, go broke."
Some people on Twitter replied to Ellis' assessment and explained why they dodged the movie. "I would have seen it but then found out what was in it," @SueBridgman2 wrote, followed by a tearful emoji. "I'd rather watch F18's" said @GearDown10, implying they're seeing Top Gun: Maverick instead.
"I know someone personally who was going to see that movie until I told them what was in it. They did not go!" wrote @dontmockGod.
Right-wing author Nick Adams made his feelings very clear in a series of tweets relating to Lightyear.
"Do NOT take your children to see Lightyear, it is 100 percent woke!" he told his 310,600 followers. "I will go to the theater to watch the anti-woke Top Gun 2 movie again before going to see Pixar's woke Lightyear movie once! This country needs more patriotic movies like Top Gun and fewer woke films like Lightyear!"
Conservative author Brigitte Gabriel also called for a boycott for the "full woke" Lightyear, telling her followers to "hurt them at the box office!"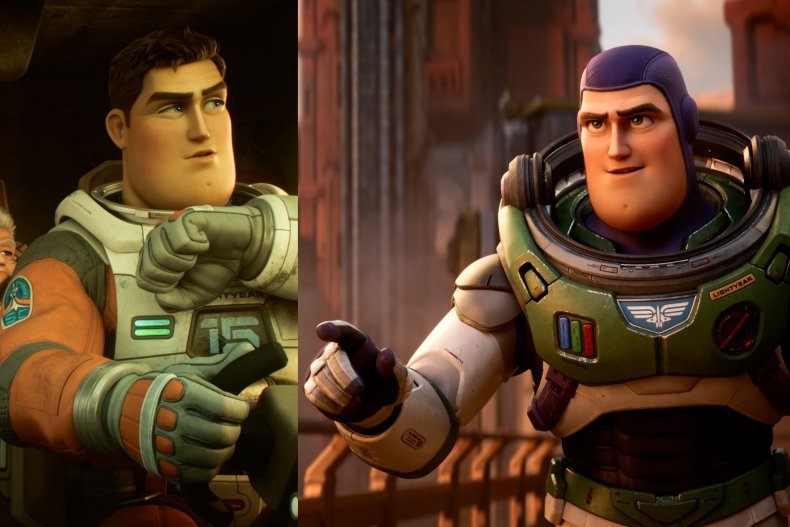 Noam Blum, chief technology officer at Tablet Magazine, gave his take on why Lightyear has underperformed and angered so many, accusing Disney of playing both sides.
"The irony of stuff like Lightyear is that Disney will put the tiniest amount of gay content in a movie so that it can easily pulled if China wants it, but keeping it in gets them accused of being just as woke as if the entire story was about queerness," he wrote on Twitter.
With an additional $34.6 million from international markets, the worldwide total intake for Lightyear in its opening weekend is $85.6 million, against its reported budget of $200 million.
Lightyear is available to watch in movie theaters now. Click here to read Newsweek's interviews with Lightyear cast member Keke Palmer discussing the same-sex kiss within the movie.