'Lightyear's' Keke Palmer Loves How Film Normalizes Same-Sex Relationships
Lightyear has been banned in 14 countries across Asia and the Middle East over a same-sex relationship featured in the film, but star Keke Palmer loved how keeping it will help "normalize what's always been there."
The star, who voices Izzy Hawthorne in the film, spoke to Newsweek about the representation in the film, while producer Galyn Susman added that the relationship will help queer children "feel seen."
Lightyear's same-sex relationship, and kiss, is between Uzo Aduba's Alisha Hawthorne and her wife, who welcome a son of their own during the course of the movie.
Alisha is best friends with astronaut Buzz Lightyear (Chris Evans) and she later becomes a grandmother to Izzy after living several decades on the planet that she and Buzz's fellow crew members are marooned on.
Lightyear's Keke Palmer Loves How Film Normalizes Same-Sex Relationships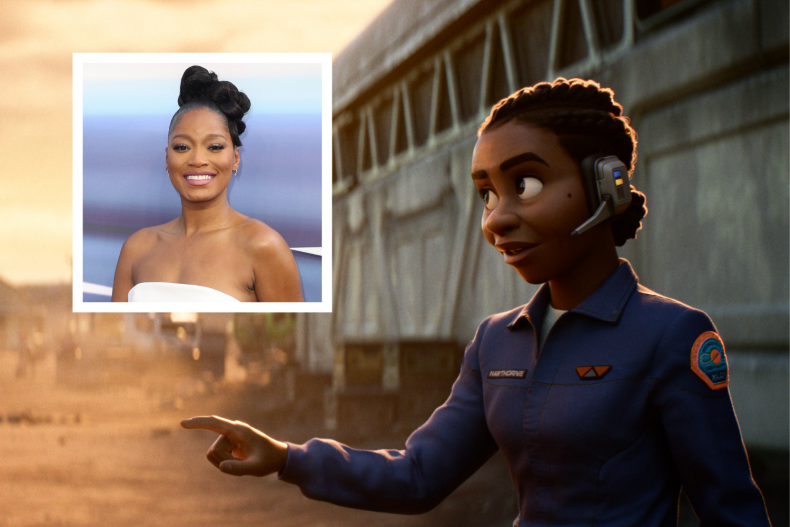 Reflecting on how kids will react to the relationship, Palmer said: "I think they'll love it. Young kids today and the kids that will be coming after them, just to have this in the atmosphere, it just continues to normalize what's always been there.
"And it just shows the representation of what our world has always looked like. If you imagine that this is the movie that Andy saw [in 1995], then it's like these people were always a part of the story, and so it's good to make sure that that's represented in film and in art."
The Scream star went on: "I love the representation. It's what our world has always looked like, you can imagine how many women, and how many women of color, have always been in these places, in these spaces, but not necessarily getting the recognition or the credit that they deserve.
"I just think it's awesome that we continue to show that prominence and show these kinds of characters in leadership positions, because it is true.
"In my life my mother, my grandmother, were Izzys for me, and so I also love the aspect of us seeing the legacy that Izzy holds near and dear in regards [to] her grandmother, Alisha."
Lightyear Producer Hopes Film Helps Queer Kids Feel Seen
Lightyear is currently banned in 14 countries in the Middle East and Asia, including the United Arab Emirates, Saudi Arabia, Lebanon, Kuwait, Egypt, Indonesia, and Malaysia. It also has not been given a release in China, and is unlikely to get one.
But producer Susman was unperturbed by this as she told Newsweek that she hoped Alisha's relationship in Lightyear would help queer kids feel represented onscreen.
"I think that every kid when they watch a movie wants to see themselves on the screen," Susman said.
"And especially with the children who haven't gotten to see very much of themselves, especially in animated films, that just the thought that they can sit in the theater and say, 'wow that's me and I feel seen, I feel represented.'
"It's just wonderful to have the opportunity to do that."
Lightyear is out in theaters now.