'Lightyear' Voice Cast: Chris Evans Leads Hollywood Actors in Pixar Movie
Pixar is about to go to infinity and beyond (again) with a brand new space adventure about the hero that inspired one of Andy's favorite toys.
The animated film follows legendary Space Ranger Buzz Lightyear after he and his crew are marooned on a planet 4.2 million light-years away from Earth, and the journey he goes on to bring them home.
Here is everything you need to know about the voice cast for the Pixar film.
Who Stars in the Voice Cast for 'Lightyear'?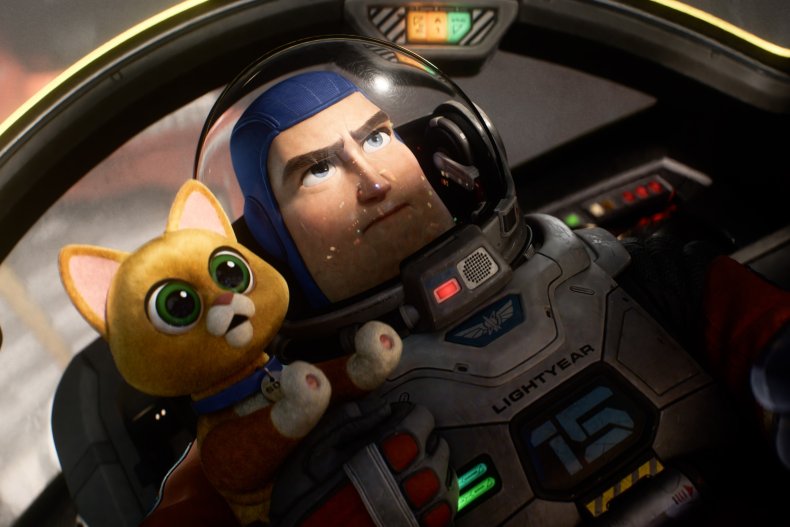 Contrary to what fans might be hoping, Tim Allen is not going to be returning to the franchise to voice Buzz Lightyear. Instead, that role is being taken by Chris Evans.
Explaining his reasoning behind casting Buzz, director Angus MacLane told Newsweek: "Well we wanted, as we were going to change the character from the toy to the action hero, we wanted a different voice to separate Buzz because you really want this to be a separate movie from Toy Story.
"Pretty early on there are some allusions to that, but it really should exist on its own and there was some confusion about that, it was very clear we needed a different voice. Also, the character is a not a side character, he's a main character and as a result has to do different things for the narrative drive in the film.
"We needed an actor that could be heroic, and emotional, and dramatic but be funny, also being funny in a way that wasn't too goofy and didn't undercut the drama. So, with that in mind, for such an iconic character, we needed an iconic star and Chris was the natural choice."
Joining Evans in the voice cast is Uzo Aduba, who portrays Buzz's best friend Alisha Hawthorne, and her granddaughter Izzy is voiced by Keke Palmer.
Taika Waititi takes on the role of Izzy's friend Mo Morrison, and Dale Soules voices Darby Steel, while Peter Sohn portrays robotic cat, who happens to also be Buzz's companion, Sox.
For fans of the original Toy Story movies another famous character will make an appearance, villain Emperor Zurg who is voiced by James Brolin.
Here is the Full Voice Cast for Pixar's 'Lightyear':
Chris Evans as Buzz Lightyear
Keke Palmer as Izzy Hawthorne
Keira Hairston as a young Izzy
Peter Sohn as Sox
James Brolin as Emperor Zurg
Taika Waititi as Mo Morrison
Dale Soules as Darby Steel
Uzo Aduba as Alisha Hawthorne
Mary McDonald-Lewis as I.V.A.N.
Efren Ramirez as Airman Diaz
Isiah Whitlock Jr. as Commander Burnside
Tim Peake as "Tim from Mission Control"
Angus MacLane as ERIC / DERIC & Zyclops
Bill Hader as Featheringhamstan