Lil Nas X, Kaitlin Bennett Feud Explained as Two Trade Blows on Twitter
Lil Nas X's highly anticipated new single "Montero (Call Me By Your Name)" was released on Friday and among huge praise for the song and eccentric video came the unsurprising moral panic from conservatives—leading to a war of words erupting between the singer and gun activist Kaitlin Bennett.
The song features the singer, whose real name is Montero Lamar Hill, dancing provocatively with the devil in a flamboyant and raunchy storyline that sees Hill pole dance his way down from heaven to hell.
Similar to the outrage that Cardi B's "WAP" prompted last summer, "Montero (Call Me By Your Name)" has caused a lot of pearl-clutching from conservatives with the religious imagery sparking much criticism.
One critic, in particular, is Bennett or the "Kent State gun girl" who is perhaps best known for being a conservative gun advocate who open carried an AR-15 for her graduation photos.
As the 21-year-old "Old Town Road" rapper was facing criticism for his new single, Hill joined in to say she was "thankful" she was blocked by Hill on Twitter.
"It's week like these that I'm thankful to be blocked by Lil Nas X," she tweeted.
Despite being blocked, Bennett's tweet was still seen by Hill who clap backed to reference a meme about Hill, allegedly defecating herself at a party.
"I still see ur tweets s***** pants," Hill responded, which prompted a shady tweet from Hill who posted: "The guy that takes it up the a** from Satan wants to talk about 's***** pants?'"
Bennett then responded to Hill: "Do you still see your dad?"
This exchange prompted the next round of insults as Hill shot back with: "Yep and i might f*** yours."
Kaitlin immediately tweeted a screenshot of the singer's response with the caption that he "threatened" to "rape" her father.
"Lil Nas just threatened to rape my dad. Sounds about what I'd expect," she tweeted.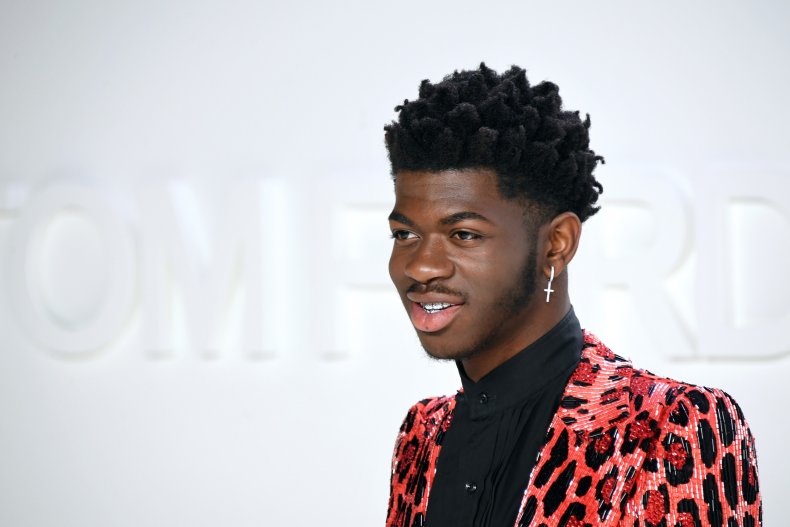 The feud is similar to the Twitter spats that have occurred between rapper Cardi B and conservative pundit Candace Owens which were sparked over the release of "WAP" and then again after the song was performed at this year's Grammys.
The situation escalated to legal threats earlier this month when Owens criticized Cardi's performance, saying it signifies the "weakening of American society."
"Millions of young girls follow you. At your best, you are self-deprecating and humorous," Owens tweeted. "At your worst, you are naked, shoving your vagina into another woman's vagina while thrusting atop her. You were at your worst on the Grammy stage. Do better @iamcardib."
To which Cardi B responded: "Not you talking about two women thrusting their vaginas together while your husband and brother slap c**** and balls together. WELL, WOULD YOU LOOK AT THAT! Wow," Cardi tweeted along with the photoshopped screenshots.