Lil Nas X Shuts Down Joyner Lucas Over 'Montero' Criticism
Lil Nas X's latest music video has caused a massive stir online with conservatives decrying the satanic imagery and sexual nature of the video.
The track "Montero (Call Me By Your Name)" was released on Friday to much praise from fans, but it has also ignited a backlash from many conservatives as it features the singer giving the devil a lap dance.
Another scandal has erupted as the singer collaborated with art collective MSCHF to launch a controversial pair of "Satan Shoes" that feature a drop of real human blood.
Now rapper Joyner Lucas has joined the voices condemning Lil Nas X—real name Montero Lamar Hill—accusing the 21-year-old of pushing "left field" content on to children that love him for his breakout hit "Old Town Road."
Lucas, real name Gary Maurice Lucas Jr. is a Massachusetts-based rapper known for his 2015 hit "Ross Capicchioni."
"I think the biggest problem for me is the fact he dont understand 'old town road' is every kids anthem," Lucas tweeted.
"Children love him for that record. They tuned in and subscribed to his channels. So with no disclaimer he just dropped some left field ish & all our kids seen it. Smh."
Hill clapped back at Joyner and urged him to monitor what music his child listens to.
"i literally sing about lean & adultery in old town road," he wrote. "u decided to let your child listen. blame yourself."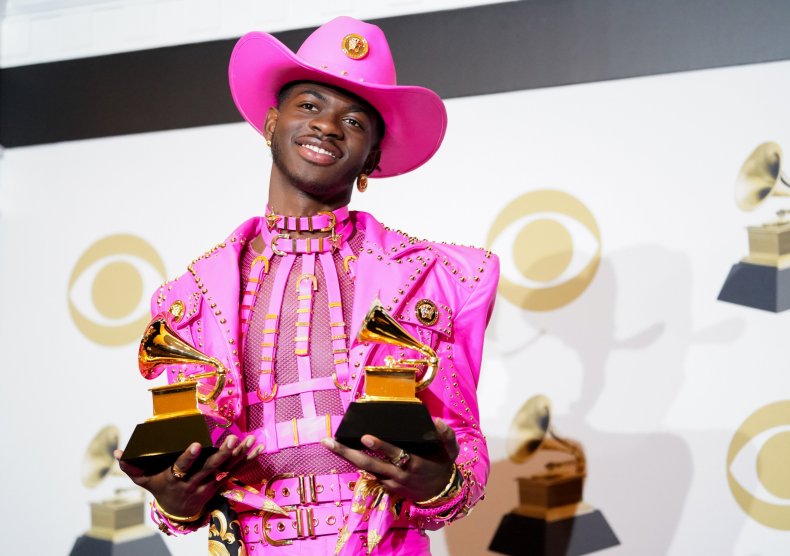 However, in an earlier tweet, the 32-year-old rapper praised Hill for pushing boundaries and making a hit that has gotten people talking.
"That @LilNasX video is wild but as a artist he doing everything he supposed to do," he tweeted. "Creating viral moments, making people talk, & creating content he already knew you was going to react to. It's a formula guaranteed to work. I doubt he actually worships the devil."
Hill responded to a similar tweet that accused him of pushing adult content onto a young fan base, saying: "there was no system involved. i made the decision to create the music video. i am an adult. i am not gonna spend my entire career trying to cater to your children. that is your job."
South Dakota governor Kristi Noem has also spoken out publicly against "Montero (Call Me By Your Name)."
The Republican politician tweeted: "Our kids are being told that this kind of product is, not only okay, it's 'exclusive.' But do you know what's more exclusive? Their God-given eternal soul.
"We are in a fight for the soul of our nation. We need to fight hard. And we need to fight smart. We have to win."
Hill is also embroiled in a similar war of words with gun activist Kaitlin Bennett over the song.
Bennett who is best known as "Kent State gun girl" for being a conservative gun advocate who open carried an AR-15 for her graduation photos, tweeted to say she was "thankful" she was blocked by Hill on Twitter.
The two exchanged insults culminating with Bennett accusing Hill of "threatening to rape" her father after she asked if he still sees his dad and he responded: ""Yep and i might f*** yours."