Is Lilibet a Princess? Questions Raised Over Harry and Meghan's Christening
Prince Harry and Meghan Markle described their daughter, Lilibet Mountbatten-Windsor, as a "princess" in a statement announcing her christening.
Lilibet and her brother, Archie, were expected to get "princess" and "prince" titles once Charles became king, which occurred after Queen Elizabeth died on September 8, 2022. Six months to the day later, the Sussexes have, through their spokesperson, used the royal title for the first time for one of their children.
"I can confirm that Princess Lilibet Diana was christened on Friday, March 3 by the Archbishop of Los Angeles, the Rev John Taylor," the spokesperson said Wednesday.
The matter of Prince Archie and Princess Lilibet getting royal titles has been particularly charged. In a TV interview on March 7, 2021, Meghan told Oprah Winfrey there were royal discussions about "the first member of color in this family not being titled in the same way."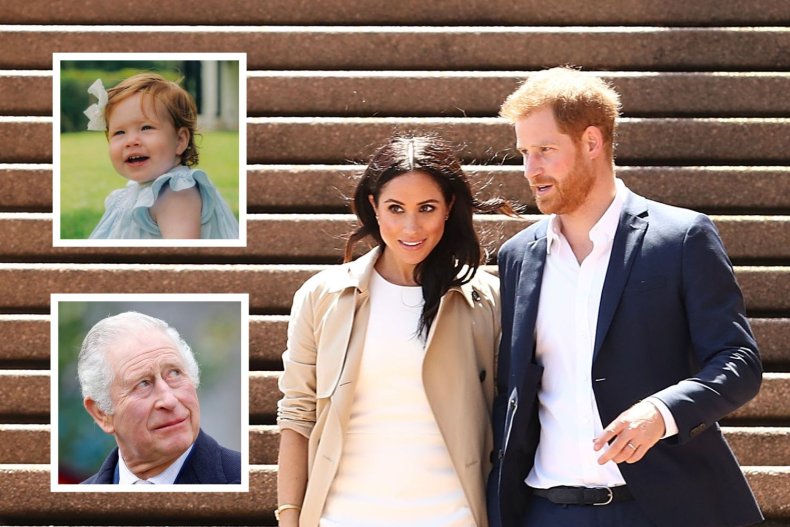 In the six months since the queen died, confusion reigned, as there was no announcement from either side on the subject. A royal source at one point told Newsweek it was not the time for that discussion in the days before the queen's funeral.
Charles expressed his love for Harry and Meghan in his first speech as king, but he did not announce the titles, despite declaring William and Kate Middleton the prince and princess of Wales.
In December, Harry and Meghan released a six-hour Netflix documentary—and Harry published a memoir, Spare, in January—without mentioning that their children were now a prince and a princess.
However, Archie and Lilibet have had the titles available to them since September, and it has simply taken this long for them to be used for the first time, the palace confirmed.
The radio silence would not be so remarkable had the question of titles not taken center stage during the Winfrey interview.
In the most widely discussed segment, Meghan said: "So we have in tandem the conversation of 'He won't be given security, he's not going to be given a title' and also concerns and conversations about how dark his skin might be when he's born."
The duchess was describing a family discussion about potentially changing the rules so that the Sussex children would not get prince and princess titles.
But Harry and Meghan were not suggesting the changes were ever made, a Sussex source told Newsweek.
Elsewhere in the interview, Meghan said while she was pregnant "they were saying they didn't want him to be a prince or a princess—not knowing what the gender would be, which would be different from protocol—and that he wasn't going to receive security."
She said she did not care about the "grandeur" surrounding the title but was told if Archie was not a prince he would not get police security. "The idea of our son not being safe, and also the idea of the first member of color in this family not being titled in the same way that other grandchildren would be," she said.
She went on: "You know, the other piece of that conversation is, there's a convention—I forget if it was George V or George VI convention—that when you're the grandchild of the monarch, so when Harry's dad becomes king, automatically Archie and our next baby would become prince or princess, or whatever they were going to be.
"I think even with that convention I'm talking about," she continued, "while I was pregnant, they said they want to change the convention for Archie."
Winfrey asked Meghan if she and Harry had said they did not want Archie to have a title. The duchess replied: "No, and it's not our decision to make, right?"
Whatever discussions may have taken place about withholding the titles, it would appear that Harry and Meghan have decided to use them.
Jack Royston is the chief royal correspondent at Newsweek, based in London. You can find him on Twitter at @jack_royston and read his stories on Newsweek's The Royals Facebook page.
Do you have a question about King Charles III, William and Kate, Meghan and Harry, or their family that you would like our experienced royal correspondents to answer? Email royals@newsweek.com. We'd love to hear from you.