Lin Manuel-Miranda's Father's Firm Received Over $100K to Lobby For Amazon
With Amazon workers at a second warehouse in New York City set to vote on whether to unionize, a report has revealed that well-connected lobbyists working on Amazon's behalf include a firm co-founded by actor Lin-Manuel Miranda's father.
The MirRam Group, a strategic consulting firm co-founded by Luis Miranda, was paid more than $100,000 last year by Amazon, as well as $32,500 for work in the first two months of 2022, according to The Lever.
A spokesperson for the MirRam Group told Newsweek: "Luis Miranda has never lobbied for Amazon. In fact, he has not worked as a lobbyist since 2019.
"The MirRam Group works with a diverse array of non-profit and private sector clients, including working with Amazon on matters unrelated to unionization of its workforce. As a minority owned firm, protecting working families is always central to our core mission."
It comes as employees at the LDJ5 warehouse in the borough of Staten Island are deciding whether to join the Amazon Labor Union (ALU) on Monday. Workers at a larger facility known as JFK8 voted recently to join the ALU and become the online retailer's first organized facility in the U.S.
Ahead of Monday's vote, workers said Amazon has ramped up anti-union efforts at the LDJ5 warehouse.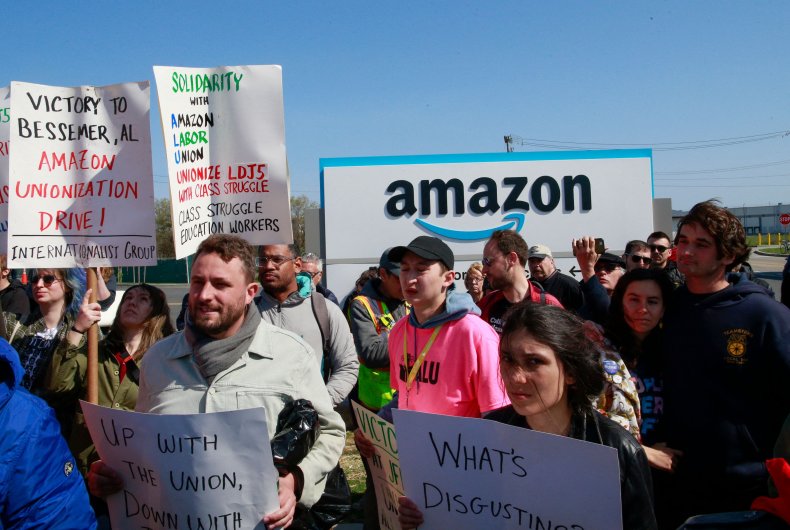 "They're calling the cops on labor organizers, including their own workers... Amazon is removing our literature, taking it down, throwing it away," Justine Medina, an ALU organizer at JFK8, told the outlet. "They're interfering with our co-workers' ability to talk about the union drive. Every way you can think of the typical union-busting stuff—they've been doing it all."
Amazon is currently under investigation by the National Labor Relations Board over allegations it violated federal labor law. A recent court ruling ordered the company to reinstate a worker who was found to have been "unlawfully" terminated.
Last year, New York Attorney General Letitia James sued Amazon over health and safety violations and its termination of Chris Smalls, a former Amazon warehouse worker who now leads the ALU.
Seth Goldstein, a lawyer for the ALU, told The Lever that the union has filed a complaint with James, a Democrat, urging her to review whether the company has violated federal labor law and thus voided its eligibility for taxpayer subsidies.
Amazon has received more than $4.1 billion in subsidies from state and local governments across the country, according to data compiled by Good Jobs First, an organization that tracks subsidies.
New York Assemblyman Ron Kim said he is planning to introduce legislation to force Amazon to return the public money it has received. "If we do not stop subsidizing Amazon's warehouses, New York state becomes complicit in subsidizing union-busting practices with taxpayer money," he said.
But efforts to hold Amazon accountable for anti-union activities could be undermined by Amazon's lobbying.
Luis Miranda has reportedly long been close with James. He served as a lead consultant when she successfully ran for New York City public advocate, according to CNBC. He also made phone calls on her behalf as she weighed whether to launch a bid for governor last year.
Amazon, the ALU and James' office have been contacted for comment.
Update 4/26/22, 4:42 a.m. EDT: This article has been updated with a statement from the MirRam Group.