Lincoln Project Ad Accuses Trump of Downplaying COVID While He 'Gasps for Air'
The Lincoln Project, a political action committee of Republicans who oppose Republican President Donald Trump, has released a one-minute political ad accusing Trump of downplaying the lethality of the COVID-19 pandemic while he "gasps for air, fresh from the hospital" where he was treated for the illness.
With the sound of a respirator in the background, the ad says, "Trump said COVID-19 affects almost nobody, but then his wife got it, his press secretary got it, his debate team got it, his White House staff got it. Trump turned the White House into a hot zone."
"Now Trump is still trying to convince us that the greatest public health threat in over a century isn't a big deal while he gasps for air, fresh from the hospital," the ad continues.
The "gasps for air" line is a reference to Trump's appearance on the Truman Balcony of the White House after returning from the White House following his weekend hospitalization in the Walter Reed National Military Medical Center. Social media users said that Trump appeared to have trouble breathing during his balcony appearance.
"Americans know there's a lot more wrong with Donald Trump than just having COVID-19," the ad states. "He doesn't care about others, can't lead, can't plan, can't face the truth. Donald Trump will never change. He's killing us. This year, vote like your life depends on it."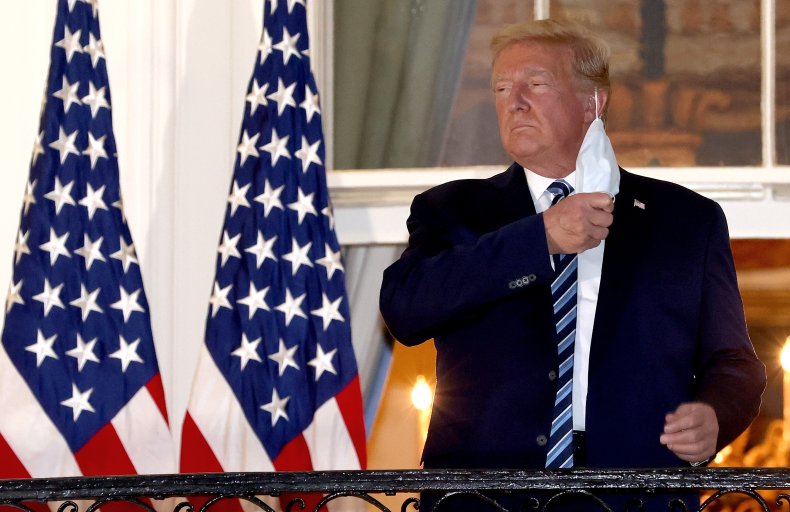 In the Wednesday night vice presidential debate, Democratic vice presidential nominee Kamala Harris noted that Trump himself admitted to downplaying the virus' lethality upon first learning about it, in order to keep citizens from panicking.
The debate's moderator Susan Page asked Republican Vice President Mike Pence about why the White House didn't require face masks or social distancing during Judge Amy Coney Barrett's Supreme Court nomination ceremony in the Rose Garden last week. Pence didn't answer. So far, 34 people in Trump's circle, including attendees of the ceremony, have tested positive for COVID-19, according to Politico.
The Lincoln Project's new ad comes a day after The New England Journal of Medicine issued an editorial, the first in its 208-year history, calling the Trump Administration "dangerously incompetent", accusing it of undermining governors, politicizing both face masks and the vaccine and urging readers to vote its leaders out during the next election.
In the U.S. alone, the coronavirus has killed more people than the military conflicts in Vietnam, Korea, Iraq, Afghanistan and World War I combined. Despite that, Trump has continued to state that COVID-19 is less deadly than the flu, something which the CDC's own statistics demonstrate is untrue.
In mid-September, Trump advocated for herd immunity, allowing COVID-19 to become prevalent in U.S. society while killing thousands of Americans.
The Lincoln Project's ad also mirrors another ad they released earlier this week which stated "Donald Trump has recovered from COVID-19, but more than 200,000 Americans will never recover from Donald Trump," as the sound of labored breathing through a ventilator played in the background.
Newsweek contacted the Trump campaign for comment.