Lincoln Project Attacks Trump on China After Bolton Book Revelations
The Lincoln Project launched a new attack ad accusing President Donald Trump of rolling over for China on Wednesday as a new book alleged that the commander-in-chief asked the country to help him win re-election.
The anti-Trump Republican group's attack ad said China had the president's number and couldn't "lose" so long as he remained in the White House.
"Donald Trump is playing pretend again, saying he's the one to take on China," the ad said. "They can't wait."
After arguing that Chinese authorities knew Trump was "weak" and "ridiculed" in the U.S., The Lincoln Project added: "China beats him every time. No matter what he says, China's got his number.
"Trump even begged Chinese leader Xi to help him re-election, like a dog."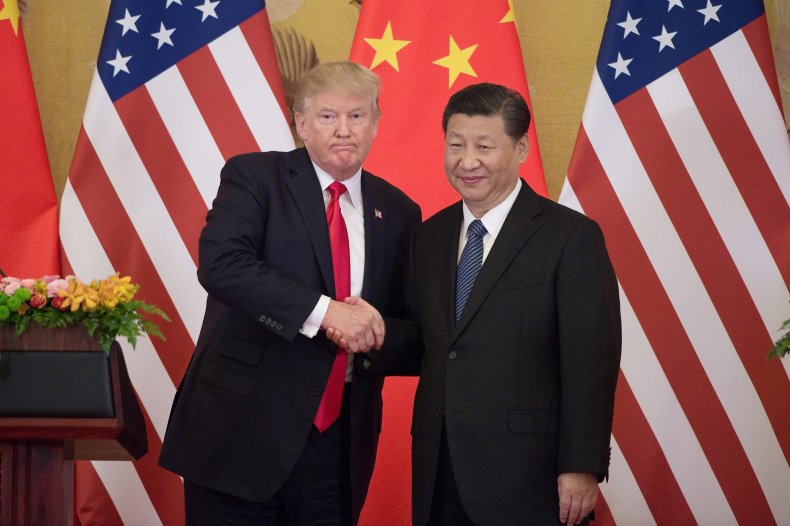 The never-Trump group's ad then directed attacks at the president's policy moves on China, portraying Beijing as the winner of the U.S.-China trade war, and American farmers as the losers.
"When it comes to Trump, China can't lose," the attack advert's narrator concluded.
Newsweek has contacted Lincoln Project founder John Weaver for comment. This article will be updated with any response.
Responding to the new attack, Trump 2020 Communications Director Tim Murtaugh said: "President Trump is the first president to actually stand up to China for their decades of trade cheating and he has held them accountable for lying to the world about the coronavirus.
"Joe Biden has spent his entire career appeasing China, failing to take them seriously as an economic competitor, and allowing his son Hunter to profit wildly through a Chinese-controlled bank."
The Lincoln Project's latest attack ad targeting Trump's image as a China hawk was released shortly after The Wall Street Journal published an extract from former National Security Adviser's John Bolton's new book, The Room Where It Happened, claiming that Trump asked Chinese President Xi Jinping for help in getting re-elected this year.
Recounting a conversation between Trump and Xi at meeting in Osaka last year, Bolton said his former boss started "alluding to China's economic capability to affect the ongoing campaigns, pleading with Xi to ensure he'd win."
The ex-national security adviser specifically alleged that Trump asked his Chinese counterpart for assistance with winning states with large agricultural sectors.
In the extract published by the Wall Street Journal yesterday, Bolton also alleged that the president was dismissive of a proposal to issue a statement on the 30th anniversary of the Tiananmen Square massacre, reportedly saying: "Who cares about it? I'm trying to make a deal. I don't want anything."
The ex-national security adviser further claimed that Trump believed China's construction of camps for Uighur Muslims was "exactly the right thing to do."
Reacting to the details from Bolton's as yet unreleased book, Trump repeatedly lashed out at his former adviser yesterday, calling him a "disgruntled boring fool" who was eager to go to war.
Speaking to Fox News about the China allegations last night, Trump said: "Nobody has been tough on China, and nobody has been tough on Russia like I have. That's in the record books and it's not even close.
"In terms of Bolton: he broke the law. He was a washed-up guy, I gave him a chance, he couldn't get Senate confirmed, so I gave him a non-Senate confirmed position where I could just put him there, see how he worked. And I wasn't very enamored."
Updated 08/18/20 09:24 a.m. ET: This article was updated with a statement from a Trump 2020 campaign spokesperson.