Lincoln Project and Greg Abbott Spar Over Handling of Pandemic After College Football Ad
The Lincoln Project released an ad Friday criticizing Republican Gov. Greg Abbott of Texas for his response to the the COVID-19 pandemic, prompting a strong response from Abbott's people.
The ad notes that Texas "is now one of the leading states in COVID deaths," that more than 3.8 million Texans have been diagnosed with the virus, and that more than 60,475 have died from it.
"Over 60,000 Texans buried," the silent ad states in a caption. "A cemetery that would stretch from Austin to San Antonio. Over 3.6 million feet of casket lumber. Enough lumber to build a wall 85 miles long."
"If Governor Abbott wants to build a new wall" the ad continues, "Tell him to stop building this one."
The ad then cuts to an image of caskets standing upright in a long row, arranged to look like a border wall. In June, Abbott detailed a plan for building a wall along Texas' southern border with Mexico. It included a crowdfunding campaign to raise money for the project. The plan came after President Joe Biden halted the construction of the wall proposed by former President Donald Trump.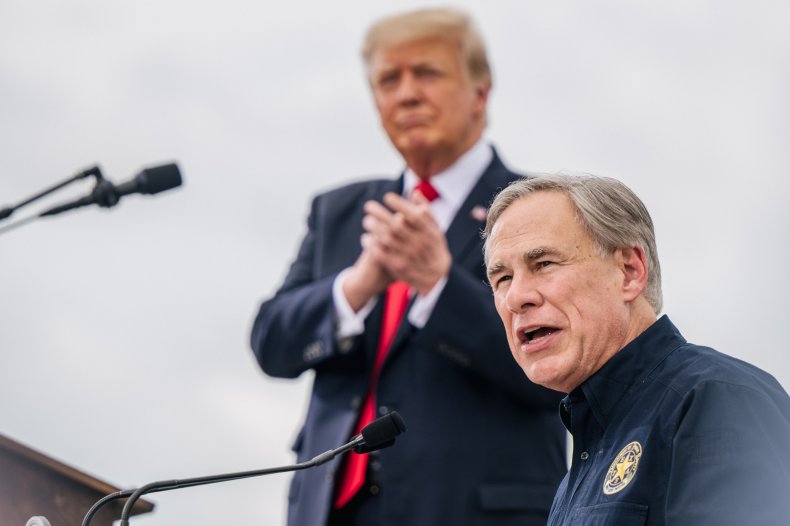 The Lincoln Project advertisement is slated to run during a football game Saturday between the University of Texas and Rice University, the Dallas Morning News reported.
Responding to the ad, in an email to Newsweek, David Carney, Abbott's general consultant said: "Two things; we are not in the practice of commenting on what pedophile enablers think and I'm glad they are spending their time running ads rather than recruiting more interns."
In January, Lincoln Project co-founder John Weaver was accused of sexual harassment. The New York Times reported that he sent unsolicited messages to young men, and spoke with 21 men who detailed sexual misconduct allegations.
When Newsweek reached out to the Lincoln Project for a response, Lincoln Project Co-Founder Rick Wilson said, "Dave Carney's response, like Dave Carney, is sweaty and desperate. He knows Greg Abbott left Texans to freeze in the dark, failed to lead on COVID, led a fight to disenfranchise Texas voters based on race, and is facing vicious blowback on the Abbott plan for a Texas Stasi to snitch on women.
"What Dave's really worried about is he'll miss the chance to run another Presidential campaign in the ground. We're happy to occupy rent-free space in his head."
The Lincoln Project also noted that a law firm that reviewed the allegations against Weaver found no information showing leaders of the organization were aware of the allegations before they were made public. Weaver had stepped down in August of 2020.
During the 2020 election, the Lincoln Project, a political action committee led by Republicans, sought to unseat Trump. Now, the organization is focusing on other Republican officials.
"We've seen an explosion and acceleration in what we would call Trumpist behavior, which is the idea that you have to be as extreme as you possibly can be, you have to be race to the bottom on these things," Reed Galen, co-founder of the Lincoln Project told the Dallas Morning News.
"We've taken a hard look at [Florida Governor] Ron DeSantis and Greg Abbott because they are the next generation of what you're going to see from Republican leaders," he added.
The Lincoln Project released another advertisement this week that criticized DeSantis' response to the pandemic, calling him the "worst governor in America."
"Florida is in crisis. Where's governor Ron DeSantis? Laughing it up in New Jersey raising money for himself," the ad states.
Abbott has opposed mask mandates in Texas, and in May, issued an executive order banning them in the state. In August, he also banned government COVID-19 vaccine mandates.
Some doctors urged Abbott to reverse the bans on mask and vaccine mandates earlier this month as the state experienced a COVID surge.
Updated 09/17/2021, 4:10 p.m. ET: This story has been updated with additional comment from The Lincoln Project about an investigation of Weaver's harassment allegations.