Anti-Trump group The Lincoln Project has said "thank you" to the president for "showing the American people exactly who and what you are" through his recent actions.
In a fresh attack ad against the incumbent ahead of Election Day, the group, largely made up of Republicans but those who do not want another Donald Trump tenure, said the commander-in-chief's "time was now up."
"Thank you Mr. President, for taking off the mask," the ad begins.
It continues: "Thank you. For threatening America with violence when you lose. Demanding only your votes are counted. For trying to rig this election and intimidate voters. For embracing the tactics of the tyrants you admire. For trying to use those tactics against the American people.
"Thank you, for making sure every American knows exactly who and what you are. Because we're perfectly aware you aren't joking and you aren't trolling anyone. The future you and your pet senators want is just as it appears.
"But your time is now up, your legacy and your place in history awaits. A legacy of failure. A blight on our history. Defeat is coming, accountability is coming. We are coming."
The ad referred to the president taking off his mask as he waved from a balcony upon return to the White House from Walter Reed Military Medical Center. It also flagged the president's remarks on the peaceful transferal of power and his comments on the Proud Boys during his debate with Democratic presidential candidate Joe Biden.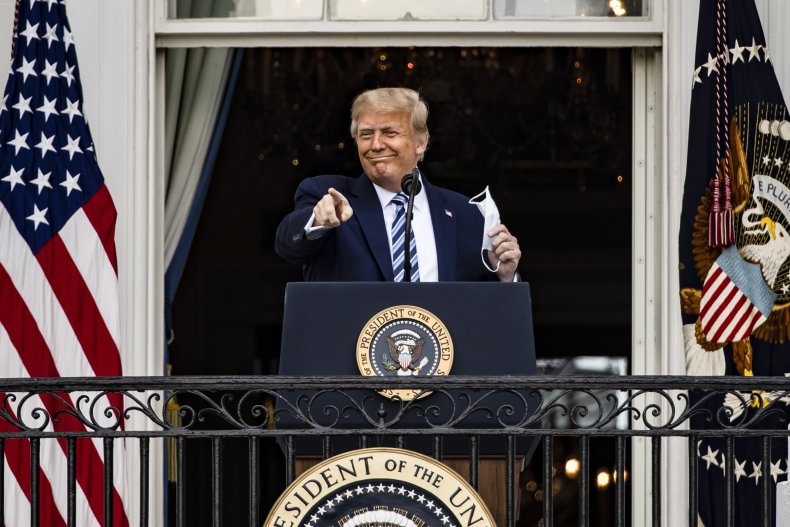 Newsweek has contacted The Lincoln Project and the Trump campaign for comment on the latest ad.
The Lincoln Project has frequently targeted the president throughout his run for re-election, with jibes on social media and a series of critical advertisements.
It previously took aim at the president taking off his mask upon returning to the White House from Walter Reed, parodying the song "Don't Cry for Me Argentina" from the musical Evita, changing the words to "Don't Cry for Me White House Staffer."
It has taken aim at the president's reactions to the COVID-19 crisis, continuing to do so following his diagnosis with COVID-19, and said while he "gasps for air" he has been downplaying the pandemic.
The group had previously said it would not pull ads attacking the president after his COVID-19 diagnosis, instead insisting on continuing "to prosecute the campaign against a Trump second term."
Trump is not the first world leader to catch COVID-19, with the graphic below from Statista detailing others who have.