The Lincoln Project Ad Takes on Trump's Balcony Stunt with 'Evita' Musical Parody
The Lincoln Project has targeted President Donald Trump with a parody of the song "Don't Cry For Me Argentina" in which the lyrics have been switched to "Don't Cry For Me White House Staffers."
Playing alongside footage of the president's return to the White House after his stint at Walter Reed National Military Medical Center, the reworked song criticizes Trump's behavior before and after he tested positive for coronavirus
Showing the president removing his mask while on the White House balcony, the song begins: "Don't cry for me White House staffers, the truth is I will infect you.
"All through my tweeting, my mad existence, I broke my promise, won't keep my distance."
It then goes on: "I always say too much, never mind the thousands of lies I have told to you.
"As for wearing masks and acting sane, that is nothing that I will ever do."
After this, the song goes on to criticize the president's decision to be driven by crowds that had gathered outside Walter Reed while he was being treated there—a move which saw him criticized over safety concerns for staff involved.
"Don't cry for me Secret Service, though COVID might just well kill you," the song goes on.
"While on my joyride, I spread the virus, I broke my promise, won't keep my distance."
The original song features in the musical Evita. The star of the original Broadway production, Patti LuPone, has previously compared Trump on his balcony to a scene from the musical.
The video was shared on The Lincoln Project's Twitter account, which regularly shares anti-Trump messaging. The group is made up largely of Republicans, but who do not want to see Trump re-elected in November.
Newsweek has contacted the White House, Trump campaign and The Lincoln Project for further comment.
Trump returned to the White House from Walter Reed on October 5.
Footage showed him make the journey before he headed to a balcony at the White House, where he removed his face mask.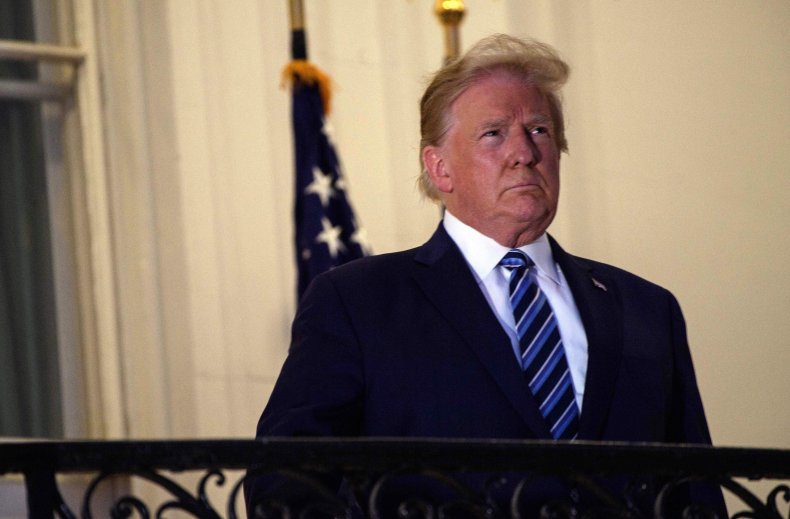 In a further video he went on to thank the medical staff who cared for him at Walter Reed, and told people not to let the coronavirus dominate their lives.
"Don't let it dominate you, don't be afraid of it. You're gonna beat it, we have the best medical equipment, we have the best medicines," he said.
"Don't let it take over your lives, don't let that happen."
There have been more than 7.4 million confirmed cases of COVID-19 in the United States. Of those infected, more than 210,000 have died, according to Johns Hopkins University figures.
The graphic below, produced by Statista, shows the countries with the most confirmed cases as of October 5.