Lindsey Graham Blames 'Liberal Media' Prior to Impeachment Vote, Says Bring on Witnesses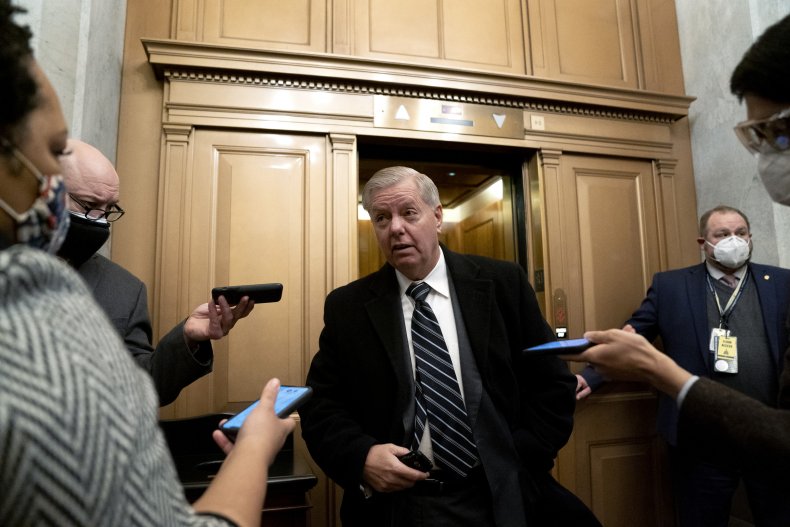 Senator Lindsey Graham (R-S.C.) blamed left-leaning media for holding back vital information until the last minute, causing him to switch his vote to call witnesses in former President Donald Trump's second impeachment trial.
"I have found it wise to realize the source of these stories is the liberal media with an agenda," Graham said in a tweet on Saturday.
Following media reports, Graham switched his vote he had made just a few minutes earlier. He re-cast his opinion to join Democrats and moderate Republicans in calling witnesses for questioning.
A report released Friday by CNN detailed a call between House Minority Leader Kevin McCarthy and Trump on Jan. 6—the day a violent insurrection occurred at the U.S. Capitol building. A shouting match reportedly took place after McCarthy begged Trump to stave off his supporters from attacking the Capitol building. Irate, Trump allegedly claimed the rioters "were more upset" by the 2020 presidential election results than McCarthy, a supporter of the president, supposedly was. The report is considered by the Senate to be a potentially incriminating account of Trump's incitement of last month's riot.
"This is Kavanaugh all over again where you drop stuff right before you vote," Graham said on Saturday of the timeliness of CNN's report of the call. His comment referenced sexual assault allegations against then-Supreme Court nominee Brett Kavanaugh published just before the Senate voted on his confirmation.
"I think this is a pattern that needs to stop," Graham said on Saturday. "That people in the media hold stuff like this to the end and drop it. Just like they did in Kavanaugh."
In his Tweet thread, he added: "However, if the body wants witnesses, I am going to insist we have multiple witnesses."
Graham has also previously made a point of the fact the House impeachment procedure did not call in any witnesses. Last month Graham said on Fox News even "one witness" would be grounds for the trial to take "weeks if not months" for the Senate to determine a verdict.
"If you open that can of worms, we'll want the FBI to come in and tell us about how people pre-planned this attack and what happened with the security footprint at the Capitol. You open up Pandora's Box if you call one witness," he said on Fox News' Hannity on February 9.
Graham said on Saturday that he could not corroborate whether the report about the call was true, but because the House did not "do what they should have done," the Senate would need to call a number of witnesses to testify, including House Speaker Nancy Pelosi. As reported by Fox News, he had previously warned Democrats that if witnesses were called, Republicans would request a number of key witnesses, too.
"We should talk to everybody about the security footprint," Graham said. "This is a pattern that repeats itself over and over and over again. The chamber must now decide how many witnesses to call and under what conditions they will be questioned."
Newsweek has reached out to Graham's office for comment.