In light of the recent criticism lobbed between President Donald Trump and a group of progressive freshmen, GOP Senator Lindsey Graham interjected with his opinion Monday morning, claiming the Democrats were "a bunch of communists" who are "anti-America."
Trump said in a series of "racist" and "xenophobic" tweets, as critics have labeled them, over the weekend that Democratic newcomers Alexandria Ocasio-Cortez of New York, Ilhan Omar of Minnesota, Rashida Tlaib of Michigan and Ayanna Pressley of Massachusetts—who've become known as "The Squad"—should return to the "crime infested places" they "came from." All four minority women are U.S. citizens and all but Omar were born in America. Omar is from Somalia and fled as a refugee.
The remarks came at the end of a week that saw the rift between House Speaker Nancy Pelosi and the group boil over from behind closed doors and into the public sphere, including claims from Ocasio-Cortez that Pelosi was racially targeting the women of color.
"We all know that AOC and this crowd are a bunch of communists," Graham said on Fox and Friends. "They hate Israel, they hate our own country, they're calling the guards along our border—the border patrol agents—concentration camp guards. They accuse people who support Israel of doing it for 'the Benjamins. They're anti-Semitic. They're anti-America."
Earlier this month, Ocasio-Cortez described migrant detention facilities along the southern border, some of which have reportedly lacked basic hygiene products, as "concentration camps," based on the opinion of an historian. Those words drew the ire of Republicans, who said the use of such a term minimalized the horrific events of the Holocaust.
Omar and Tlaib, the first two Muslim women to serve in Congress, have been accused in the past of making anti-Semitic comments about U.S. support for Israel.
Graham, a close friend of the president's, also addressed Trump's racially-charged tweets that told "The Squad," all of whom are women of color, to "go back and help fix the totally broken and crime infested places from which they came."
"Don't get down—aim higher. We don't need to know anything about them personally. Talk about their policy," the South Carolina lawmaker said. "I just don't think you—aim higher. You don't need to—they are American citizens. They won an election. Take on their policies. The bottom line here is, this is a diverse country."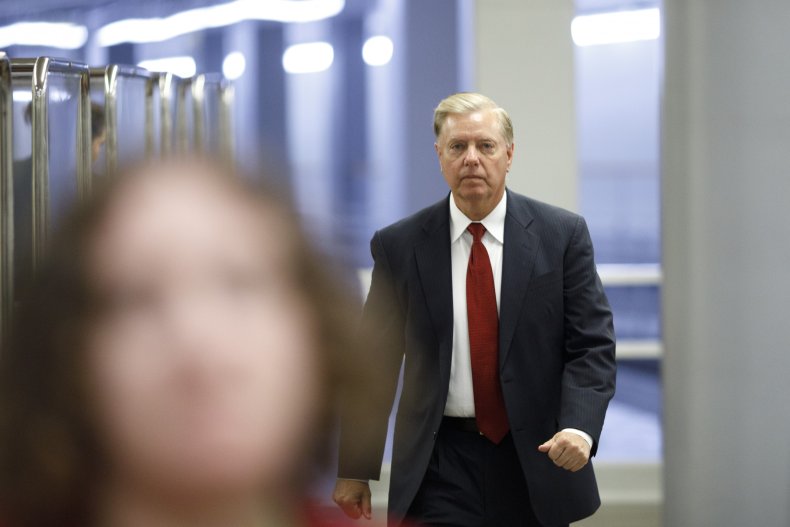 Although most congressional Republicans have remained mum and not condemned Trump's tweets, some GOP lawmakers have.
Republican Chip Roy of Texas wrote in a tweet it "was wrong to say any American citizen, whether in Congress or not, has any 'home' besides the U.S." Will Hurd, also a Texas Republican, called Trump's words "racist" and "xenophobic" on CNN. Michigan Republican Paul Mitchell said on Twitter that Trump's "comments are beneath leaders."
Trump's criticism of the freshmen came amidst intra-party fighting between Pelosi and "The Squad," a representation of the generational and ideological divide within the party. Tensions first rose weeks ago, when the four lawmakers were the only Democrats to vote against emergency humanitarian aid meant to alleviate some of the overcrowding and alleged inhumane conditions at migrant detention facilities. The progressives objected due to the bill excluding accountability measures included in prior text versions.
The failed effort to stop the aid caused Pelosi, a California Democrat, to question the true power of the first-term lawmakers, suggesting their influence on social media did not extend to that of Congress. Public ridicule on Twitter from more progressive members and staffers led Pelosi to scold her caucus behind closed doors.
"You make me the target, but don't make our Blue Dogs and our New Dems the target in all of this, because we have important fish to fry," Pelosi told Democrats during a closed-door caucus meeting last week in reference to more centrist members, according to a person in the room. "You got a complaint? You come and talk to me about it. But do not tweet about our members and expect us to think that that is just okay."
Ocasio-Cortez claimed that criticism was racially motivated, telling The Washington Post it was explicitly "singling out newly elected women of color."
Pelosi didn't back down from the chiding she privately offered her Democratic members
"How they are interpreting and carrying it to another place, is up to them," she told reporters last week.