Lindsey Graham Calls Trump 'Unpopular' as He Touts Republican Win in Virginia
Senator Lindsey Graham, a South Carolina Republican, described former President Donald Trump as "unpopular" while commenting on Republican Governor-elect Glenn Youngkin's win in Virginia.
Youngkin, a businessman who had never run for elected office before, defeated former Democratic Governor Terry McAuliffe this week in Virginia, a state that President Joe Biden won by just over 10 points a year ago. While Trump endorsed Youngkin, the GOP governor-elect distanced himself from the former president throughout his campaign in the state.
Graham, a close Trump ally, lauded Trump for understanding the dynamics of the race in Virginia in comments to Politico published Thursday.
"Trump played it pretty well, not to give any more air to the Trump card," the Republican senator said. "Being associated with an unpopular politician [like Trump] is an oft-used strategy. However, if that's all you got, you're not going very far."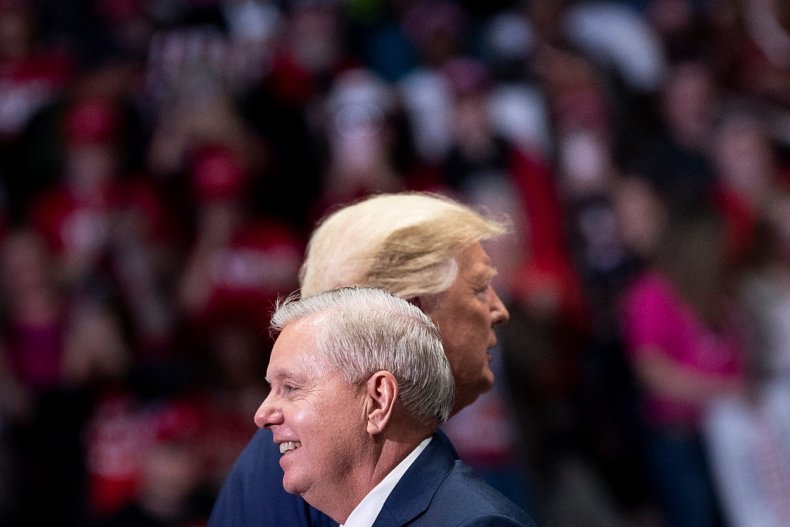 Democrats in Virginia attempted to make the race a referendum on Trump as voters there had rejected the former president in the 2020 election. However, Youngkin was successful in carving out his own political identity without alienating supporters of the former president.
The GOP governor-elect carried the state with the backing of 50.9 percent of voters compared to just 48.4 percent who voted for McAuliffe. The win is seen as a significant upset to Democrats, as Republicans had not won a statewide race in Virginia since 2009.
Biden easily beat Trump in Virginia last November, with the Democratic president receiving support from 54.1 percent of the state's voters compared to just 44 percent who cast ballots for the former GOP president.
Just ahead of Election Day this week, Trump held a phone-in "tele-rally" for Youngkin in Virginia on Monday. However, the Republican governor-elect did not participate in that event.
"I'm not going to be engaged in the tele-town hall," Youngkin told reporters on Saturday ahead of the tele-rally. "The teams are talking, I'm sure."
Graham has previously said that the attack against the U.S. Capitol on January 6 by a mob of pro-Trump supporters "tarnished" the former president's reputation. The senator said Trump's actions "were the problem." However, he did not vote to convict Trump during the Senate impeachment trial.
Graham later told The New York Times that he warned Trump that the insurrection from about 10 months ago could be his "political obituary."
"What I say to him is, 'Do you want January the 6th to be your political obituary?'" the senator said in August. "'Because if you don't get over it, it's going to be.'"
For his part, Trump suggested in a Wednesday press release via his spokesperson Liz Harrington that he sees himself as the reason Youngkin won in Virginia. The former president's statement shared remarks by right-wing talk show host John Fredericks.
"'If there were no Trump in this election, there would be no Glenn Youngkin.'—John Fredericks, the John Fredericks Show 11/3/21," the statement from Trump read.
Newsweek reached out to Trump's press office for further comment but did not immediately receive a response.