Glenn Youngkin to Avoid Trump's Tele-Rally for Him as Virginia Governor's Race Nears End
Glenn Youngkin, the Republican contender in Virginia's tight governor's race, will not participate in Donald Trump's upcoming virtual rally for his campaign.
As the November 2 election day inches closer, the former president will hold a phone-in "tele-rally" for Youngkin on Monday, the eve of the gubernatorial election. Trump previously teased plans to visit Virginia to campaign in person for the Republican candidate, but those suggestions never came to fruition.
Youngkin is running against former Democratic governor Terry McAuliffe, with polling putting the two candidates neck-and-neck. Trump has endorsed Youngkin for re-election several times, while the Biden administration has pledged strong support for McAuliffe.
The election, which is taking place in an off-year, may provide insight into how next year's midterms will shape up. The race has also been viewed as a referendum on President Joe Biden and Trump ahead of their predicted clash in the 2024 presidential election.
Despite Trump's support, Youngkin told reporters on Saturday that he would not be attending the tele-rally. Short of entirely distancing himself from the event, he also added that his campaign has likely been in touch with the former president's team.
"I'm not going to be engaged in the tele-town hall," said Youngkin. "The teams are talking, I'm sure."
In response, McAuliffe feigned surprise that his opponent would seemingly spurn the support of Trump. In the past, McAuliffe has used Trump's endorsement as a political cudgel against his opponent.
"It is just killing Trump that he is not here, obviously," McAuliffe said on Saturday.
"He is in the race, obviously he has endorsed Youngkin seven different times."
Biden appeared at a campaign event in Arlington, Virginia, on Tuesday, where he, like McAuliffe, frequently targeted Trump in an effort to fire up the Democratic voting base. Biden also accused Youngkin of keeping his distance from the former president while pledging loyalty in private.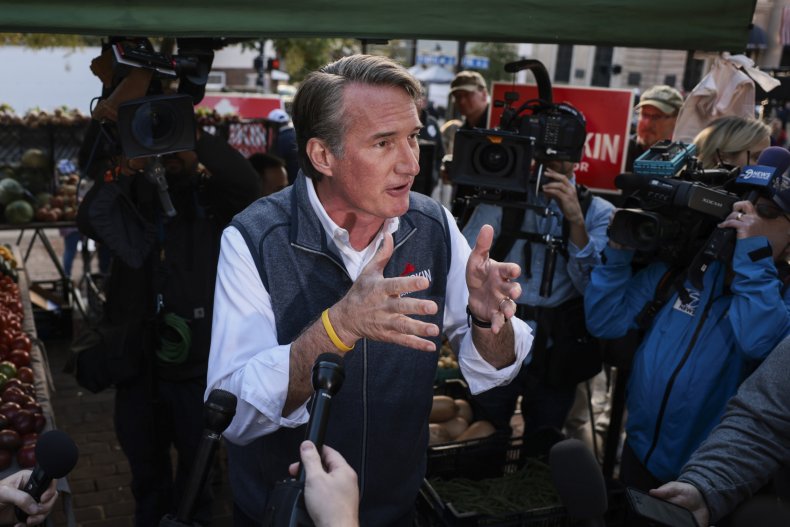 "Terry's opponent has made all of his private pledges of loyalty to Donald Trump," Biden said at the event. "But what's really interesting to me, he won't stand next to Donald Trump. Think about it. He won't allow Donald Trump to campaign for him in this state. He's willing to pledge his loyalty to Trump in private. Why not in public? What's he trying to hide? Is there a problem with Trump being here? Is he embarrassed?"
Despite his reticence to be associated with the former president, Youngkin said earlier in his campaign that "Trump represents so much of why I'm running." He has also repeatedly pledged to pursue "election integrity," an echo of Trump's long-standing and baseless claims that the 2020 election was stolen from him via mass voter fraud.
Newsweek reached out to Youngkin's campaign for a comment but did not hear back before publishing.