Biden Says Glenn Youngkin Won't Let Trump Campaign for Him: 'Is He Embarrassed?'
Democratic President Joe Biden has accused Glenn Youngkin, the Republican running against Democrat Terry McAuliffe for governor of Virginia, of being too embarrassed to campaign alongside Republican former President Donald Trump.
"Terry's opponent has made all of his private pledges of loyalty to Donald Trump," Biden said while speaking at Tuesday evening's campaign event for McAuliffe in Arlington, Virginia.
"But what's really interesting to me, he won't stand next to Donald Trump," Biden continued. "Think about it. He won't allow Donald Trump to campaign for him in this state. He's willing to pledge his loyalty to Trump in private. Why not in public? What's he trying to hide? Is there a problem with Trump being here? Is he embarrassed?"
Trump has endorsed Youngkin three times over. However, Youngkin hasn't publicly campaigned with the former president during his gubernatorial run.
Political commentator Dana Milbank has accused Youngkin of trying to "scrub away" and "banish" Trump from his campaign in a bid to attract independent and moderate voters, despite embracing some of Trump's political stances.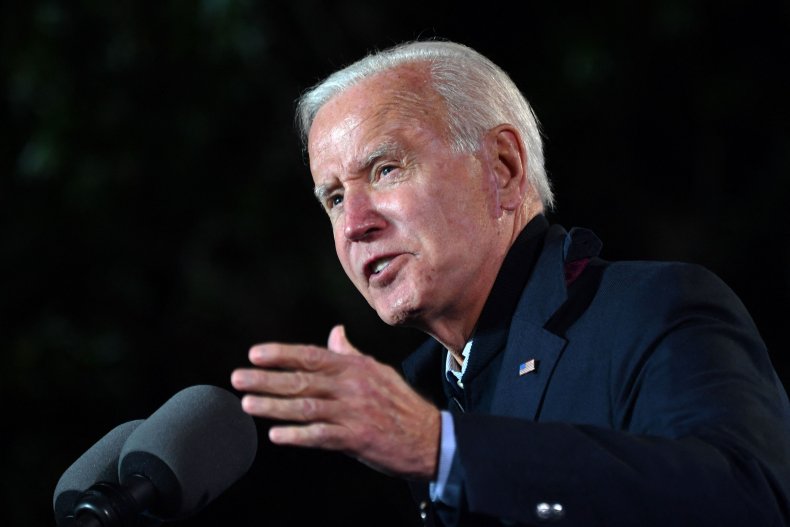 Early into Youngkin's campaign, Youngkin said, "Trump represents so much of why I'm running," in an interview with right-wing radio host Chris Stigall.
Youngkin opposes school mask mandates, like Trump. During his Republican primary run, he campaigned heavily on "election integrity." His website also promotes an "Election Integrity Task Force." Both echo Trump's baseless claim that election fraud caused him to lose the 2020 election.
Youngkin initially refused to say whether Biden legitimately won the 2020 election. He has since said that Biden legitimately won and that there was no significant fraud in Virginia's 2020 election.
Youngkin's campaign has also focused on parental disapproval of "critical race theory" (CRT) in schools. CRT is a field of study that analyzes race and racism as social dynamics throughout history. CRT proponents say the educational framework is needed as a way to combat modern-day racism.
Trump has called CRT a racist and divisive form of "radical ideology." Trump said CRT teaches that white people are evil and indoctrinates people into "hating our country."
Youngkin has pledged to ban the teaching of CRT in schools, if elected. McAuliffe has said that CRT isn't taught in Virginia schools. He has also called the issue a "dog whistle" being used to divide people.
McAuliffe's campaign has sought to tie Youngkin to Trump, posing Youngkin as a threat to democracy, abortion access and social progress that the state has made under its Democratic governor and Democratic-led legislature.
Early into Biden's Tuesday speech at the McAuliffe event, a heckler interrupted. The heckler's comments weren't audible in a WSLS livestream of the event.
However, noticing the heckler, Biden told the crowd, "All right. Let him go. Let him go."
Then, directly addressing the heckler, Biden said, "Why don't you hang out and talk to me after this is over?"
"That's right," Biden continued, trying to keep the crowd calm. "This is not a Trump rally. Let him howl. Let him howl."
McAuliffe has maintained a consistent lead over Youngkin in summertime polling. However, recent voter surveys have shown him only 5 points or fewer ahead of Youngkin among likely voters.
Newsweek contacted the Youngkin campaign for comment.