Lindsey Graham Censured by South Carolina County GOP for Infrastructure Vote
The Aiken County Republican Party in South Carolina announced Friday it voted to censure Senator Lindsey Graham over his support of the $1.2 trillion infrastructure package.
The group said in a statement to Newsweek Saturday that the vote was not against "realistic achievable and necessary infrastructure projects" and that it understands the importance of strong infrastructure—including roads, bridges and rural broadband internet access.
"Senator Graham failed to live up to the conservative Republican principles that we elected him to follow by supporting a bill that does not put strong limits on ambiguous Green focused studies and pork barrel projects that don't really address the true needs in rural America," according to the statement.
The Aiken County Republican Party is concerned about "runaway spending of the post Covid recovery that seems to have a lot of federal strings attached." It feels the bill did not do enough to limit green infrastructure spending or protect businesses' investment in infrastructure projects.
"What America needs is to be fiscally prudent coming out of this pandemic not promoting reckless unchecked spending that burdens the generations to come with debt," the statement read.
Newsweek reached out to Graham's office for further comment, but had not heard back by publication. This story will be updated with any response.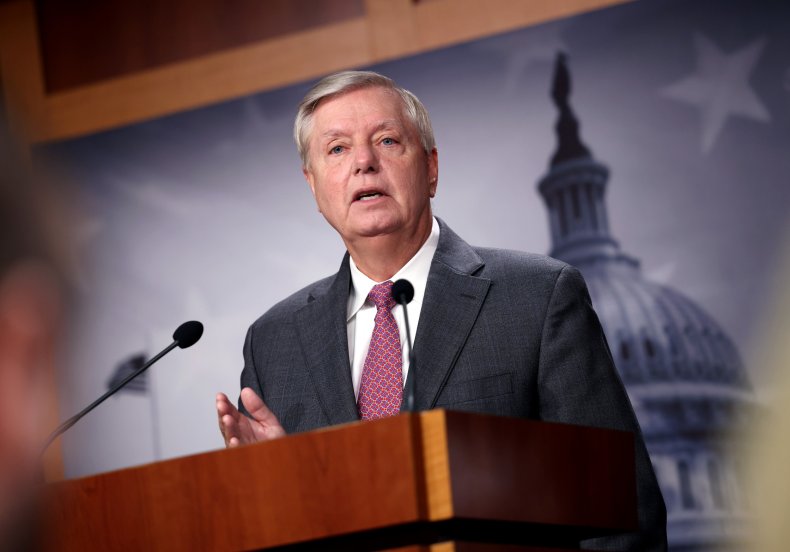 Graham was one of 19 Republican Senators to join every Democrat in passing the infrastructure package. South Carolina's other senator, Republican Tim Scott, did not vote for the bill, which includes funding for roads, bridges, water systems and other priorities.
Graham defended his vote in a statement on August 10.
"The bipartisan infrastructure bill is good for South Carolina," the statement read. "It provides much-needed help for our roads, bridges, ports, and expands broadband internet access. I have always been supportive of infrastructure investment and wish we had passed this years ago.
Graham added "this bill provides American infrastructure with a much-needed facelift."
He pointed to parts of the legislation that included "substantial" funding for South Carolina's road infrastructure. If passed by the House, the bill would allocate $4.6 billion for the state's highways, $274 for bridge replacement and rehabilitation, and $70 million for electric vehicles and charging stations.
On Twitter, Graham called the bill "a much needed vote in support of roads, bridges, ports, and broadband internet access." He argued that passing a bipartisan bill would make it more difficult for Democrats to pass a more ambitious $3.5 trillion spending bill.
"All Republicans will vote against that bill and many moderate Democrats will balk as well," he wrote.
He has previously suggested that Republicans leave the U.S. Capitol to deny Democrats quorum if the larger infrastructure bill makes it to a vote.
"So, to my Republican colleagues, we may learn something from our Democratic friends in Texas. When it comes to avoiding a $3.5 trillion tax and spend package. Leave town," Graham said on Fox News in July.
Graham has angered the Aiken County Republican Party in the past. In February, the county party threatened to censure both Graham and Scott for refusing to object to the Electoral College votes from Pennsylvania and Arizona on January 6.
Aiken County, anchored by the city of Aiken, is located southwest of Columbia, the Palmetto State's capital.
Former President Donald Trump has also voiced his opposition to Republican senators who voted for the infrastructure bill, saying it would "very hard" to endorse them.
"Joe Biden's infrastructure bill will be used against the Republican Party in the upcoming elections in 2022 and 2024. It will be very hard for me to endorse anyone foolish enough to vote in favor of this deal," Trump said.