Lindsey Graham Suggests Senators Leave D.C. to Prevent Infrastructure Bill via Reconciliation
Senator Lindsey Graham, a South Carolina Republican, suggested that GOP senators should take a cue from Texas State House Democrats and leave the U.S. Capitol to deny Democrats quorum if the proposed $3.5 trillion "human infrastructure" reconciliation bill makes it to a vote.
Senate Majority Leader Chuck Schumer, a New York Democrat, and President Joe Biden unveiled the $3.5 trillion spending proposal last week. The massive bill would work to fund childcare, provide money for education priorities, and expand health care access to millions of Americans. But Republicans have vocally opposed the plan, raising concerns about inflation and saying the bill will make Americans dependent on the government.
"You've gotta have a quorum to pass a bill in the Senate," Graham pointed out during a Sunday morning interview with Fox News.
The GOP senator, who serves as the ranking member on the Senate Budget Committee, said that he would "leave" before he allowed the proposed budget reconciliation package to pass through the upper chamber of Congress.
"So, to my Republican colleagues, we may learn something from our Democratic friends in Texas. When it comes to avoiding a $3.5 trillion tax and spend package. Leave town," Graham said.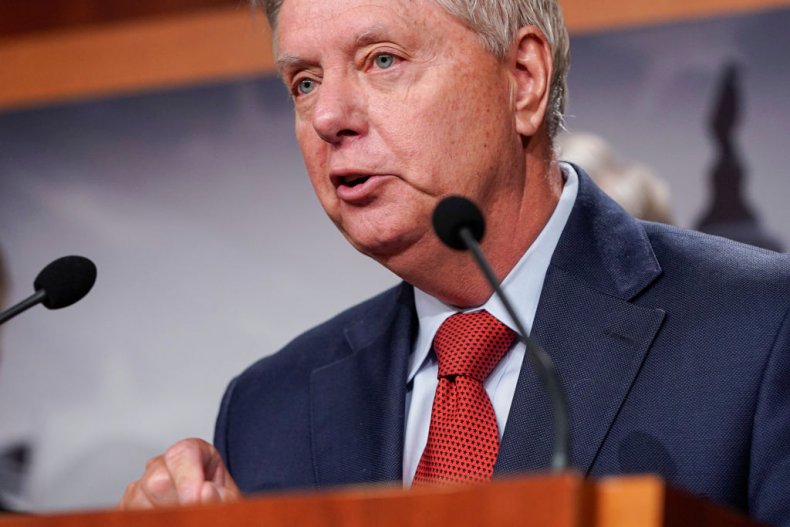 Asked to clarify his position, Graham asserted "hell yeah I would leave!" The senator said he would "use everything lawfully in my tool box to prevent rampant inflation."
He argued that the package had "nothing to do with infrastructure," despite Democrats describing it as such.
Last Monday, more than 50 Texas Democrats from the state's House of Representative flew to Washington, D.C. to deny Republican lawmakers quorum as they attempted to pass contentious election reforms. Democrats argue that the legislation amounts to voter suppression, or "the new Jim Crow"—as it appears it would make it harder for many Texans, particularly in minority communities, to cast ballots in future elections. The GOP election legislation was largely motivated by former President Donald Trump's debunked claims that the 2020 election was fraudulent.
A 2013 report from the Congressional Research Service published on the Senate's website explains that "a straightforward reading of the Constitution's quorum requirement would seem to require a simple majority of Senators, or a minimum of 51 if there are no vacancies in the body." However, the Senate generally operates under the presumption it is complying with this rule unless a Senator "suggests the absence of a quorum."
The current Senate is evenly split, with 50 Republicans and 50 members of the Senate's Democratic Caucus. As a result, all 50 GOP senators would need to be on board with Graham's plan and leave the Capitol in order to deny Democrats quorum.
Newsweek reached out to Senate Minority Leader Mitch McConnell, a Kentucky Republican, to ask if GOP leaders were actively considering Graham's proposed strategy. McConnell's press representatives did not immediately respond.
Inflation concerns were fueled this week by June data showing that, excluding food and energy, it rose 4.5 percent—the largest move since September 1991. Consumer prices increased by 5.4 percent in June as well, marking the largest monthly gain in about 13 years.
Treasury Secretary Janet Yellen and Federal Reserve Chair Jerome Powell downplayed the concerns, however. They argued this inflation was expected as the U.S. economy reopens after lockdowns from the COVID-19 pandemic, due to pent-up demand and disruptions in the supply chain. They said that the Federal Reserve still has ample tools to combat inflation if it worsens, while asserting that they expect the problem to resolve in the coming months.
Senator Bernie Sanders, a Vermont independent who chairs the Senate Budget Committee, told CNN last week that the $3.5 trillion proposal from Democrats would not impact inflation.
"This bill ... will pay for itself. It will be paid for in a variety of ways, but significantly by higher taxes on the wealthy and large corporations," the progressive lawmaker said. "So that should not add to the inflation concerns."