Lindsey Graham Says Adam Schiff Is Like a Conspiracy Theorist 'Trying to Look for Somebody Who Actually Shot' JFK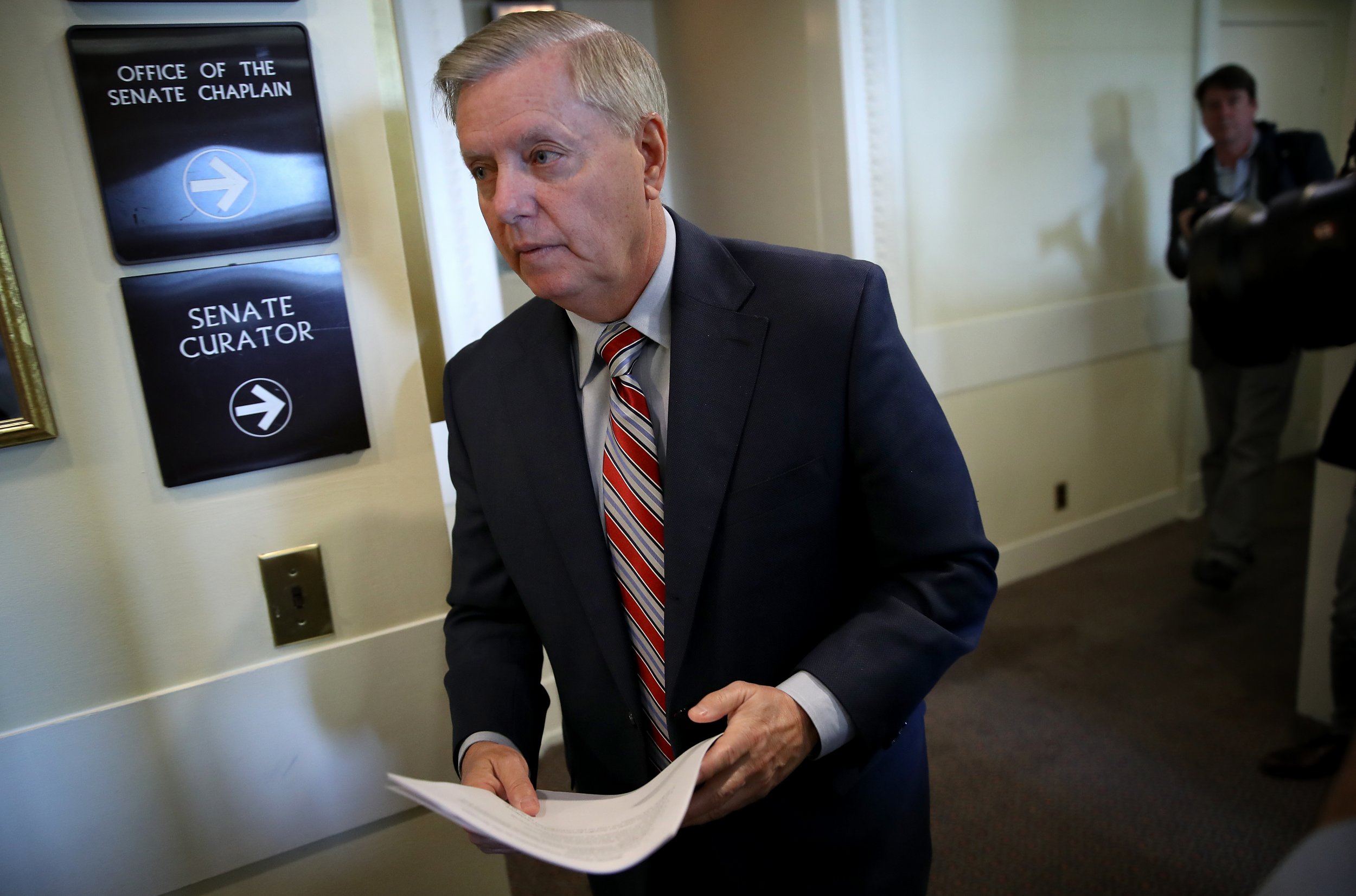 Congressional Republicans amplified their demands Thursday for House Intelligence Committee Chairman Adam Schiff, a California Democrat, to resign from his position, for continuing to allege there was evidence that the Trump campaign conspired with Russia.
Senator Lindsey Graham, while not calling for Shiff's resignation, dubbed him "Oliver Stone," the movie director known for pushing a cover-up theory over the assassination of President John F. Kennedy in his movie JFK.
"This whole Oliver Stone approach to the Mueller report by Democrats is getting a bid old," Graham said on Fox News. "He is the Jim Garrison figure trying to look for somebody who actually shot President Kennedy."
Garrison was the former New Orleans district attorney who pushed a conspiracy theory that someone other than Lee Harvey Oswald had shot the president.
"[Schiff] told us time and time again he knows there's collusion, he's seen evidence of it. Well, Mr. Mueller undercut that narrative," Graham continued. "Does [Schiff] want to be the guy that won't let it go when the authority of the investigation, Mr. Mueller, has concluded there was no collusion?"
Chairmen of the House Oversight, Judiciary, Foreign Affairs, Finance and Ways and Means committees have demanded that Attorney General William Barr release special counsel Robert Mueller's full report to Congress and the public by April 2 in order to see the underlying evidence, rather than simply Barr's take on it. So far, Barr has only released his own four-page summary of Mueller's report, which stated the special counsel's investigation "did not find that the Trump campaign or anyone associated with it conspired or coordinated with Russia," although it did not conclude that the president had not obstructed justice, and it did not exonerate Trump.
Graham, chairman of the Senate Judiciary Committee, continued to tell reporters Thursday that Barr had not given him a timeline for the release or provided the committee with any documents. House Judiciary Committee Chairman Jerry Nadler told CNN Wednesday that in a phone call with Barr, the attorney general would not commit to releasing the full report. If he fails to do so, the House committees said they were willing to issue subpoenas and take the administration to court.
House Speaker Nancy Pelosi called the release of Barr's summary rather than Mueller's full report "condescending" and "arrogant."
"No, thank you, Mr. Attorney General. We do not need your interpretation," she told reporters. "Show us the report and we can draw our own conclusions. We don't need you interpreting for us."
Graham took issue with those comments.
"Do you really believe that Bob Barr would give us a summary of the key findings and it not be supported by the report?" he told Fox News. "Give me a break."
The House Intelligence Committee's first hearing since Barr released his summary began with fireworks Thursday morning, with Republican after Republica calling for Schiff's resignation in their opening remarks.
Representative Mike Turner said he was "asking for your resignation today, because I believe you are advancing [Russian President Vladimir] Putin's work," while Representative Mike Conaway told Schiff that he and his Republican colleagues "have no faith in your ability to discharge your duties in a manner consistent with your constitutional responsibility."
All nine GOP members of the committee also sent Schiff a letter demanding that he resign, accusing him of having "abused your position to knowingly promote false information, having damaged the integrity of this Committee, and undermined faith in U.S. government institutions." They equated Schiff's repeated remarks on collusion to "McCarthyism."
Trump not only called for Schiff to resign from his post, but also told Fox News Wednesday evening that he should be forced out of Congress.
Schiff has stood firm in his claims that Russian collusion persisted during the campaign between Trump associates and Russia, and Democrats have come to the defense of the chairman.
Schiff responded to the criticism by naming all the examples involving campaign associates that he believed amounted to collusion. He accused the committee Republicans of turning a blind eye to such actions.
"You might say that's all OK. You might say that's just what you need to do to win, but I don't think it's OK," Schiff said. "I think it's immoral, I think it's unethical, I think it's unpatriotic, and yes, I think it's corrupt and evidence of collusion."
House Speaker Nancy Pelosi was unequivocal in her defense of Schiff, accusing the GOP committee members and Trump of being "scaredy cats" who are "afraid of the truth.
"They're just plain afraid," Pelosi told reporters. "They're afraid of the truth. They're afraid of competence. They're afraid of a leader who is recognized in our country for being calm, professional, patriotic."