Lindsey Graham Dismisses Systemic Racism in Policing Because VP Kamala Harris Is Black
Senator Lindsey Graham, a South Carolina Republican, dismissed systemic racism in American policing and other institutions, saying that the country elected Vice President Kamala Harris and former President Barack Obama, both of whom are Black.
Democratic lawmakers, activists and researchers routinely point to data that shows that Black Americans are more likely to be killed by police, more likely to be stopped by police, and make up a disproportionate share of the U.S. prison population. But Republicans generally dismiss concerns about systemic racism, arguing that there are just "bad apples" or "bad actors" in every society.
During an interview on Fox News Sunday, Graham was asked by host Chris Wallace whether there is systemic racism "in policing and in other institutions." Graham responded with a quick, "No, not in my opinion."
"We just elected a two-term African-American president [Obama]. The vice president [Kamala Harris] is of African-American-Indian descent. So our systems are not racist. America's not a racist country," the GOP senator insisted.
Graham said that "every society" has "bad actors," pointing to the conviction of former Minneapolis police officer Derek Chauvin for the May 2020 murder of George Floyd, an unarmed Black man, as a "just result."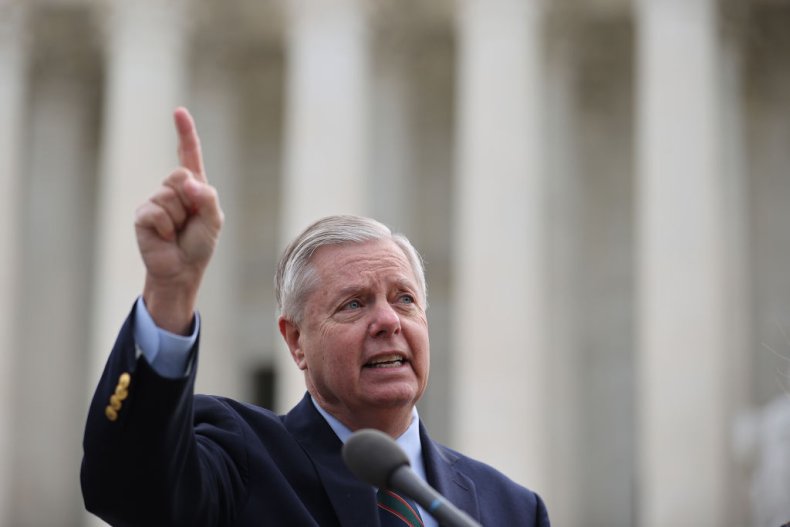 Polling conducted by NBC News and The Wall Street Journal last July found that 56 percent of voters believed American society is racist, while 40 percent said it is not. But less voters—just 46 percent—agreed that racism is built into the country's policies and institutions. A nearly equal number—44 percent—said racism is just the result of individuals.
An analysis of data from 2015 through 2020 by The Washington Post showed that Black Americans are killed by police at a rate that is more than twice as high as white Americans. And according to data from 2017 to 2020 analyzed by the NAACP, a Black man "is five times more likely to be stopped without just cause than a white person."
At the end of 2018, the rate of Black people being imprisoned was nearly five times as high as that of white Americans, according to data from the Bureau of Justice Statistics. There were about 1,501 Black incarcerated individuals per every 100,000 Black Americans in the country, compared to just 268 white prisoners per every 100,000 white Americans.
While Graham and other Republicans continue to dismiss systemic racism, Democrats and President Joe Biden have centered the issue as a key problem to be addressed.
Harris highlighted the issue in an interview broadcast by CNN on Sunday morning. While she hailed the verdict against Chauvin, she stressed that more needs to be done.
"This verdict is but a piece of it. And it will not heal the pain that existed for generations, that has existed for generations among people who have experienced and firsthand witnessed what now a broader public is seeing," the vice president said.
Biden emphasized the need to address systemic racism in remarks following the verdict in Chauvin's trial on Tuesday.
"It was a murder in the full light of day, and it ripped the blinders off for the whole world to see the systemic racism the Vice President just referred to—the systemic racism that is a stain our nation's soul; the knee on the neck of justice for Black Americans; the profound fear and trauma, the pain, the exhaustion that Black and brown Americans experience every single day," the president said.
Newsweek reached out to Graham's press representatives for further comment.