Lindsey Graham Says Israel Must Do 'as Much Damage as Possible' to Ensure End to Hamas Capabilities
The conflict between Israel and Gaza is showing no signs of letting up soon and Senator Lindsey Graham supports Israel doing whatever it takes to dissuade Hamas from future attacks.
Members of the U.N. Security Council called for a cease-fire between the two sides and for Israel to craft its response in a means that's appropriate for the more powerful position it holds. Prime Minister Benjamin Netanyahu denied Israel is doing anything more than invoking its natural right to defend itself and credited the strong response to being a means of degrading Hamas' capabilities.
Speaking to Fox News' Fox & Friends on Monday morning, Graham echoed Netanyahu's sentiment and predicted Israel will keep up the attack until Hamas can no longer "hurt them in the future."
"Once you start these things I think it's incumbent upon Israel to do as much damage as they can to make sure it doesn't happen again anytime soon," Graham said.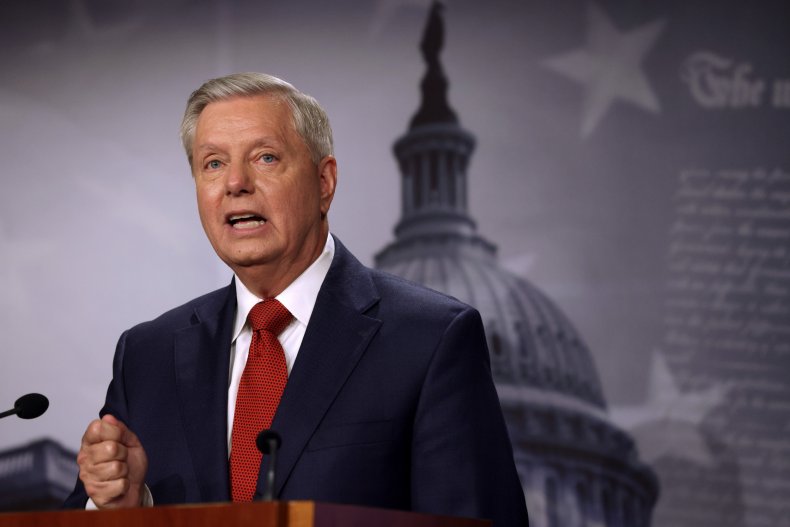 Netanyahu told CBS News' John Dickerson on Face the Nation that tearing down Hamas' abilities will "take some time," although he hoped it wouldn't take long. He criticized Hamas for "hiding" behind its civilians and launching attacks from civilian neighborhoods, schools, homes and buildings, making it difficult for Israel to avoid civilian casualties.
"We'll do whatever it takes to restore order and quiet and the security of our people and deterrence," Netanyahu said. "If Hamas thought that they could just fire rockets and then sit back and enjoy immunity, that's false."
The current violence left more than 200 people dead, mostly in Gaza. Israel's faced criticism for an air strike on a building holding news organizations and for the number of civilians who have been killed.
Under pressure to join the stance of other members of the U.N. Security Council, the United States has rejected calls to join a statement advocating for an immediate cease-fire. Secretary of State Antony Blinken said on Monday the U.S. would support a cease-fire but the two parties would have to make it "clear" it's a measure they're pursuing.
Days earlier, Blinken said the U.S. is "committed" to a two-state solution and the current violence is moving the two sides away from that goal. President Joe Biden affirmed America's support for a two-state solution in calls with Netanyahu and Palestinian President Mahmoud Abbas, calling it the "best path to reach a just and lasting resolution of the Israeli-Palestinian conflict."
Graham criticized the Biden administration for only having game plans that are unfavorable to Israel and said he didn't foresee a two-state solution "until Hamas has been marginalized by the Palestinian people."
Top Hamas leader Ismail Haniyeh has also vowed to "not retreat," according to the Associated Press, and world leaders are concerned that the conflict could turn into a full-scale war.