Lindsey Graham 'Desperate' Not to Self-Incriminate in Georgia: Kirschner
Republican South Carolina Senator Lindsey Graham is "desperate" to avoid testifying under oath to prosecutors in Georgia over his phone call with Georgia Secretary of State Brad Raffensperger to avoid incriminating himself, according to a legal expert.
Graham was subpoenaed as part of the criminal investigation, led by Fulton County District Attorney Fani Willis, into whether Donald Trump and his inner circle committed a crime in their alleged attempts to overturn or interfere in the 2020 election.
The senator's lawyers later said that Graham will be challenging the subpoena, accusing the Georgia investigation of being a politically motivated "fishing expedition."
Glenn Kirschner, a former federal prosecutor, was discussing the subpoenas given to Graham and other allies of Donald Trump—including John Eastman, Rudy Giuliani and Jenna Ellis—on his Justice Matters YouTube channel.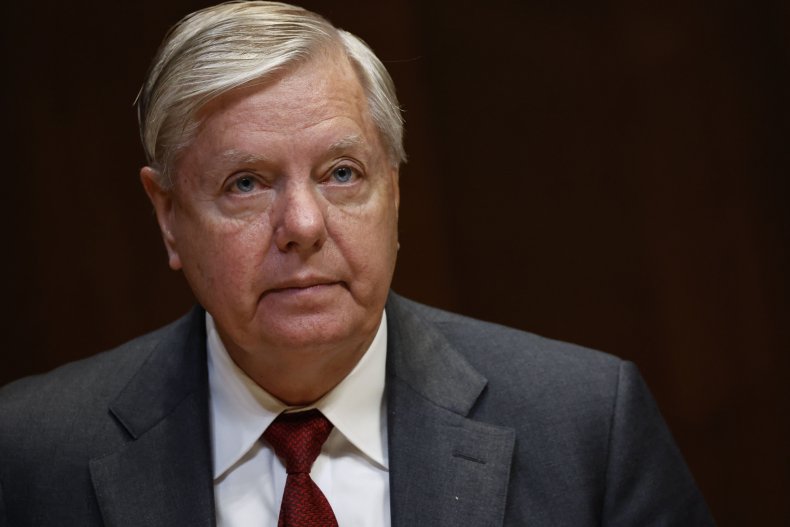 Kirschner suggested the reason why Graham is "so desperately concerned" about the possibility of having to testify under oath before the Georgia State grand jury is that he could incriminate himself, and therefore may be forced to invoke the Fifth Amendment to prevent it from happening.
"Why is Lindsey Graham so desperate not to be placed under oath by a Georgia state grand jury and have to testify about all that? Well, looks like we have to go back to the Fifth Amendment privilege against self-incrimination," Kirschner said.
"Because it sure looks like [...] Lindsay went down to Georgia, he was looking for some votes to steal. He was in a bind because Trump was way behind and he was willing to make a deal."
Kirschner added it would be "interesting" if the sitting U.S. senator "was dragged before the grand jury" in Georgia, and then invokes his Fifth Amendment right against self-incrimination.
"That sure is what any competent defense attorney would likely advise him to do," Kirschner added. "Because zealously representing a guilty client, like justice, matters."
Prosecutors issued the subpoena against Graham to compel him to discuss his phone calls with Raffensperger in the days after Election Day in 2020, in which he was accused of discussing the possibility of discarding lawful mail-in ballots in an attempt to "explore the possibility of a more favorable outcome" for Trump.
In a statement, Graham's attorneys Bart Daniel and Matt Austin said the Republican plans to "go to court" to challenge the subpoena and that there was nothing wrong with his call to Raffensperger about how Georgia validates absentee ballots.
"As Chairman of the Senate Judiciary Committee, Senator Graham was well within his rights to discuss with state officials the processes and procedures around administering elections," the statement said.
Graham has also previously insisted there was nothing wrong with his November 2020 call to Raffensperger and denied it was an attempt to have absentee ballots thrown out so the results favor Trump over Joe Biden.
"That's ridiculous," Graham told reporters on Capitol Hill in November 2020. "What I'm trying to find out was, how do you verify signatures on mail-in ballots in these states that are just the center of attention?"
Graham has been contacted for further comment.