Senator Lindsey Graham is among a number of Donald Trump's inner circle who have been subpoenaed to testify to a special grand jury as part of a criminal investigation into alleged interference around the 2020 election.
The South Carolina Republican was issued a subpoena along with several members of Trump's legal team, including Rudy Giuliani, John Eastman and Jenna Ellis over his November 2020 phone calls with Georgia Secretary of State Brad Raffensperger.
The subpoena is investigating whether Graham questioning the validity of some absentee ballots in Georgia was an attempt to "explore the possibility of a more favorable outcome" for Trump.
The investigation, led by Fulton County District Attorney Fani Willis, is looking into whether Trump committed a crime in his attempts to overturn the state's 2020 election results, focusing on his phone call with Raffensperger in which the former president asked him to "find" 11,780 votes.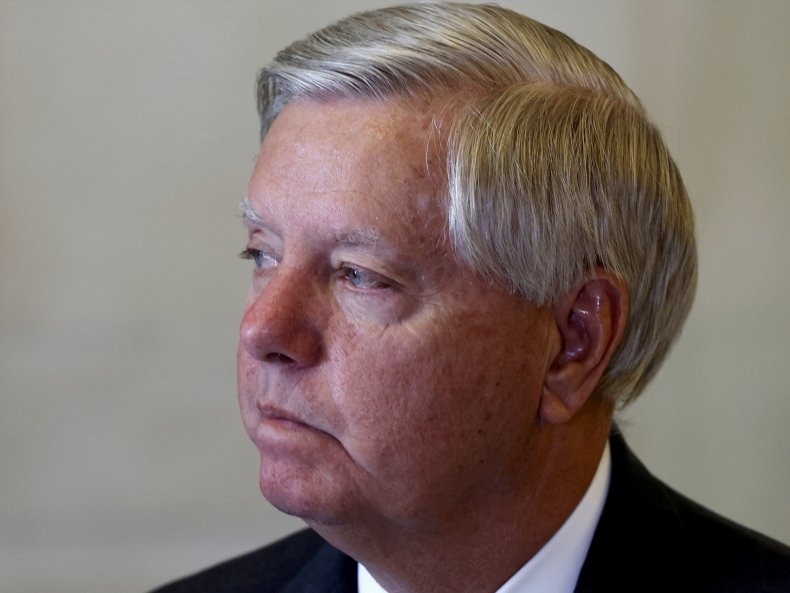 Willis' investigation is also branching out and looking into what the prosecutor calls "a multi-state, coordinated plan by the Trump Campaign to influence the results of the November 2020 election in Georgia and elsewhere."
According to a petition filed by Willis, Graham made at least two telephone calls to Raffensperger and his staff in the weeks after the November 2020 election to raise the possibility of discarding some mail-in ballots in Georgia.
Graham has now been subpoenaed to give evidence to the special grand jury as he "possesses unique knowledge concerning the substance of the telephone calls, the circumstances surrounding his decision to make the telephone calls, the logistics of setting up the telephone calls."
Prosecutors also believe that Graham's anticipated testimony is essential in that it is likely to reveal "additional sources of information" regarding the investigation.
Graham has previously spoken about the phone call he had with Raffensperger in the days after Election Day in November 2020.
Speaking to CBS' Face the Nation in January 2022, Graham said that he "asked about how the system worked when it came to mail in voting-balloting."
Graham also suggested the investigation in Georgia, as well as the House Select Committee's inquiry on January 6, are both politically motivated and are "using the law to try to knock Trump out of running" for president again in 2024.
In November 2020, Graham denied that the phone call amounted to him trying to have absentee ballots thrown out so the results favor Trump over Joe Biden.
"That's ridiculous," Graham told reporters on Capitol Hill. "What I'm trying to find out was, how do you verify signatures on mail-in ballots in these states that are just the center of attention?"
Speaking to The Washington Post in November 2020, Graham said he contacted Raffensperger on his own and was not asked to do so by Trump.
"If he [Raffensperger] feels threatened by that conversation, he's got a problem," Graham added. "I actually thought it was a good conversation."
Trump has frequently denied any wrongdoing, describing his January 2021 call with Raffensperger asking him to "find" votes as "perfect" and the investigation into him a "witch hunt."
Graham has been contacted for comment.