Lindsey Graham Blasts Trump's Syria Statements: 'Worse Than President Obama's Decision to Leave Iraq'
Republican Senator Lindsey Graham, who has generally been a key ally of Donald Trump, slammed the president again on Wednesday, arguing thathis statements regarding Syria could lead to "a disaster worse than President Obama's decision to leave Iraq."
Graham's criticism of Trump came after the president told reporters Wednesday that the ongoing Turkish invasion of Syria and targeting of the Kurds is "not our problem." The president also argued that Russia helping the Kurds is "a good thing."
Trump argued that the Kurdistan Workers Party (PKK), which Turkey considers a terrorist group, "is probably worse at terror, more of a terrorist threat in many ways, than ISIS [or the Islamic State]."
In response, Graham, who has been highly critical of Trump's decision to withdraw troops from Syria, voiced his strong disagreement via a series of Twitter posts.
"I hope President Trump is right in his belief that Turkey's invasion of Syria is of no concern to us, abandoning the Kurds won't come back to haunt us, ISIS won't reemerge, and Iran will not fill the vacuum created by this decision," the GOP senator wrote.
"However, I firmly believe that if President Trump continues to make such statements this will be a disaster worse than President Obama's decision to leave Iraq," he added. Graham went on to warn that "this is a complete and utter national security disaster in the making and I hope President Trump will adjust his thinking."
The congressman also pointed out that Trump's words appeared to "undercut" efforts by Vice President Mike Pence and Secretary of State Mike Pompeo to bring an end to the escalating conflict.
Trump controversially ordered a withdrawal of U.S. troops from northeastern Syrian last week, after he spoke with Turkey's President Recep Tayyip Erdoğan by phone. Turkish forces moved into Syria rapidly following Trump's ordered withdrawal, with their fighters targeting the Kurdish-led Syrian Democratic Forces. The U.S. had previously backed the Kurds in the fight against ISIS, but now the SDF have turned to ally with the Syrian government, which the U.S. considers an enemy, as the fighters seek support against the Turkish advance. Syria's government is supported militarily by American foes Russia and Iran.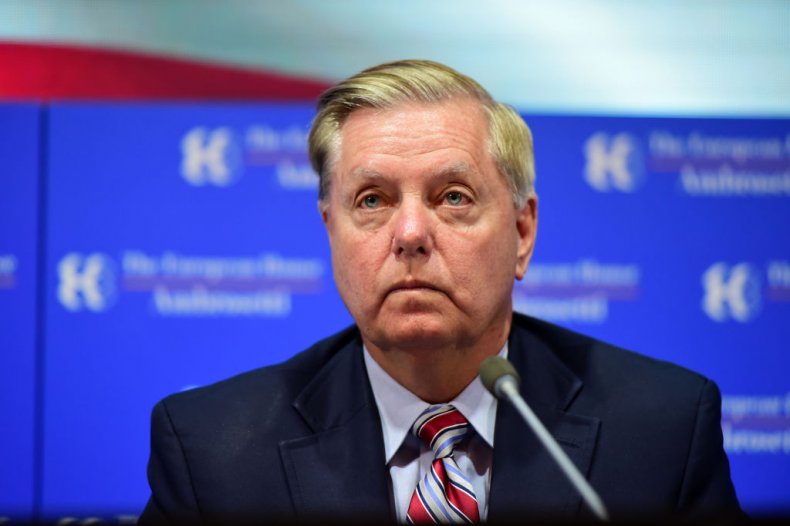 Graham has criticized the president repeatedly for his decision regarding Syria. "By abandoning the Kurds we have sent the most dangerous signal possible–America is an unreliable ally and it's just a matter of time before China, Russia, Iran, and North Korea act out in dangerous ways," the senator tweeted last Monday.
On Wednesday, the House of Representatives overwhelming passed a resolution condemning Trump for his Syria withdrawal.
"We told them: 'Trust us. We have your back'," Texas Representative Michael McCaul, the top Republican on the House Foreign Affairs Committee and a co-sponsor of the resolution, said from the House floor just before the vote. "And what is happening now? The Kurds are being slaughtered as I speak in northern Syria."