Lindsey Graham Warns Mitch McConnell's 'Dereliction of Duty' Attack on Trump Will Hurt GOP
Republican Senator Lindsey Graham of South Carolina warned that Senate Minority Leader Mitch McConnell's blistering rebuke of former President Donald Trump following the impeachment trial acquittal will hurt the GOP.
"I think Senator McConnell's speech, he got a load off his chest, obviously, but unfortunately he put a load on the backs of Republicans," Graham said during an appearance on Fox News Sunday. "That speech you will see in 2022 campaigns."
Graham said that Republican candidates running in states that could be key in GOP efforts to win back the Senate will be asked about McConnell's speech.
"I would imagine if you're a Republican running in Georgia, Arizona, New Hampshire, where we have a chance to take back the Senate, they may be playing Senator McConnell's speech and asking you about it if you're a candidate," Graham said.
The South Carolina senator added that incumbent candidates will also be asked about whether they support McConnell.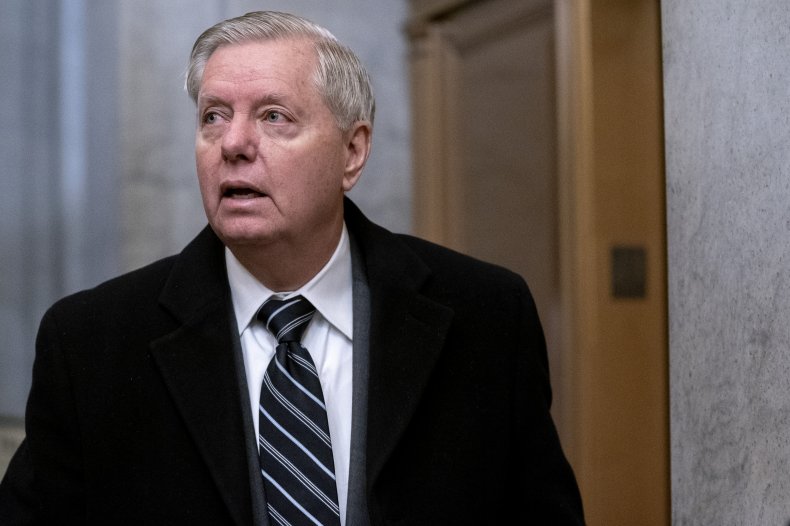 In a floor speech on Saturday, McConnell warned that Trump "didn't get away with anything," after the Senate acquitted him.
Although he voted for Trump's acquittal, McConnell said that the former president committed "a disgraceful dereliction of duty" by his actions prior to the violent insurrection at the U.S. Capitol in Washington D.C. on January 6.
"There's no question, none, that President Trump is practically and morally responsible for provoking the events of the day," McConnell said on the Senate floor.
"The people who stormed this building believed they were acting on the wishes and instructions of their president. And having that belief was a foreseeable consequence of the growing crescendo of false statements, conspiracy theories, and reckless hyperbole which the defeated president kept shouting into the largest megaphone on planet Earth," McConnell added.
Graham said he viewed McConnell's speech as "an outlier regarding how Republicans feel about all this."
According to Republican Representative Andy Biggs of Arizona, McConnell's attack on Trump displeased members of the GOP.
"A lot of people are frustrated with his comments. I'm not going to sugarcoat it," Biggs told Politico.
During his appearance on Fox News Sunday, Graham also suggested that Vice President Kamala Harris will face impeachment if Republicans take back the House in the 2022 midterm elections.
Graham compared Harris' decision to support bailing out Black Lives Matter demonstrators, who had been arrested last spring, to Trump's actions prior to the insurrection at the U.S. Capitol.
Newsweek reached out to Graham and McConnell's offices, but didn't hear back in time for publication.