Lindsey Graham Warns Kamala Harris May Be Impeached if Republicans Take Back House
Senator Lindsey Graham, a South Carolina Republican and close ally of former President Donald Trump, threatened on Sunday that Vice President Kamala Harris will face impeachment if Republicans take back the House of Representatives in the 2022 midterm elections.
The GOP lawmaker—along with some other Republicans—has repeatedly compared Harris' decision to support bailing out Black Lives Matter demonstrators who had been arrested last spring to Trump's actions ahead of the January 6 insurrection against the U.S. Capitol. Following the Senate vote to acquit Trump on Saturday, Graham again reiterated this comparison—arguing that Harris was guilty of inciting violence just as House Democrats and 10 House Republicans had alleged of the former president when voting to impeach him last month.
Speaking to Fox News Sunday, Graham again took aim at Harris, warning that she could face impeachment in the future.
"If you use this model, I don't know how Kamala Harris doesn't get impeached if the Republicans take over the House, because she actually bailed out rioters and one of the rioters went back to the streets and broke somebody's head open," the South Carolina Republican said. "So we've opened Pandora's Box here, and I'm sad for the country."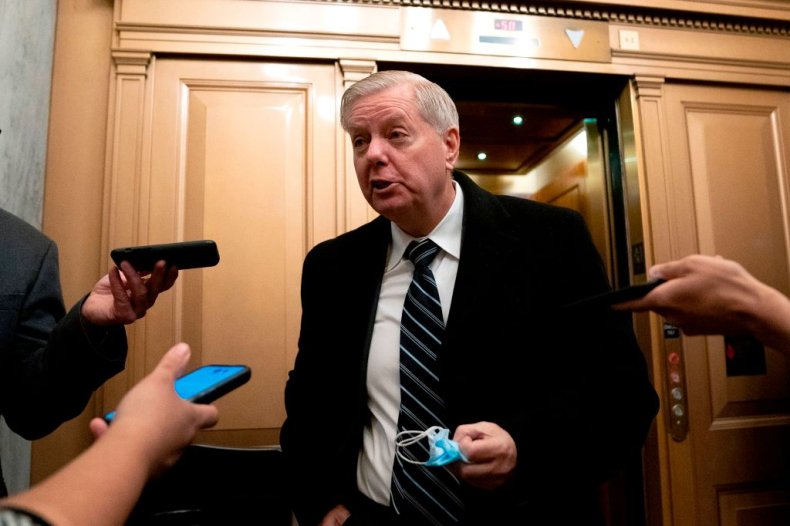 Ahead of the Senate impeachment trial, Graham criticized the process as unconstitutional due to Trump no longer serving in the White House. He also argued that Trump's remarks at the January 6 rally ahead of the riot were protected as free speech under the First Amendment to the Constitution. In an early February interview with Fox News, Graham made the same comparison to Harris, and her decision to promote bailing out Black Lives Matter demonstrators.
"What more could you do to incite future violence than to pay the bail of the people who broke up the shops and beat up the cops," Graham said in that previous interview.
"How's that not inciting future violence? Be careful what you wish for my Democratic colleagues, be careful what you wish for."
Graham's claim about Harris is exaggerated. The vice president, who was then a senator for California and not yet selected as President Joe Biden's running mate, tweeted out a link to a fundraiser by the Minnesota Freedom Fund on June 1. Harris urged her followers to "chip in" to "help post bail for those protesting on the ground in Minnesota" in the wake of the police killing of George Floyd, an unarmed Black man, in Minneapolis on May 25, 2020.
During his Sunday interview, Graham also took aim at Senate Minority Leader Mitch McConnell, a Kentucky Republican, who strongly rebuked Trump on Saturday after the Senate acquitted the former president. Although McConnell voted with the majority of Republicans to acquit Trump, he said in a floor speech after the vote that this was due to Trump no longer being in office and was not a judgment on the merits of the House impeachment managers' arguments.
"I think Sen. McConnell's speech, he got a load off his chest, obviously, but unfortunately he put a load on the back of Republicans," Graham said. "That speech you will see in 2022 campaigns."
Seven Republican senators voted with all 50 members of the Senate's Democratic Caucus to convict Trump on Saturday. With the final vote coming in at 57 to 43, it marked the most bipartisan Senate impeachment vote in U.S. history. However, this was not enough to meet the high constitutional threshold of a two-thirds majority—which would have required at least 10 more Republican to turn on the former president.
The GOP senators backing Trump's conviction included Susan Collins of Maine, Bill Cassidy of Louisiana, Pat Toomey of Pennsylvania, Mitt Romney of Utah, Richard Burr of North Carolina, Ben Sasse of Nebraska and Lisa Murkowski of Alaska.
Newsweek reached out to the White House for comment on Graham's warning regarding Harris but did not immediately receive a response.