Fact Check: Did Lionel Messi Signing Double PSG's Instagram Followers?
The arrival of superstar Argentinian soccer player Lionel Messi at Paris Saint Germain has drawn major attention to the French club.
The Claim
Some social media accounts have pushed a claim that the size of PSG's Instagram following doubled in the wake of signing Messi following his departure from FC Barcelona.
An image of PSG's follower count standing at 19.8 million prior to Messi's signing and at more than 42 million is doing the rounds on Twitter.
One of these sets of purported screenshots was shared by an account named @footballfunnys, which states it is a parody in its bio. The tweet said: PSG followers before and after signing Messi. 20.2m followers in 24 hours. Leo Messi is bigger than the club."
The tweet has more than 1,600 retweets and more than 4,900 likes at the time of writing.
Another similar screenshot was shared by @oddschanger, which stated that between PSG being linked with Messi and him signing the club's Instagram page went from 19 million to 40 million followers. That has 335 likes at the time of writing.
Other Twitter users also made similar claims.
The Facts
Messi's move to PSG from Barcelona, where he had spent his entire professional career up until now, has attracted major attention.
Considered by many soccer fans to be the greatest player in the world, the circumstances of Messi's surprise transfer—having been expected to stay at Barcelona before it was announced on August 5—are a hot topic in the sports world.
The player and Barcelona parted ways due to "financial and structural obstacles," with Messi having plied his trade there for 21 years.
Looking at PSG's Instagram account at the time of writing, it has 43 million followers. A video confirming Messi's signing on the page has been watched more than 18 million times.
Data from CrowdTangle, seen by Newsweek, shows that over the last week PSG's Instagram page has seen considerable growth. Between August 4 and August 11, it has gained 5.65 million followers.
While that is a substantial increase, it is some way off the claim of having doubled since announcing the signing of Messi on August 10.
On August 10, the account gained 3.07 million followers, and at the time of writing has gained 1.44 million on August 11. It currently sits at 43.3 million followers overall.
On August 9, the total following figure was at 38.79 million and on August 4 it was 37.65 million.
Interest in the Messi signing appears to have led to a boost in PSG's Instagram followers, but not by enough to have seen the account double in size.
The Ruling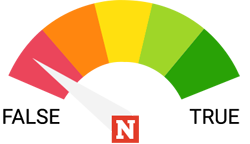 False.
FACT CHECK BY NEWSWEEK
While PSG's following on Instagram has grown since Messi's signing, it has not done so to the extent suggested by some.
It has not doubled in size or grown by 20 million followers.