Eight Biggest Bombshells From Lisa Hochstein's Messy Divorce Proceedings
A new podcast episode has lifted the lid on The Real Housewives of Miami star Lisa Hochstein's divorce from cosmetic surgeon Lenny Hochstein, with court filings showing just how messy their contentious split has become.
Lisa Hochstein, 40, tied the knot with her Russian-born husband, 56, in October 2009. They went their separate ways last May when Lenny Hochstein filed for divorce. The Hochsteins are co-parenting son Logan, 7, and daughter Elle, 3.
Lenny Hochstein embarked on a romance with 27-year-old Austrian model Katharina Mazepa soon after the end of his marriage, which has led to a series of accusations between the parties as the divorce battle turns ugly.
Newsweek has reached out to representatives of Lisa and Lenny Hochstein for comment.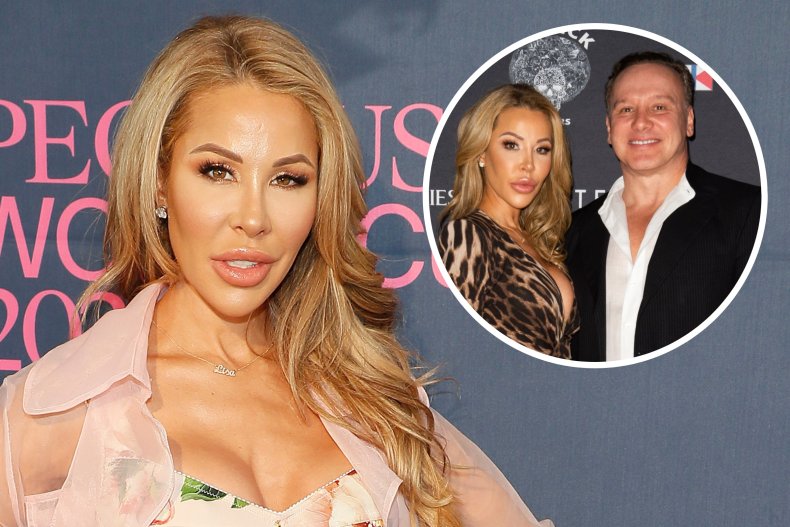 Details of their divorce have now been analyzed by The Bravo Docket, a podcast run by attorneys who discuss the legal disputes of reality TV stars. In a recently released episode, the hosts raked over the court filings from both sides.
Newsweek has listed the biggest bombshells that were shared on the episode.
Prenuptial Agreement Details
Details of the former couple's prenuptial agreement were shared on the podcast, part of which states that if the marriage is dissolved, Lenny Hochstein shall transfer to his wife $125,000—if divorced within three months of getting married.
The numbers increase incrementally, ranging from $250,000 for one year of marriage to $1.5 million for a 10-year union. Should the marriage go over 10 years, Lisa Hochstein would stand to be paid $250,000 per year past the 10-year mark.
It states that Lenny Hochstein should grant his wife a weekly allowance of $1,000 to spend as she sees fit, although "this allowance terminates upon separation of the parties or dissolution of the marriage."
In the event that either party files for a dissolution of marriage, the wife agrees to vacate the marital home within 30 days of such filing, or upon the entry of a final judgment of dissolution or marriage, whichever first occurs.
If Lisa sticks to the agreement and doesn't challenge it in any way, she will be paid $10,000 per month as temporary support for a maximum period of six months, or until the entry of a final judgment, whichever period is shorter. This will be deducted in full from the final settlement amount.
Since the split, Lisa Hochstein has remained in the marital home with the former couple's young children.
Battle Over Marital Home
Following their split, Lenny Hochstein filed a motion to establish separate residences, with his legal argument being the prenup. However, at the time that the agreement was signed, the two did not have children together.
With Lisa Hochstein remaining in the property with their children, Lenny Hochstein's legal team wrote: "The husband requests that the court enter an order that establishes a date certain by which the wife will vacate the marital residence.
"The parties agreed, and it is set forth in their prenuptial agreements that in the event of a dissolution of marriage, the husband is entitled to retain the residence where the parties presently reside," which is titled solely in his name.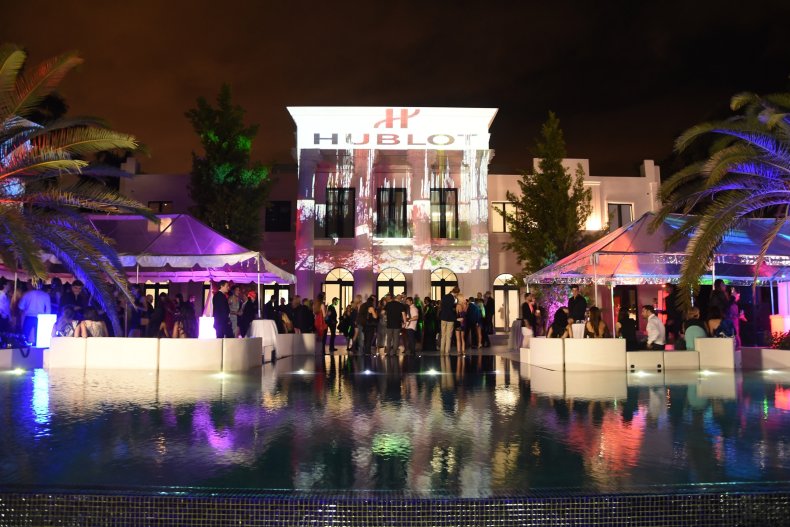 In response, Lisa Hochstein argued in a filing on July 20, 2022, that it would be problematic and contrary to Florida law for the court to enforce any provision of the prenuptial agreement. She pointed out that, under Florida law, the best interests of the children must be taken into account by the court.
The reality TV star, who debuted on her hit Bravo show in 2012, also pointed out that Lenny Hochstein has secured his own new residence at the luxury residential skyscraper on South Beach.
Lenny Hochstein's Girlfriend
In response to his estranged wife's court filing, Lenny Hochstein said in a July 21 response that Lisa Hochstein negotiated and signed an agreement in which she said that she wanted to protect the children from being "exposed" to Lenny's presumed girlfriend and allow her exclusive use of the former marital residence.
The husband said he has not introduced, or "exposed" the children to his girlfriend and plans to "notify the wife and ... first seek the independent advice of a qualified mental health professional before he does so."
A footnote stated: "Since the inception of these proceedings, the husband's court filings have been succinct, disciplined and quite frankly kind. The wife has elected to respond in this action to the media and on her social media with vitriolic and unequivocally false allegations. The husband will remain above the fray."
Another footnote read: "Quite frankly, if the wife was legitimately concerned about exposing the children to Ms. Mazepa, she would refrain from giving media interviews, creating social media posts and discussing Ms. Mazepa while filming scenes for her reality show. She not only refuses to exercise that restraint, she seemingly delights in the conflict."
The footnote further accuses Lisa Hochstein of creating an Instagram account under a pseudonym to "post defamatory comments to Ms. Mazepa's Instagram account. Her vicious commentary can be viewed not only by Ms. Mazepa's 1.7 million followers but [by] the children, their friends and the general public as well."
Threat Claims, Restraining Order
Per the filings, Mazepa filed a restraining order against her partner's wife on July 25, for protection against stalking. It states that Mazepa started dating Lenny Hochstein around May 2022 and that prior to dating, both had begun divorce proceedings with their respective spouses.
After Lenny Hochstein filed for divorce and went on his first date with Mazepa, it is claimed that Lisa Hochstein began making threatening phone calls to Mazepa, created fake social media accounts, and posted "threatening and false statements to and about Katherina publicly."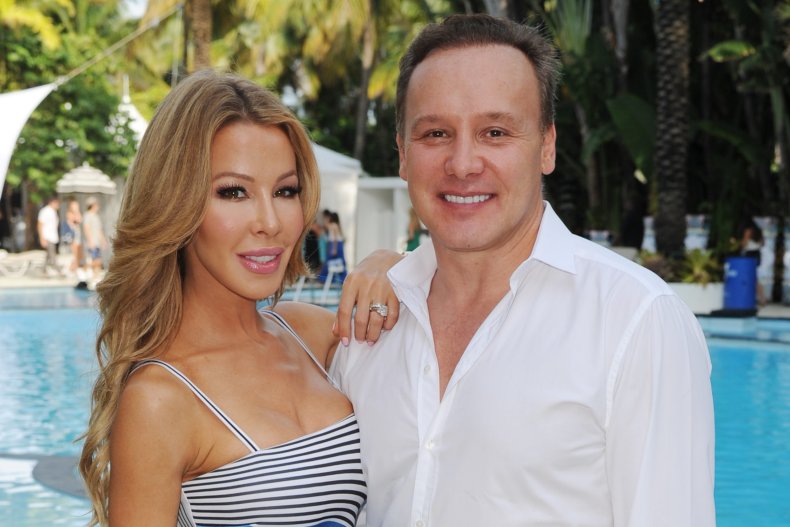 "Lisa began cyberstalking Katherina and harassing and defaming her under the Instagram handle @KellyAlexa2021," read the filing.
One of the statements Lisa Hochstein is alleged to have made is: "I am going to destroy you."
According to the documents, the reality TV star also allegedly threatened to have Mazepa deported, despite the latter having a legally acquired 10-year green card.
Causing a Scene
According to court documents, on May 7, 2022, Lisa Hochstein discovered where her ex-husband and his girlfriend were going to be out socially in a certain location on Miami Beach and "caused a scene in public by screaming and yelling" at the couple, "publicly stalking and harassing them both using vulgar language, threats of violence and harm to Katherina."
Mazepa has claimed that Lisa Hochstein made moves to "smear" her name, particularly by claiming that she was in a romantic relationship with Lenny Hochstein before his marital split, which she denies.
Austrian-born Mazepa also claims that the Hochsteins had been sleeping separately and living separate lives months before the divorce filing, so she could not be the "homewrecker" she was allegedly labeled as.
Lisa Hochstein's Alleged Love Interests
After Lisa Hochstein alleged that her husband had blocked her access to her AmEx card yet threw a lavish $100,000 Halloween party on October 29, Lenny Hochstein countered that he spent around $40,000 on the event.
The surgeon said that not only had she attended the party at their former marital home, but she also hosted the gathering and invited over 100 guests.
Lenny Hochstein has further claimed that she invited at least two male guests who she has allegedly been romantically involved with since the divorce filing.
Canceled Access to AmEx Card
In November, Lisa Hochstein renewed her urgent motion for temporary support and attorney's fees, among other costs, stating that she had suddenly been denied access to her husband's American Express bank card, which she had been using since 2019.
According to the filing, Lisa Hochstein attempted to buy diapers and food earlier that month for her minor child, but the card was declined. It is also claimed that Lenny Hochstein had not been providing his estranged wife with any direct support other than temporary support on the AmEx card that is in his name. He had not transferred money to her account in "several months," per the document.
She also alleged that her estranged husband removed her access to all vehicles and that she and their children had to travel in an Uber to trick or treat for Halloween.
Lenny Hochstein disputed this in his response, saying he has continued to fund her "lavish lifestyle" and that she has incurred nearly $200,000 in charges between May 1, 2022, and October 15, 2022, on an AmEx card that he has paid off fully each month. He also said that he delivered a $5,000 check to Lisa Hochstein, who he alleged had accepted a spending limit on the AmEx card.
He added that Lisa Hochstein's earnings from Real Housewives, the $5,000 check she was given, and her access to an Instacart account that Lenny Hochstein pays for could all have helped in the purchase of diapers and food for their child.
Car Wars
After Lisa Hochstein claimed that she had been relegated to using a two-door vehicle while out with their two children, Lenny Hochstein responded in his filing: "Nothing could be further from the truth of the matter, as wife has been utilizing [a] 2021 Rolls-Royce Ghost as her primary mode of transportation" since their separation, while he uses a Range Rover as his primary mode of transportation.
According to the documents, when Lenny recently requested access to the Rolls Royce, while she utilized the Range Rover, Lisa demanded that she instead use the Rolls Royce Dawn, even though it is only a two-door vehicle.
She allegedly refused to consider using the Range Rover, saying that the vehicle was inferior and had a damaged headliner that rendered it "dangerous," because hanging fabric obstructed the view. Lenny Hochstein accused her of intentionally ripping the headliner fabric.