Lisa Murkowski's 'Courage' in Splitting with McConnell on Impeachment Trial Process 'Could Be Contagious,' Senator Says
A Democratic Senator said the "courage" of his Republican colleague Lisa Murkowski "could be contagious" during procedural votes on the impeachment trial of President Donald Trump.
Connecticut Sen. Richard Blumenthal told CNN Thursday that Murkowski's split with Senate Majority Leader Mitch McConnell over impeachment represented "cracks in the implacable McConnell wall."
He also claimed that the Alaska GOP senator saying she was "disturbed" by McConnell's willingness to coordinate with the White House over an impeachment trial reflected "strong reservations" held by other Republicans in the chamber.
In an interview with KTUU published on December 24, Sen. Murkowski said she believed McConnell's openness to coordinating with the White House "confused" the impeachment process further.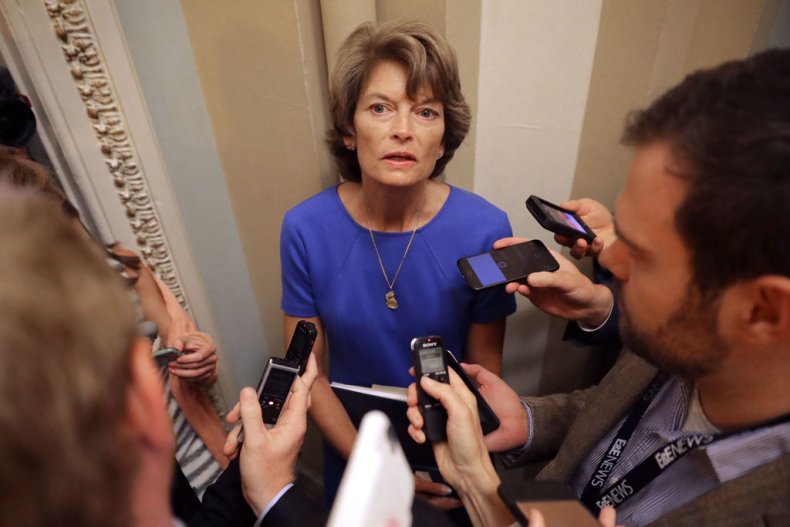 "To me it means that we have to take that step back from being hand in glove with the defense, and so I heard what leader McConnell had said, I happened to think that that has further confused the process," Murkowski said.
Speaking to CNN's The Situation Room on Thursday, Sen. Blumenthal said Murkowski's statements "very definitely reflect cracks in the implacable McConnell wall."
"I know from having talked to a number of my colleagues that her misgivings reflect the strong reservations that a number of my Republican colleagues feel about this charade and sham that apparently McConnell wants at the behest of the White House," he added.
"For him to say that he will not be impartial, that he will take his cues from the White House, that he will be acting hand in glove, as Senator Murkowski put it, with President Trump in effect puts the defendant in charge of his own trial."
The Connecticut senator went on to claim that McConnell's stance "offends" his Republican colleagues in the Senate, and said constituents were asking for a "full and fair trial."
Asked if he thought Murkowski could be a candidate to "break ranks with Republicans" on either the vote to remove President Trump or earlier votes on procedure, Blumenthal said: "Certainly on these initial votes that set the rules for this trial, her courage could be contagious."
Blumenthal added that he believed further witnesses and documents were "necessary for full, fair proceedings" and could present "very strong additional evidence."
Newsweek has contacted the office of Mitch McConnell and will update with any response.
The Kentucky Republican told Fox News on December 12 that there would be "no difference between the president's position and our position" on how to handle the Senate impeachment trial.
"We will be working through this process, hopefully in a fairly short period of time, in total coordination with the White House counsel's office and the people who are representing the president," he added.
The Senate Majority Leader has also told Democrats to "quit the charade" over fears of a partisan impeachment trial, and labeled House Speaker Nancy Pelosi's withholding of articles of impeachment "absurd."