Mitch McConnell Urges Democrats to 'Quit the Charade' Over Impeachment Impartiality Fears
Mitch McConnell has lashed out at Democrats over the impeachment trial of President Donald Trump, calling it a "political exercise."
The GOP Senate Majority Leader questioned on Fox & Friends Monday whether opposition senators such as 2020 primary frontrunners Elizabeth Warren and Bernie Sanders would be impartial during a trial of the president, should articles of impeachment be passed onto the chamber.
He also described impeachment as a "political exercise" and said it was "absurd" for Democrats to withhold articles of impeachment from the Senate.
McConnell's comments came after House Speaker Nancy Pelosi said Democrats were waiting to "see the process that is set forth in the Senate" while not committing to sending the approved articles of impeachment to the chamber.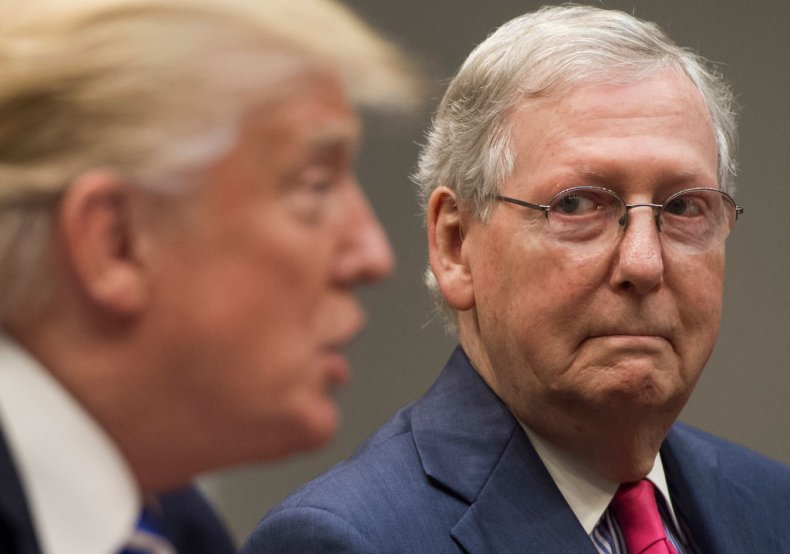 Speaking to Fox & Friends today, the Kentucky Republican said: "[Pelosi's] apparently trying to tell us how to run the trial. I'm not anxious to have this trial, so if she wants to hold onto the papers, go right ahead."
He later said the process he was "advocating" to Senate minority leader Chuck Schumer was "exactly the same way we handled the Clinton impeachment 20 years ago, which he voted for."
McConnell also said the decision about which witnesses to call forth in the Clinton impeachment trial was a "pretty partisan exercise," adding: "But we didn't let the partisan part of it keep us from getting started."
The Senate Majority Leader then described House Speaker Nancy Pelosi's decision to withhold articles of impeachment approved by the House last week as "absurd."
Responding to criticism from Schumer, who took aim at McConnell for saying he was not an impartial juror, the Republican said: "On the impartiality issue: Do you think Chuck Schumer is impartial? Do you think Elizabeth Warren is impartial? Bernie Sanders is impartial? So let's quit the charade. This is a political exercise."
Newsweek has contacted the offices of Speaker Pelosi and Senate Minority Leader Schumer for comment but did not receive a response by time of publication.
Democratic senators have hit out at McConnell and other Republican colleagues numerous times since the House impeachment vote on December 18, with Maryland Senator Chris Van Hollen saying that Republicans were "deathly afraid" of fact witnesses appearing before the chamber.
Senator Sherrod Brown of Ohio also claimed last week that there was "increasing talk" that McConnell should recuse himself from any Senate trial of the president, and accused the Republican of having no "respect for the institution."
McConnell himself told reporters he was "not an impartial juror" and said there was "nothing judicial" about the impeachment process.
He said: "The House made a partisan political decision to impeach. I would anticipate we will have a largely partisan outcome in the Senate. I'm not impartial about this at all."